Hyundai Motor Reports March 2016 Global Sales
Hyundai Motor achieves global sales of 432,878 units in March
Sales figures in Korea increases by 7.2% and overseas markets show a decline by 2.2% YoY
Domestic sales maintains a steady increase with models such as Avante  (Elantra) and Sonata while overseas sales decline slows as Europe perseveres sales increase
April
4, 2016
– Hyundai Motor, South Korea's largest automaker, reports its domestic and overseas sales results for March 2016.      
Sales Results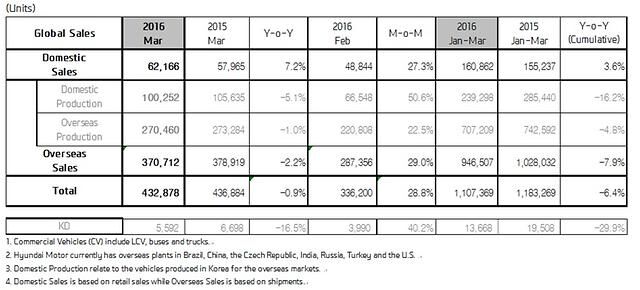 [Highlights]
Global sales in March 2016 totals 432,878 units – a decrease of 0.9% YoY.
IONIQ Hybrid becomes the best-selling hybrid car in Korea this month reaching a total of 1,250 units in domestic sales. 
Genesis and G90 (EQ900 in Korea) showed total sales of 6,859 units in Korea in March.
Breakdown of Overseas Shipment

[Highlights]
Despite sales of Tucson and Sonata continuing at a brisk pace in the U.S. due to appealing design and performance to customers, sales of the All-new Elantra awaits to regain momentum as it has just been released in the U.S. market.
Czech Plant posts positive shipment figures as crossover model Tucson gain popularity in the European market.
Sales figure reveals a solid performance in India as Grand i10 sales shows strong growth.
China Plant monthly sales figure recovers due to strengthened sales promotions nationwide.
- Ends -