Hyundai awarded top accolades in CANSTAR Blue survey
 
When it comes to customer satisfaction and value for money, Australians have again chosen Hyundai over other automotive brands in an independent survey conducted by the country's leading market research professionals, Colmar Brunton, on behalf of CANSTAR Blue. 
 
CANSTAR Blue commissioned Colmar Brunton to survey 7,500 Australian consumers to measure their satisfaction across a range of products and services. The results are collated from car purchasers within the survey group who have made a new car purchase from a dealership within the last three years.

Perhaps not surprisingly, Hyundai was voted by the customers as offering the best value for money in the automotive category. Survey results also found Hyundai sedan owners to be the most satisfied overall of all sedan customers, ahead of leading Japanese brands and above the local favourites. This is testament to Hyundai's mid-size sedan, the i45, which combines advanced powertrain technology with practical and luxurious features to provide an exceptional ownership experience.
"This is a strong endorsement of Hyundai's commitment to quality and value for Australian buyers," said Oliver Mann, Hyundai Motor Company Australia's Director Marketing. "We are delighted our cars and our dealers have been recognised by consumers in this highly respected survey."

 "We launched CANSTAR Blue to give Australians a free online resource to help them with their key purchasing decisions by making it simple for them to learn from the experiences of other consumers. It is essentially a guide to product excellence as voted by customers." said Canstar Blue manager Rebecca Logan.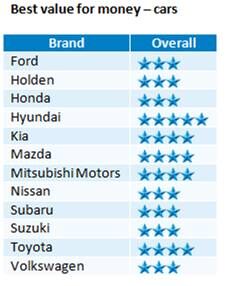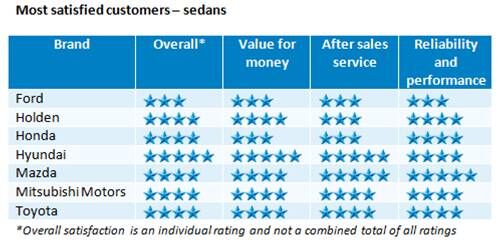 About Canstar Blue:
Canstar Blue was launched in July 2010 by CANSTAR CANNEX, Australia and New Zealand's premier researcher of retail finance information for more than 350 institutions across the finance sector. Canstar Blue will release regular surveys to measure and track Australian consumer satisfaction to help consumers make the best purchasing decisions for their needs. Canstar Blue customers are encouraged to use the database for competitor analysis as well as a means of disseminating their product range.
What are the Canstar Blue ratings?
Canstar Blue researches, compares and rates the suite of products according to customer satisfaction across categories including banking, domestic airlines, telecommunications, cars, electronic retailers and plasma and LCD TVs. Results are freely available to consumers who are encouraged to use the ratings as a guide to product excellence. The use of similar ratings logos also builds consumer recognition of quality products across all categories. Please access the Canstar Blue website at www.canstarblue.com.au if you would like to view the latest ratings reports of interest.
~END~