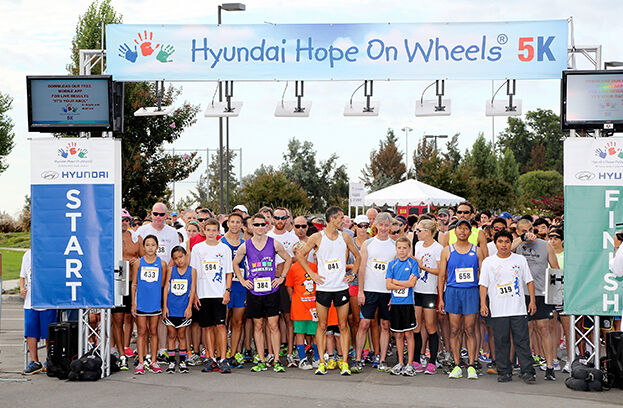 FOUNTAIN VALLEY, Calif. - October 9, 2014 - Hyundai Hope On Wheels°, a leader in the fight against childhood cancer, successfully completed its 5th annual program recognizing September is National Childhood Cancer Awareness Month. During the month of September, Hope On Wheels traveled the U.S. awarding $250,000 research grants totaling $9 million to 36 children's hospitals. Highlights from the month included a four-city Hope On Wheels 5K Run/Walk Series and a national public awareness campaign aimed at increasing awareness about the disease and Hyundai's support of the cause. In addition, Hyundai executives, dealers, top pediatric oncologists, members of Congress and supporters gathered on Capitol Hill for a weeklong schedule of activities in Washington, D.C.

"There is no greater call for any society than that of protecting and nurturing its children," said Dave Zuchowski, president and chief executive officer, Hyundai Motor America, and a board member of Hyundai Hope On Wheels. "I do many things in my business life, but none is more important than being a part of the fight against childhood cancer. Cancer is a very grown-up disease that no child should have to fight. At Hyundai, we have been committed since 1998 to ensuring these children have a champion in the fight. Our goal through Hope On Wheels is simple: to end childhood cancer."
Pediatric Cancer Research Funding is Priority for Hope On Wheels - $14 million awarded in 2014
This year's federal funding for pediatric cancer research reportedly represents less than four percent of the National Institute of Health (NIH) budget for cancer research. The continued shortage of federal funding, coupled with the economic slowdown in charitable giving, has placed even greater pressure on pediatric cancer research.
"Pediatric cancer is a disease that affects all of society without regard for economic means, geographic location or social status," says Dr. David Poplack, director of the Texas Children's Cancer Center. "What Hyundai Hope On Wheels is doing is transformative, not only in providing desperately needed research funding but also by creating through social media a way for the community and those affected by pediatric cancer to come together."
For 2014, Hope On Wheels presented 13 Hyundai Young Investigators Clinical Awards and 36 Hyundai Scholar Hope Grants. Each of the grants is being used to advance the knowledge in the field and/or to improve the standards of care for pediatric cancer. An additional research grant in the amount of $2 million was awarded in April this year to the Children's Oncology Group to support a comprehensive study called "Project:EveryChild." Additionally, in June, the Hyundai Cancer Institute at the Children's Hospital of Orange County received the fourth installment on a five-year $10-million research award. Funds raised by the 5K series and other Hope On Wheels activities were also added to this year's total research contributions. Through the combined efforts of the grant-winning institutions, Hyundai Hope On Wheels is committed to finding a cure for pediatric cancer.
Hyundai Hope On Wheels National Board Chairman G. Mickey Pong of Carlsbad, Calif., said, "We must find a way to create a quantum shift in the survival curve for pediatric cancer. We load up these young bodies with poisons and therapies, many of which have changed little in decades. However, we are encouraged by the advances of technology and by the potential breakthroughs enabling research scientists to understand the disease better than ever before." Pong concludes, "I can assure you that the Hyundai dealers in the U.S. will not stand by while children continue to suffer from this disease. We will stay in this fight until every child with cancer can be cured."
Hyundai Hope On Wheels Public Awareness Campaign
The 2014 Hyundai Hope On Wheels September campaign was called "Every Handprint Tells A Story (EHTS)." It built on the success of last year's effort and brought awareness to the cause via social media. This year's campaign showcased stories of several child cancer survivors and of many doctor researchers who are working to find a cure for the disease. Each of their handprints represents a story of courage, determination and hope in the pursuit of a cure-thus "Every Handprint Tells A Story." The public was invited to show its support for pediatric cancer by visiting an innovative web experience on www.HyundaiHopeOnWheels.org/September. On the website, visitors can view video stories of courageous child cancer survivors; learn about the work of several Hyundai Scholar researchers; post and share their own messages of hope; and join an online community of supporters via social media.
Hyundai Hope On Wheels, Congressional Leaders and Hyundai Recognize Advancements in Pediatric Cancer Research During Capitol Hill Press Conference
On September 19, Hyundai Hope On Wheels alongside Hyundai executives, dealers, and its supporters held a press conference on Capitol Hill. The event was the 5th annual Hyundai Hope On Wheels annual press conference in Washington, D.C., in support of National Childhood Cancer Awareness Month. The organization was joined by children cancer survivors, Board of Directors of Hope On Wheels, elected officials, policy makers, international officials, families, and other advocates in the field. The event not only highlighted the achievements of Hope On Wheels, but also presented the winners of its annual September Scholar Hope Grant program. The 2014 Scholar awardees represent 21 States and the District of Columbia.
The 5th annual Hyundai Hope On Wheels press conference was held in conjunction with the Congressional Childhood Cancer Caucus. The co-chair of the Caucus, Rep. Michael McCaul (R-TX) was in attendance along with other Members of Congress, including Representatives Mike Kelly (R-PA) and Chaka Fattah (D-PA). Honorable Ahn Ho-Young, Ambassador of the Republic of Korea to the United States of America, made a special presentation.
"Our nation is one built on the principal of caring for each other," said Representative Michael Kelly (PA). "When I think about what's important, I know that having children, who can achieve their dreams and grow up to be contributing members of our society in paramount. These young cancer survivors are heroes to me. I am also proud that a company like Hyundai and its dealers continue their dedication to this cause. The Congress of the United States of America is in complete alignment in their goal of ending pediatric cancer."
The keynote address came from Dr. Leonard Sender, MD, Hyundai Cancer Institute, CHOC Children&#39s, Orange, CA. Dr. Sender provided an overview of the current state of pediatric oncology and presented groundbreaking research being conducted throughout the field. During his presentation, Dr. Sender was joined by a robot, which is currently being used in caring for patients, and which is changing how care is being administered to children.
The Hyundai Hope On Wheels press event capped off a three days of events that included a Capitol Hill reception with Members of Congress; A Thought Leaders' Summit with some of the leading pediatric cancer researchers in the world; and a Gala Dinner event, for local area pediatric cancer survivors.
Hyundai Hope On Wheels Wraps up 4 City 5K Run/Walk Series in Fountain Valley
Hyundai Hope On Wheels continued the success of its 5K Run/Walk Series in 2014 with four events nationwide. The series kicked off on September 6 in Chicago with the Hyundai Hope On Wheels 5K held in conjunction with the Chicago Half Marathon. The event garnered more than 1,110 participants in the 5K and 10,168 in the half marathon.
On September 20, Hyundai Hope On Wheels served as the title sponsor of the 4th Annual Miami Children&#39s Hospital 5K. More than 3,200 runners and walkers participated and Hope On Wheels presented a check for $50,000 to Miami Children's Hospital. The following day, Hope On Wheels participated in the 26th annual Boston Marathon Jimmy Fund Walk to present $250,000 to Dana-Farber Cancer Institute. This was the 12th year that Hyundai was the presenting sponsor for the Jimmy Fund Walk.
Hope On Wheels wrapped up its 5K Run/Walk Series on September 28 in Fountain Valley, where the 4th annual Hyundai Hope On Wheels® 5K Run/Walk benefiting CHOC Children's was held. More than 500 runners and walkers participated and the proceeds totaling $20,000 were presented to CHOC Children's. The event marked the end of Hyundai's annual campaign recognizing National Childhood Cancer Awareness Month