HYUNDAI INJECTS STREET CREDIBILITY INTO VELOSTER WITH NEW TURBOCHARGED ENGINE
201 Horsepower, Ground Effects and Sport-Tuned Engine 
 
DETROIT, Jan. 9, 2012 – Hyundai Motor America today introduced the all-new 2013 Veloster Turbo armed with 201 horsepower in a world debut at the North American International Auto Show (NAIAS). Veloster Turbo is one bookend to Hyundai's turbocharged sports coupe line-up, paired with the refreshed 274 horsepower, rear-wheel drive 2013 Genesis Coupe 2.0T (Turbo) also debuting at the show today.

   "The Turbo further broadens Veloster's hero role in the Hyundai line-up to attract our next generation of buyers," said Mike O'Brien, vice president, product and corporate planning, Hyundai Motor America. "It's powerful, high-tech and fuel-efficient, attributes which we think make Veloster Turbo the ultimate innovation in the sport coupe segment."

    The 2013 Veloster Turbo arrives in the Summer of 2012, facing off against worthy competitors such as the Volkswagen GTI, Honda Civic Si and Mini Cooper/Clubman S with a better  power-to-weight ratio than all of them, and a unique sport-tuned steering and suspension hardware set.  




HIGHLIGHTS FOR 2013 Veloster Turbo (Exclusive Turbo features)


 
Powered by a new 1.6-liter Turbocharged-Gasoline Direct Injection
 (T-GDI) engine and in-house six-speed automatic or manual transmission
Horsepower: 201 at 6000 RPM
Best-in-class highway fuel economy estimated at 38 mpg (M/T)
Best-in-class specific output at 125.6 horsepower per liter
Best-in-class weight to power ratio of 14 lbs/hp
Sport-tuned engine intake and exhaust note
Sport-tuned steering
Unique front fascia, foglights and ground effects
Hyundai-first Matte Gray paint
Unique 18-inch alloy wheels with chrome inserts
Projection headlights with unique LED headlight accents
Side mirrors with turn signal indicators
Unique LED taillights
Supervision cluster
Leather seating surfaces with driver's lumbar support
Heated front seats
Turbo exclusive Graphite Black interior with Blue accents and headliner graphics
Veloster Turbo is the first vehicle in Hyundai's 7/11 product initiative (seven new or redesigned models in the next 11 months). Hyundai just completed its 24/7 version 2.0 product initiative (seven new or redesigned models in 24 months), with the debut of the 2012 Hyundai Azera.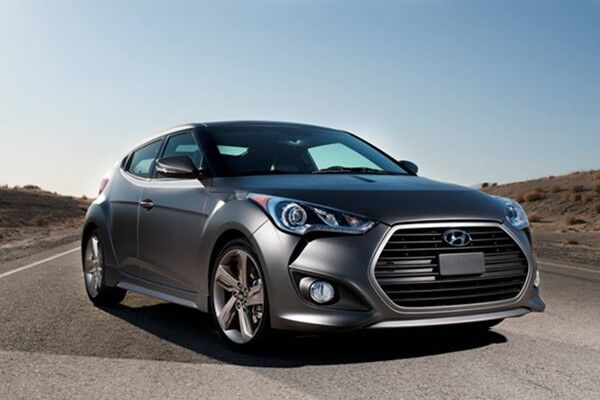 VELOSTER TURBO VERSUS ITS RIVALS
Base Engine

2013
 Veloster Turbo

2012
 Civic Coupe Si

2012
 GTI

2012  
Cooper S

2012 
Clubman S

Displacement


1.6-liter Turbo




2.4-liter




2.0-liter Turbo




1.6-liter Turbo




1.6-liter     Turbo



Horsepower (est.)


201 @6000




201@ 7000




200@ 5100




181@ 5500




181@ 5500



Torque (lb.-ft.) (est.)

195 lb–ft @
 1750 – 4500


170@4400




207@1800




177@1600–5000




177@1600–5000



Specific Output


125.6




83.8




100.0




113.1




113.1



Transmission


6 M/T  or A/T




6 M/T or A/T




6 M/T or DCT




6 M/T or A/T




6 M/T or A/T



Fuel Economy
M/T
 A/T

 27/38 (est.)
 TBD/TBD

 22/31
 N/A

 21/31
 24/33

 26/34
 27/35

 26/34
 27/35

Curb Weights
 M/T
 A/T


2,800
 2,888

2,877
 N/A

3,034 (2D)
 3,080 (2D)

2,668
 2,712

3,671
 3,726

Weight-to-Power Ratio
 M/T
 A/T

 14.0
 14.4

 14.3
 N/A

 15.2
 15.4

14.7
 15.0

20.3
 20.6

TWIN-SCROLL TURBOCHARGER AND GDI TECHNOLOGY

   The 1.6-liter turbocharged GDI four-cylinder engine in the 2013 Veloster Turbo produces 201 horsepower at 6000 rpm and 195 lb-ft of torque from 1750 – 4500 rpm with regular fuel. The Veloster Turbo is estimated to deliver 27 mpg city and best-in-class 38 mpg highway for manual transmission models. Hyundai's 1.6-liter Gamma turbocharged engine features a twin-scroll turbocharger that when combined with the GDI system, results in instantaneous power delivery. Twin-scroll turbochargers have traditionally been used on more expensive high performance engines, but Hyundai has brought this technology down its line-up from the Sonata 2.0T.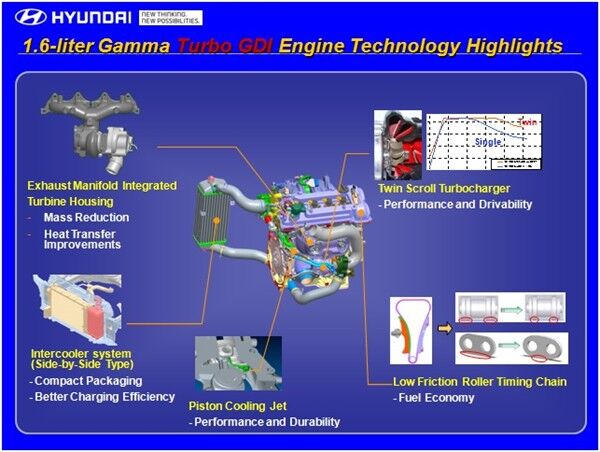 Twin-scroll turbocharger designs have two exhaust gas inlets divided by split walls inside the turbine housing, with both gas passages controlled by a waste-gate. A twin-scroll turbo recovers even more energy from the exhaust than a single-scroll turbocharger, thanks to a divided manifold. The twin-scroll design separates the cylinders whose exhaust gas pulses interfere with each other, resulting in improved pressure distribution in the exhaust ports and a more efficient delivery of exhaust gas energy to the turbocharger's turbine.
  For example, at the start of the intake stroke of cylinder one and when both the intake and exhaust valves of cylinder one are open (valve overlap period), cylinder three already starts its exhaust stroke with the exhaust valve open. If the exhaust passages of cylinder one and three were connected, the exhaust gas pulse from cylinder three would increase the back pressure of cylinder one. This would reduce the induction of the fresh air and increase the amount of hot residual gases inside the cylinder. However, with the twin-scroll turbocharger setup, this interference is minimized.
   The result of this superior scavenging effect from a twin-scroll design leads to better pressure distribution in the exhaust ports and a more efficient delivery of exhaust gas energy to the turbocharger's turbine. This in turn allows greater valve overlap, resulting in an improved quality and quantity of the air charge entering each cylinder. In fact, with more valve overlap, the scavenging effect of the exhaust flow can literally draw more air in on the intake side. At the same time, drawing out the last of the low-pressure exhaust gases help pack each cylinder with a denser and purer air charge. Maximum boost from the turbocharger is 18 psi.
  The twin-scroll turbocharger design has several other advantages over traditional, single-scroll turbocharging systems, including:
Improved combustion efficiency
Low engine-speed efficiency
Kinetic exhaust gas energy is not wasted or trapped
Cooler cylinder temperatures
Lower exhaust temperatures
Leaner air/fuel ratio
Better pressure distribution in the exhaust ports and more efficient delivery of exhaust gas energy to the turbocharger's turbine

Veloster's twin-scroll turbo has superior handling of exhaust gas separation at the turbine leading to improved low-end torque and faster transient torque response.

Two key features of Hyundai's twin-scroll turbocharger setup are:
 
The stainless steel exhaust manifold and the twin-scroll turbine housing are cast in a patent pending one-piece design
The waste-gate for the turbocharger uses a motor-driven electrical controller instead of being mechanically controlled

  Thanks to the integrated stainless-steel turbine housing with the exhaust manifold, not only is the weight and cost of the casting dramatically reduced, the durability of the turbine housing is also improved. In addition, heat energy recovery and thus turbo efficiency is significantly improved based on the fact that a traditional two-piece design effectively insulates some of the heat energy at the joint/gasket area.

   By adapting the motor-driven electrical waste-gate, the boost pressure is precisely controlled. The back pressure is reduced when turbo boost is not necessary by opening the waste-gate, which improves fuel efficiency. During cold starts, the waste-gate remains open, which results in faster catalyst light-off for reduced exhaust emissions.

  A GDI fuel delivery system contributes to improved fuel efficiency and lower emissions. This shorter, more direct path of fuel delivery allows for greater control of the fuel mixture at the optimum moment, thus improving efficiency. The fuel is injected by a camshaft-driven, high pressure pump that operates at pressures up to 2175 psi. Direct injection also utilizes a higher-than-normal 9.5 compression ratio, while achieving a best-in-class 125.6 horsepower-per-liter. The piston heads are "dished" to increase combustion efficiency in the cylinder.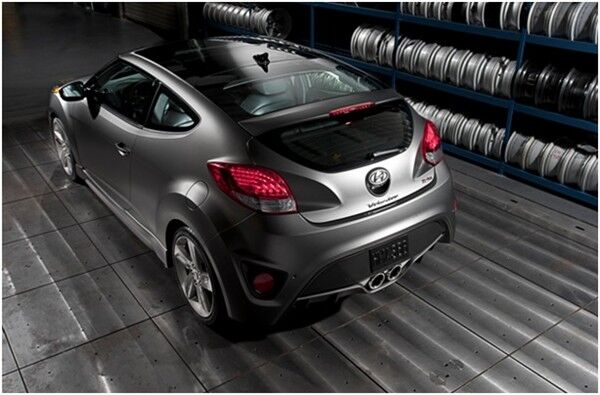 CUSTOM TWO-WHEEL TUNER INSPIRATION

   Veloster Turbo's unique design takes inspiration from a custom high-performance sport bike. One of the most popular sport bike upgrades is to modify the exhaust. Hyundai designers have removed the Veloster's trapezoidal center exhaust and replaced it with two larger free flowing circular pipes. These new pipes and the new intake manifold also allowed engineers to give the engine a more robust sound, which will delight enthusiasts.  

   From a bigger, bolder hexagonal front grille, through the sculpted side skirts and new dynamic rear bumper with prominent diffuser vents in the lower fascia, Veloster Turbo's design adds aggression and aerodynamic stability compared to the base model. Drivers following Veloster will also notice the Veloster Turbo will be available in a Hyundai first Matte Gray paint. A set of 18-inch gray wheels with chrome inserts completes the Veloster Turbo's recognized style. Veloster Turbo's face also has signature eight individual headlight LED accents.

 
SPORT-TUNED

  Working in harmony with the aggressive appearance is the finely tuned suspension setup of the Veloster. Only key components in the steering were upgraded for the Veloster Turbo. Veloster Turbo features a quicker ratio steering rack and a revised steering calibration to match, which both give drivers precise cornering, feedback and control. All Veloster Turbo's ride on Kumho Solus KH25 215/40R18 85V tires designed to extract the best performance out of the car without compromising the ride.    

  All Velosters are fitted with a McPherson strut front suspension, coil springs, gas shock absorbers and a 24 mm diameter front stabilizer. The rear suspension is a light-weight V-torsion beam, a Hyundai-first with an integrated 23 mm stabilizer bar to allow bracing of the arms for greater stiffness and to further control body roll. The rear suspension also uses monotube shock absorbers for ride comfort.

  All Velosters feature electric power steering that adjusts assistance instantly to changing driving conditions while improving fuel economy over a conventional steering system. Veloster's turning diameter of 34.1 feet is better than Mini's 35.1 feet and Mini Clubman's 36.1 feet.
 

NEW INTERIOR FEATURES

  Inside, full leather seats with the word "Turbo" stitched into the seatbacks help deliver a unique look and provide exceptional support and comfort. An exclusive Supervision Cluster offers the driver information in a larger, clearer and more interactive format. This is due to the Supervision Cluster's two TFT screens located between the tachometer and the speedometer. Heated front seats are also standard on the Turbo version. The center stack and controls also resemble a sport bike fuel tank and incorporate a push-button starter and alloy pedals.
 

SIX-SPEED MANUAL OR AUTOMATIC

  To handle the power enhancements and keep with Hyundai's commitment to making fuel efficient vehicles, Veloster Turbo is paired with a standard six-speed manual transmission or a six-speed automatic transmission. Both transmissions were developed in house at Hyundai. The manual features a wider gear ratio spread (5.71 vs. 5.25) to handle the additional torque output. The high-revving turbo helps during acceleration, especially at highway speeds.

  The Veloster Turbo is mated to a six-speed automatic transmission with steering wheel-mounted paddle-shifter and and Shiftronic® controls rather than the base Vesloster's EcoShift DCT. This is due to the increased torque output from the 1.6-liter Turbocharged-GDI engine. The gear ratio spread on the automatic transmission is slightly narrower than the DCT (6.0 vs. 6.38).  A narrower spread maintains the engine in the power band when going from one gear to the other. The base Veloster's EcoShift DCT is tuned for fuel efficiency and not for the performance feel needed for the Veloster Turbo.
 

WORLD-CLASS WEIGHT EFFICIENCY

  World-class weight efficiency is a program target for all Hyundai models. This strategy delivers outstanding fuel economy and performance simultaneously. At just 2,800 pounds, Veloster is 77 pounds lighter than the Honda Civic Si Coupe and 234 pounds lighter than the Volkswagen GTI. This priority on weight efficiency allows the Veloster Turbo to deliver a great combination of agility, performance, and fuel efficiency.


OVERALL DIMENSIONS

  The Veloster Turbo has the same a 104.3-inch wheelbase, but the Turbo is 1.2 inches longer (167.3 inches) and .6 inches wider (71.1 inches).


Advanced Standard Safety Technologies: PART OF HYUNDAi'S ASSURANCE COMMITMENT

  All Velosters have an exceptional level of standard safety features for the sporty car segment highlighted by a Vehicle Stability Management (VSM) system, which optimally manages ESC (Electronic Stability Control) and the Motor-Driven electric Power Steering (MDPS).

  VSM works to control two effects. The first is when a driver accelerates or brakes on a split-mu surface (slippery on one side, dry pavement on the other) and the vehicle wants to pull in one direction. VSM detects this condition and sends a signal to the MDPS to apply steering assist. VSM counters the pull and automatically provides up to eight Newton meters of counter steering. VSM reacts the same way during sudden lane changes or fast cornering.

 All Velosters feature six airbags—including dual front, front seat-mounted side-impact, and front and rear side curtain airbags.

 Velosters also features a state-of-the-art braking package. The package includes four-wheel disc brakes and an Anti-Lock Braking System (ABS) including Brake Assist, which provides maximum braking force when a panic stop is detected, and Electronic Brake-force Distribution (EBD), to automatically adjust the braking force to front and rear axles based on vehicle loading conditions.


CONNECTIVITY/TECHNOLOGY 

  In the digital age, everyone wants to be connected to their electronics at all times, so Velosters come standard with a multifunction seven-inch touch-screen display. At engine start-up, the screen comes to life with a Veloster image and a unique sound. There are three interface layouts the user can choose from.

  Pandora internet radio is integrated into all Velosters. The display screen has a Pandora icon to stream internet radio from an iPhone or Android. Pandora can also be viewed on the display screen and songs can be given the familiar Pandora thumbs up or thumbs down. (By selecting the thumbs down icon, that particular song will never be played again.)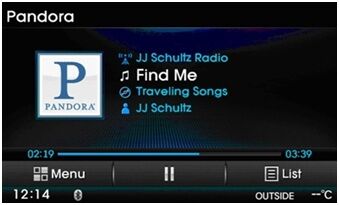 Pandora, the leading internet radio service, gives people music they love anytime, anywhere, through personalized radio stations available on a wide variety of connected devices.
According to Nielsen, today Pandora is one of the top five most popular apps across all smartphone platforms.
Pandora gives people music they love through personalized radio stations, created instantly from a single song, artist or composer "seed."
Today, tens of millions of people have a deeply personal connection with Pandora, based on the delight of personalized radio listening and discovery.
Pandora currently has more than 65 million listeners throughout the United States.
  Gracenote improves how Veloster drivers access and manage their music, using enhanced voice recognition commands in concert with your iPod®. Gracenote MediaVOCS® technology improves the accuracy of the system's voice recognition capabilities for music search, letting drivers pinpoint artists, album and genre. For instance, Gracenote MediaVOCS® helps the system understand artist names like Beyoncé and AC/DC. Drivers can also use "The Boss" as a voice command to access tracks from Bruce Springsteen. In addition, the song's album cover art displays on Veloster's touchscreen.

   With video games being an important element of entertainment, Hyundai integrated an RCA cable and an available 115-volt power outlet in Veloster to support gaming consoles for ultimate gaming sessions when parked or watch videos on the seven-inch multimedia touchscreen.

  Veloster Turbo features a standard 450-watt Dimension Premium Audio system with eight speakers including an eight-inch subwoofer, external amplifier and iPod®/USB/auxiliary input jacks. An XM Satellite Radio interface is also integrated into the head unit and features channel logos and XM Data services, such as XM NavWeather®, XM Stock Ticker and XM Sports Ticker.

  A Bluetooth hands-free phone system with voice recognition, address book down