Campaign to launch in China this year, other countries by 2014

July 19, 2013 ? Hyundai Motor Company, South Korea's largest automaker, is taking its traffic safety campaign for children global, extending its hugely successful corporate social responsibility project to countries outside its home market.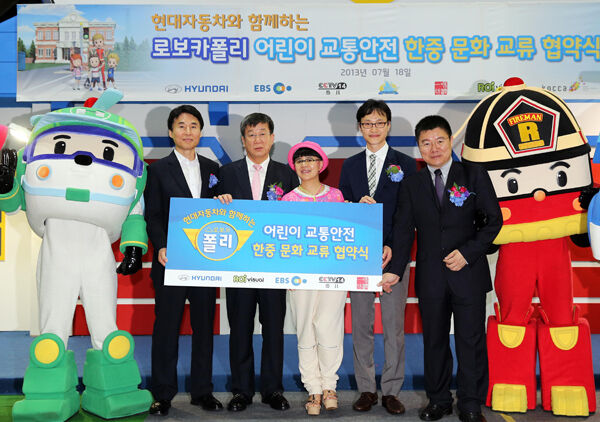 Banking on the popularity of the animation character Robocar Poli, which Hyundai Motor developed together with Korean companies ROI Visual and EBS, the automaker will initially launch the 24-week animation series in China this year through an agreement with state-run CCTV (China Central Television). This will be followed by similar launches in Russia, Brazil and India by 2014.
"We want to be a responsible, lifetime partner in automobiles," Vice Chairman Yeo-Chul Yoon said at a signing ceremony with CCTV in Seoul. "We are taking a bigger initiative to advocate a safer driving environment for our children worldwide."
'Traffic Safety Stories with Robocar Poli,' part of the company's `Safe Move' CSR activities, is aimed at providing traffic safety education to children in an easy-to-learn and engaging way. The animation and relevant online, offline programs have not only gained massive popularity, but also achieved its educational purposes effectively since its launch in 2010. Based on this success, Hyundai confidently decided to extend the campaign for children in other countries.
Hyundai Motor, South Korea's biggest and most active supporter of traffic safety for children, has been operating a variety of CSR activities under the four major themes of 'Easy Move', 'Safe Move', 'Green Move' and 'Happy Move.'
More information on the animation can be found at http://poli.hyundai.com and YouTube.