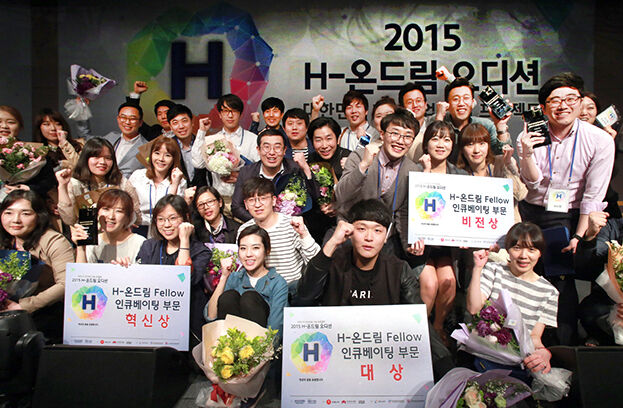 The "H-On Dream Audition Round 4", a business that Hyundai Motor Group and Hyundai Motor Company Chung Mong-koo Foundation is ambitiously carrying out to foster young entrepreneurs, has just kicked off.
Hyundai Motor Group held the "H-On Dream Audition Round 4" awards ceremony for those who have been finally selected for the project. The ceremony took place at Nine Tree Convention in Jongno, Seoul on April 28th, and it was attended by around  200 people including Ministry of Employment and Labor (MOEL) Elderly Employment Policy Director General Moon Ki-sup, Chung Mong-koo Foundation Chairman Yoo Young-hak, Korea Social Enterprise Promotion Agency Commissioner Kim Jae-gu and university students from start-up related clubs.

From April 1st, the company, together with a panel consisting of specialists from various fields, proceeded with documentation examination, preliminary match and final selection targeting 340 teams nationwide that have completed MOEL's "young social entrepreneur fostering business" program.

Through this process, the company has selected 30 teams: 15 incubating teams that will go through a yearlong start-up training program and 15 developing teams among the teams that have been elected for the social entrepreneur fostering business from 2011 to 2013 that have the ability to develop socially and financially based on additional support.

This year, the teams that have diverse business ideas and items including social services for underprivileged people and regional community development have been finally selected. The grand prize winning team was "Lumir", one of the incubating teams; they have come up with an idea of developing and distributing candle lamps to solve problems related to blackout in the developing countries.

Yoon Suk-pil, a 25 year  member of Lumir, said, "I am so pleased to hear that our long-prepared business has been positively evaluated by the specialists," adding, "we will do  our utmost to become a better enterprise that can benefit more people."

The prize winning team from the incubating group will be provided with business investment of KRW 50 million to KRW 100 million, along with one on one mentoring from senior entrepreneurs for one year. In addition, the prize winning team of the developing group will get KRW 20 million in investment and will have the opportunity to develop the current business idea into a more valuable one.

Hyundai Motor Group also created an opportunity where university students from the entrepreneur related clubs nationwide can interact with young social entrepreneurs. The students were able to have their questions about start-ups answered through conversation with their seniors.

In addition, the person in charge of the group's corporate social responsibility (CSR) activities attended the event to find ways to include the participating teams' business ideas in the company's CSR activities.

In an opening speech, Chairman Yoo Young-hak of Chung Mong-koo Foundtation said, "The social entrepreneurs-to-be have an entrepreneurial  spirit, passion, creativity and determination , all of which are their own assets that can be leveraged for business success," adding, "we will continue on supporting the young people to promote  their social entrepreneur activity successfully."

In a bid to establish a virtuous circle pertaining to a creative economy ecosystem where those successful social entrepreneur teams give a hand to the junior teams based on their own experiences, Hyundai Motor Group will actively initiate diverse programs and various platforms where interaction among them is made possible.

In addition, Hyundai Motor Group announced that it will produce 120 social entrepreneur companies and create 580 jobs through its "H-On Dream Audition", an initiative to foster young social entrepreneurs that has been progressing for four years since 2012.

"H-On Dream Audition" is a customized entrepreneur support business initiated by Hyundai Motor Group and Hyundai Motor Chung Mong-koo Foundation in cooperation with the Ministry of Employment and Labor and the Korea Social Enterprise Promotion Agency. Started in 2012, the business aims at creating jobs through young social entrepreneur support and providing a wide range of social services related to the environment, education and social welfare.

Every year, 30 teams are selected through "H-On Dream Audition", and a total of 150 teams have been selected over five years. Through the "H-On Dream Audition" initiative, various systematic programs have been put in place, and these programs include systematic entrepreneurship training and consulting, funding of KRW 1 hundred million and mentoring from successful social entrepreneurs. Based on such programs, "H-On Dream Audition" aims at fostering young leaders who will lead social innovation.

Hyundai Motor Group previously planned to create 600 jobs over the course of five years. However, 430 jobs have already been created by the third year, and 30 more teams and 150 more jobs have been additionally created through the "H-On Dream Audition Round 4". Due to such an achievement, the company has been praised for its contribution to creating jobs.

Some of the social entrepreneur enterprises from the "H-On Dream Audition" have successfully contributed in creating added-values in terms of finance and social services . For instance, AUD Social Cooperative, which was selected in 2014, is providing a real-time subtitle service on mobile platforms for people with hearing difficulties so that they can understand what is being said during lecturers and meetings. Another example is Marimond, selected in 2013, which is producing and promoting various stationery products, scarves and neckties the desing  of which has been inspired by the Comfort Women's barbola pieces.

In recognition of Hyundai Motor Group's efforts in fostering young social entrepreneurs, the company won the grand prize at the "Venture Awards" supervised by the Korean Society of Business Venturing.

In the meantime, aside from the "H-On Dream Audition", Hyundai Motor Group supports the operation of "Seocho Creative Hub", a center that fosters young social entrepreneurs. In close cooperation with the social entrepreneurs fostered from this center, the company is conducting diverse CSR programs to activate the young social entrepreneurs and to resolve social issues. These programs include "H-Jump School", which has been established to lessen the education gap, and "H-Village", which aims to invigorate less affluent areas within cities.

Along with this, Hyundai Motor Group has a plan to support 500 ventures and create 2,500 jobs by 2017 by continuing its efforts with the young social entrepreneur support business, assisting small business owners through the company's representative CSR initiative "Gift Car Campagn" and expanding its social franchise business by leveraging its social enterprises including "Easy Move" and "Safe Living".

An official at Hyundai Motor Group said, "Hyundai Motor Group will successfully establish its CSR model that supports social enterprises in order to create more jobs and contribute to solving social problems and agendas with young people who have the entrepreneurship spirit."