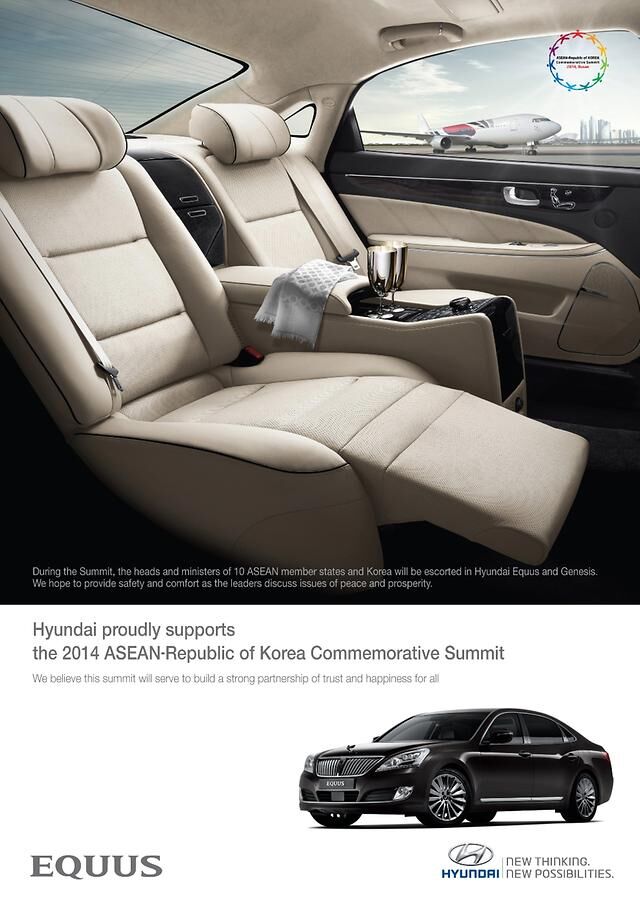 Hyundai Motor Group Provides Vehicles at the
2014 ASEAN-Republic of Korea Commemorative Summit
November 25, 2014  – Hyundai Motor Group, South Korea's largest automotive group, today announced that it will provide a total of 162 vehicles for the ground transportation of the 2014 ASEAN-Republic of Korea Commemorative Summit, taking place on December 11-12 in South Korea's second-largest city, Busan.
 
The vehicles, including Hyundai Motor's premium sedans Equus and Genesis, will ensure the smooth operation of the Summit, transporting heads of the ASEAN nations, government officials and other delegates. The participants are expected to naturally experience the high technology and excellent quality of Hyundai Motor's vehicles throughout the event.
 
The handover ceremony was held today at the Busan Exhibition and Convention Center (BEXCO), attended by government officials and company executives including Jong-moon Choi, the Secretary-General of the Preparatory Office for the Summit, and Kwang Shik Park, Hyundai Motor's Executive Vice President in charge of government relations.
 
"We are very proud to be part of this national event," Hyundai Motor's Kwang Shik Park said during the handover ceremony today. "We will do our best to ensure the smooth operation of our vehicles during the event, to make the 2014 ASEAN-Republic of Korea Commemorative Summit the most successful summit ever."  
 
As part of the vehicle support, the Group plans to operate a special team that will constantly monitor and inspect the cars and respond immediately to any emergency situations.
 
The Hyundai Motor Group has a record of successfully sponsoring many international events at global locations, including the 2010 G-20 Summit and 2012 Nuclear Security Summit in Seoul.
 
 
About Hyundai Motor
Established in 1967, Hyundai Motor Company is committed to becoming a lifetime partner in automobiles and beyond. The company, which leads the Hyundai Motor Group, an innovative business structure capable of circulating resources from molten iron to finished cars, offers top-quality best-sellers such as Elantra, Sonata and Genesis. Hyundai Motor has eight manufacturing bases and seven design & technical centers worldwide and in 2013, sold 4.73 million vehicles globally. With almost 100,000 employees worldwide, Hyundai Motor continues to enhance its product line-up with localized models and strives to strengthen its leadership in clean technology, starting with the world's first mass-produced hydrogen-powered vehicle, ix35 Fuel Cell.   
More information about Hyundai Motor and its products can be found at:
http://worldwide.hyundai.com
or
http://www.hyundaiglobalnews.com
Contact
Global PR Team
Globalpr@hyundai.com
+82 (0)2 3464 2152 ~ 2160
Twitter: @hmcglobalpr