Hyundai Motor Reports 2016 Full Year Global Sales
·         Hyundai Motor's global sales total 4,860,049 units in 2016, decrease of 2.1% YoY
·         December 2016 sales total 496,907 units, decrease of 3.7% YoY
·         Company announces 5,080,000 units for 2017 sales target
Jan. 3, 2017 –
Hyundai Motor, South Korea's largest automaker, reports its full year global sales results of 2016.  
Sales Results (Units)

1. Hyundai Motor currently has overseas plants in Brazil, China, the Czech Republic, India, Russia, Turkey and the U.S.
2. Domestic Production relate to the vehicles produced in Korea for the overseas markets.
3. Domestic Sales(Sales in Korea) is based on retail sales while Overseas Sales(Global Sales excluding Korea) is based on shipments.  
<Highlights>
- Elantra marked the best-selling model among Hyundai brand recording 875,194 units worldwide in 2016  
- Tucson became the best-selling Hyundai SUV, posting total global sales of 735,388 units in 2016  
- The company aims to regain sales momentum in 2017 with new competitive models and by strengthening its global production bases with agile and flexible response to market conditions      
Breakdown of Overseas Shipment (Units)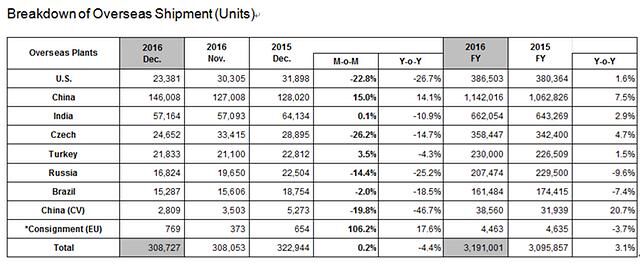 * 'Consignment (EU)' includes the amount of vehicles produced by Karsan (Turkish commercial vehicles manufacturer) on consignment.
<Highlights>
- Full year sales of 2016 increased in the U.S. as brisk market conditions boost vehicle sales nationwide  
- Sales of China recorded a steady increase in 2016 with models including Elantra and Tucson as the economy shows recovery  
- Czech posted an increased full year sales of 2016 as Tucson appeals to European customers consistently  
- India recorded an increase in total sales of 2016 as region specific models including Creta, i10 and i20 post solid sales to customers  
- Russia and Brazil posted a decrease in total sales in 2016 compared to 2015 due to sluggish market conditions    
- Ends -