Hyundai Motor Reports April 2016 Global Sales
·        
Hyundai Motor achieves global sales of 412,626 units in April
·        
Sales figures in Korea decreases by 5.7% and overseas markets show a decline by 5.5% YoY
·        
Global sales declines due to decreased plant operation days in Korea while overseas plants partially regain sales figure
May 3, 2016
– Hyundai Motor, South Korea's largest automaker, reports its domestic and overseas sales results for April 2016.  
Sales Results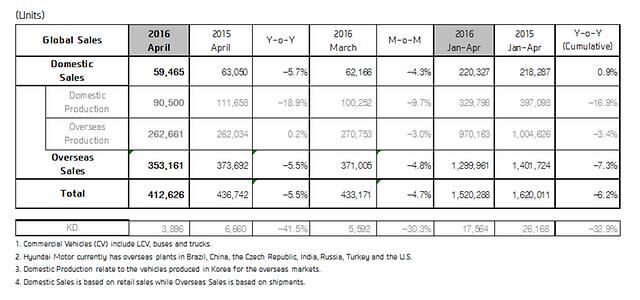 [Highlights]
-      Global sales in April 2016 totals 412,626 units – a decrease of 5.5% YoY.
-      Sonata perseveres sales in Korea this month reaching a total of 8,057 units in domestic sales. 
-      Genesis and G90 (EQ900 in Korea) showed total sales of 6,409 units in Korea in March.        
Breakdown of Overseas Shipment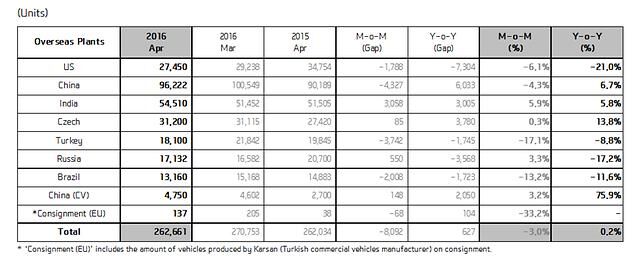 [Highlights]
-      Despite sales decrease in the U.S., SUV models and the All-new Elantra is expected to gain momentum in the U.S. market.
-      Czech Plant shows positive shipment figures as Tucson and i30 posts high sales in the European market.
-      Sales figure reveals a solid performance in India as i10 and i20 sales show strong growth.
-      China Plant yearly sales figure improves due to economic recovery nationwide.        
- Ends -