Hyundai Motor Reports February 2016 Global Sales
· Hyundai Motor achieves global sales of 336,200 units in February
· Sales figures in Korea increases by 4.2% and overseas markets show a decline by 8.2% YoY
· Domestic sales maintains a steady increase with models such as Avante (Elantra) and EQ900 (G90) while overseas sales drops due to economic recession in markets such as China, Brazil and Russia
March
4, 2016
– Hyundai Motor, South Korea's largest automaker, reports its domestic and overseas sales results for February 2016.      
Sales Results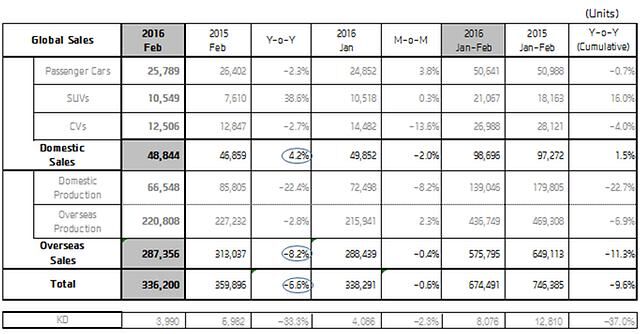 1. Commercial Vehicles (CV) include LCV, buses and trucks.
2. Hyundai Motor currently has overseas plants in Brazil, China, the Czech Republic, India, Russia, Turkey and the U.S.
3. Domestic Production relate to the vehicles produced in Korea for the overseas markets.
[Highlights]
-      Global sales in February 2016 totals 336,200 units – a decrease of 6.6% YoY.
-      Global sales declines due to gloomy economic situations in emerging markets.
-      Surging sales of Genesis G90 reaches a total of 2,476 units in Korea this month.    
Breakdown of Overseas Shipment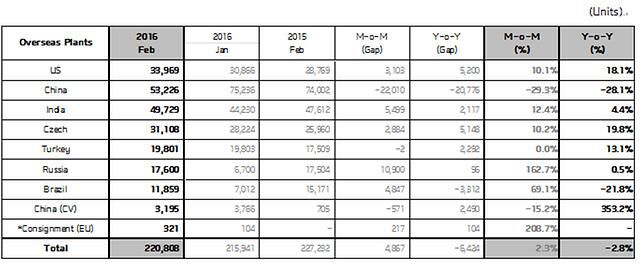 * 'Consignment (EU)' includes the amount of vehicles produced by Karsan (Turkish commercial vehicles manufacturer) on consignment.
[Highlights]
-      Elantra perseveres sales increase in the U.S. in line with economic recovery.
-      Czech and Turkey plants post positive shipment figures as models including Tucson, i10 and i20 gain popularity in the European market
-      Sales figures reveal a solid performance in India as Grand i10 vanguards a strong growth.
-      Brazil and Russia plants post monthly recovering figures due to strengthened sales promotions despite unfavourable market situations.        
- Ends -