Hyundai Motor Reports January 2017 Global Sales
·         Hyundai Motor's sales of January 2017 total 342,607 units, increase of 1.3% YoY  
Feb. 2, 2017 –
Hyundai Motor, South Korea's largest automaker, reports its global sales results for January 2017.  
Sales Results (Units)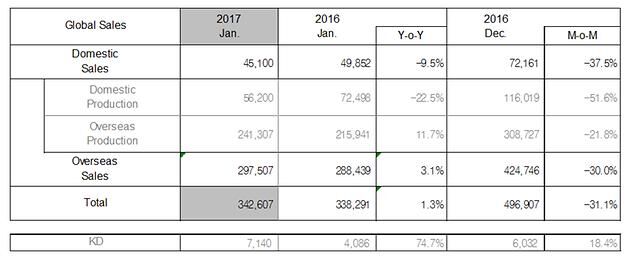 1. Hyundai Motor currently has overseas plants in Brazil, China, the Czech Republic, India, Russia, Turkey and the U.S.
2. Domestic Production relate to the vehicles produced in Korea for the overseas markets.
3. Domestic Sales(Sales in Korea) is based on retail sales while Overseas Sales(Global Sales excluding Korea) is based on shipments.
4. Sales Result includes entire sedan, SUV and CV models produced by Hyundai Motor  
<Highlights of Domestic Market>
- Sales of All-new Grandeur became the best-selling model of Hyundai showing a remarkable performance in January, posting 10,586 units.
- Elantra was followed by Sonata posting 5,064 and 3,997 unit sales, respectively, while total sales of sedan models recorded 20,714 units. 
- Domestic sales decreased in January compared to last year due to Lunar New Year holidays.
- Hyundai Motor aims to regain sales momentum by strengthening sales of strategic models and launching new products this year.    
Breakdown of Overseas Shipment (Units)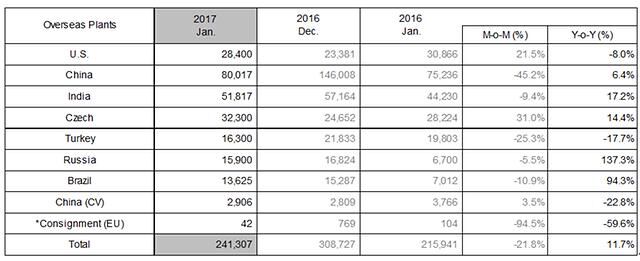 * 'Consignment (EU)' includes the amount of vehicles produced by Karsan (Turkish commercial vehicles manufacturer) on consignment.  
<Highlights>
- Despite decrease of shipment in the U.S., customers' interest in SUVs continued with sales of Santa Fe, up 53 percent and Tucson, up 10 percent, respectively.
- Sales of China recorded an increase compared to last year as models including Elantra and Tucson appeal to customers consistently.
- Czech posted increased sales compared to last year as i30 and Tucson continue to build on the sales momentum in Europe.
- Emerging markets including Russia and Brazil recorded sales increase compared to last year as their nation economy shows recovery.    
- Ends -