Hyundai Motor Reports May Global Sales
(Seoul, Korea) Hyundai Motor Company, South Korea's largest automaker, reports its domestic and overseas sales results for May 2010.
May 2010 Results
                                                                                                                                                          Unit = one vehicle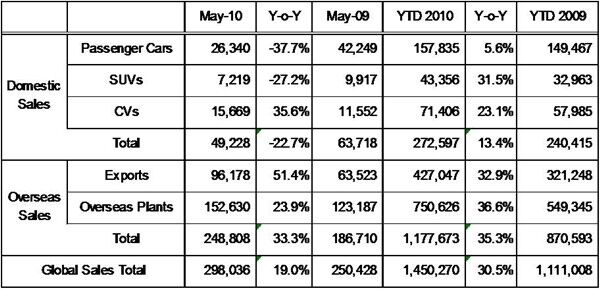 1. Commercial Vehicles (CV) include buses & trucks.
2. Hyundai Motor currently has 5 overseas plants in China, India, Turkey, U.S. and the Czech Republic
※Excludes KD (Knock Down) unit sales.
May 2010 Highlights (year-on-year)
Domestic Sales
▶ Down 22.7%
▶ In May 2009, thanks to government incentives and tax benefits, Hyundai recorded a one gain in domestic sales. (63,718 units)
Overseas Sales
▶ Up 33.3%
▶Exports from domestic plants up 51.4%, sales of overseas plants up 23.9%.
- End –