Hyundai Motor Reports October 2015 Global Sales


                • Hyundai Motor posts global sales of 458,375 vehicles in October
                • Both sales figures in Korean and overseas markets rose by 16.7% YoY and
                  4.7% YoY, respectively
                • Monthly sales figure in China rose for the first time in seven months


November 3, 2015 – Hyundai Motor, South Korea's largest automaker, reported its sales results for October 2015, posting a total of 458,375 units. This figure represents a 16.0% MoM growth and a 6.3% YoY growth.

Hyundai Motor's cumulative global sales for the first ten months totalled 3,997,169 units, a year-on-year decrease of 1.5%. Hyundai Motor forecasts that the economic uncertainties surrounding the auto industry is likely to continue.

Hyundai Motor is planning to keep developing overseas markets and enhance competitiveness in domestic market with new models and flagship vehicles despite the unfavorable market environment.


■ October 2015 Sales Review

- In October, Hyundai Motor posted 30.5% MoM sales increase in the Korean market with 67,807 units sold. The sales figure in the overseas market also rose by 13.8% MoM with 390,568 units sold.

- In terms of overseas shipments, China, Turkey, Czech and India plants led the way to post 6.9% MoM and 8.5% YoY growth.

- The shipments from China plant was robust, increasing by 11.1% MoM and 8.2% YoY as sales in Chinese market are gaining momentum. Strong sales of main models (Verna, Lang Dong, and Mistra) supported the shipments growth in China.

- The All-new Tucson also helped the carmaker recover some of the lost ground and for the first time in seven months the sales are on a positive trend in Chinese market. Successful sales result in China has largely contributed to Hyundai Motor's monthly global sales gain in October.

- Turkey plant posted high growth in shipment in October, increasing by 15.0% MoM and 35.3% YoY due to widespread popularity of i20 in European market.

- The shipment from Czech plant has been increasing since September. Both MoM and YoY shipments rose by 3.1% and 22.2%, respectively in October. The growth of production in Czech plant was mainly propelled by successful sales of the All-new Tucson and i30.

- The shipments from India plant also recorded strong results, increasing by 9.2% MoM and by 10.2% YoY in part due to Creta's successful launch and steady sales of i10 and i20.

- As a result, total shipment from overseas plants rose by 8.5% in October compared to the same month in 2014. The company will keep focusing on the overseas markets with new models and flagship vehicles despite challenging market conditions. Especially, the company expects that introducing the All-new Avante in the U.S. and other countries will sustain Hyundai Motor's high sales performance.


- Ends -
October 2015 Results:
■ Global Sales 

                                                                                                                                             (Units)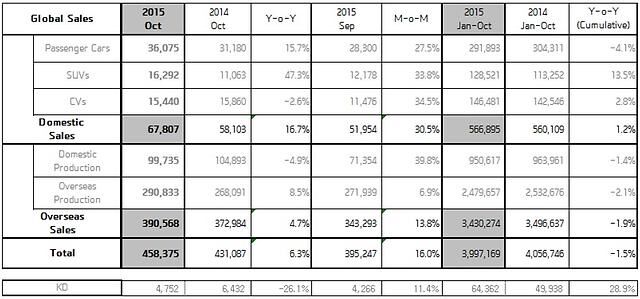 1. Commercial Vehicles (CV) include LCV, buses and trucks.
2. Hyundai Motor currently has overseas plants in Brazil, China, the Czech Republic, India, Russia, Turkey and the U.S.
3. Domestic Production relate to the vehicles produced in Korea for the overseas markets.


■ Overseas Plants ex-Factory Sales (Breakdown of Overseas Shipment)

                                                                                                                                            (Units)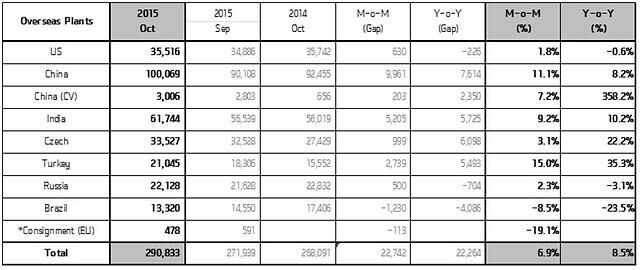 * 'Consignment (EU)' includes the amount of vehicles produced by Karsan (Turkish commercial vehicles manufacturer) on consignment.



About Hyundai Motor
Established in 1967, Hyundai Motor Company is committed to becoming a lifetime partner in automobiles and beyond. The company, which leads the Hyundai Motor Group, an innovative business structure capable of circulating resources from molten iron to finished cars, offers top-quality best-sellers such as Elantra, Sonata and Genesis. Hyundai Motor has eight manufacturing bases and seven design & technical centers worldwide and in 2014, sold 4.96 million vehicles globally. With almost 100,000 employees worldwide, Hyundai Motor continues to enhance its product line-up with localized models and strives to strengthen its leadership in clean technology, starting with the world's first mass-produced hydrogen-powered vehicle, ix35 Fuel Cell.

More information about Hyundai Motor and its products can be found at:
http://worldwide.hyundai.com or http://www.hyundaiglobalnews.com
# # #