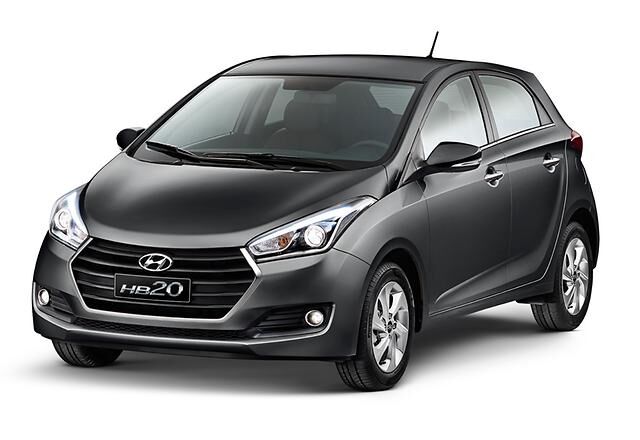 Hyundai Motor unveils refreshed HB20 for Brazil

 
- Updated exterior design reflects design philosophy Fluid Sculpture
- All-new entertainment and connectivity centre, blueMedia®, is compatible with Car Link®, for Android devices, and soon also with Apple CarPlay®
- Sales of the new hatchback begin in October, followed by Sedan and Crossover versions
 
September 22, 2015 – Hyundai Motor today announced the launch of a refreshed version of its HB20, a hatchback developed exclusively for Brazil. The New HB20 features an upgraded visual identity and a revised cabin that is more refined and better equipped, as well as a range of new connectivity, comfort and safety features. The HB20 will go on sale in Brazil from October, with sedan and crossover versions to follow.
 
Launched in October 2012, the HB20 has become one of the best-selling cars in Brazil, surpassing the milestone of 500,000 units produced locally in August this year.
 
The New HB20 incorporates new front and rear bumpers, and Hyundai Motor's design signature front hexagonal grille with chrome details, which for the Premium version is flanked by projector headlights with LED daytime running lights. Premium and Comfort Style versions also gain new clear-type tail lights and front fog lights.
 
Inside, the New HB20 is more stylish and comfortable, with new seats coverings – including optional brown leather. The Premium version benefits from automatic air conditioning, two side airbags and automatic retractable side mirrors. An on-board computer, standard on all versions, now has a maintenance reminder function.
 
A highlight of the revised cabin is an exclusive entertainment centre, blueMedia®, bringing advanced on-board connectivity and entertainment features. The system is compatible with Car Link®, allowing content mirroring of Android phones on the dashboard screen.
 
Available applications include those for navigation (e.g. Google Maps, Maplink, Apontador and TomTom Brazil) and music players (e.g. TuneIn, Spotify, Deezer and Rdio); as well as native smartphone content. With the car in full stop, full smartphone content can be accessed, including Facebook, Instagram, Whatsapp, internet browsers and games.
 
The New HB20's new entertainment centre will also be compatible with Apple's CarPlay® platform in 2016.
 
Optional in Premium versions is blueMedia®, offering a modern and intuitive interface with a 7-inch touchscreen, complemented by steering wheel audio controls, Bluetooth connectivity, audio streaming, access to the phone's calendar, iPod compatibility, MP3 player, and the facility to display photos and videos.
 
All versions of HB20 come with blueAudio®, the new version of this system incorporating a 3.8-inch LCD screen.
 
The New HB20 is available with six-speed manual and automatic transmissions, engineered to enhance the driving experience and optimise performance and energy efficiency. In both the manual and automatic transmissions the sixth gear works as overdrive, reducing fuel consumption, emissions and noise levels at higher speeds.
 
Improvements have also been made to both the HB20's Kappa 1.0-litre and Gamma 1.6-litre engines for improved fuel economy and performance.
 
-Ends-
 
About Hyundai Motor
Established in 1967, Hyundai Motor Company is committed to becoming a lifetime partner in automobiles and beyond. The company, which leads the Hyundai Motor Group, an innovative business structure capable of circulating resources from molten iron to finished cars, offers top-quality best-sellers such as Elantra, Sonata and Genesis. Hyundai Motor has eight manufacturing bases and seven design & technical centres worldwide and in 2014, sold 4.96 million vehicles globally. With almost 100,000 employees worldwide, Hyundai Motor continues to enhance its product line-up with localized models and strives to strengthen its leadership in clean technology, starting with the world's first mass-produced hydrogen-powered vehicle, ix35 Fuel Cell.
 
More information about Hyundai Motor and its products can be found at:
http://worldwide.hyundai.com or http://www.hyundaiglobalnews.com  
 
 
About Hyundai Motor Brasil
Hyundai Motor Brasil is present in the country since 2012, when it opened its plant in Piracicaba (SP), with an investment of US$ 700 million and a production capacity up to 180,000 cars per year. The unit, which has now 2,700 employees, is responsible for manufacturing and marketing of HB20 family, specially developed for the Brazilian consumer. The line-up is currently composed by HB20, HB20S and HB20X models.
 
To learn more about Hyundai Motor Brazil, visit: www.hyundai.com/br.