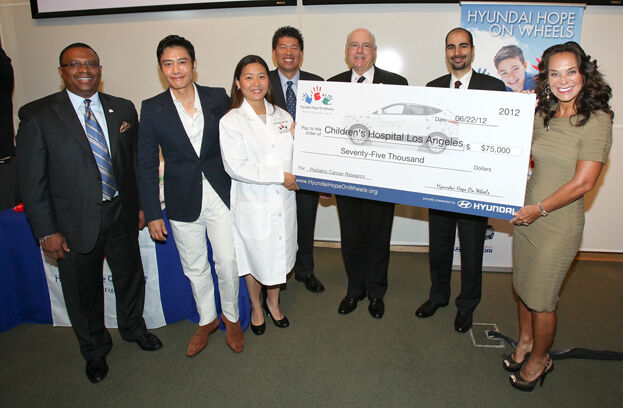 Hyundai Motors is stepping efforts to combat childhood cancer.
The company said on the 22nd that funds have been delivered to a children's hospital based in Los Angles to help children fighting cancer.
The event was part of the US sales subsidiary's campaign Hope on Wheels, and the Korean actor Byung Hun Lee also donated 75,000 USD to the cause.
The total amount donated to the hospital since 2004 rang up to 461,000 USD. The fund will be tapped for research into fighting childhood cancer.
Hope on Wheels that started in 1998 is a joint fund that pulls a certain amount (14 USD) for each car sold by the American dealerships and donations by the Hyundai Motors US sales sub. The 800 US dealerships of Hyundai Motors are all taking part.
This will not be a one-off event as the company plans to expand the fund-raising and the extent of the sponsorship going forward.
To this end, the goal is to secure over 57 million USD by the end of this year and support 43 hospitals and institutions including the LA Children's Hospital with 12 million USD.
Hyundai Motors also sponsored the Korean actors' hand printing event at the Grauman's Chinese Theatre for two days on the 23rd and 24th.