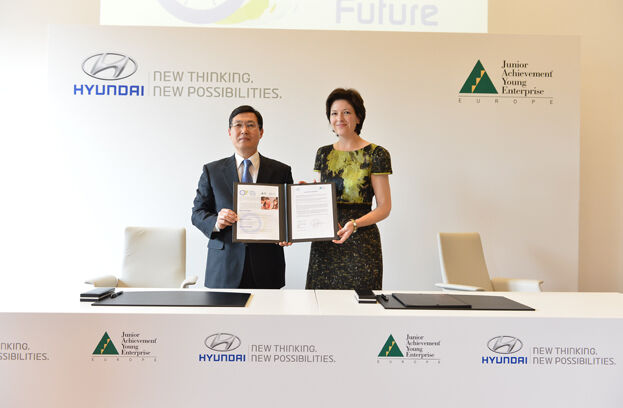 Hyundai Motors has entered into an agreement with Junior Achievement-Young Enterprise Europe (JA-YE Europe), a European economic training NGO at the Brussels Square where the European Business Summit is slated to be held, and announced a pan-European CSR program Skills for the Future on the 26th local time.
The head of the European subsidiary (HME) Tak-Wook Lim, JA-YE Europe CEO Caroline Jenner, and EU Commissioner Jean-Louis de Brouwer, and approximately 50 others were said to be present.
Hyundai Motors will be running the Skills for the Future for three years until 2014 in 400 schools across 15 nations to 10,000 people annually, and 50 schools in Germany, the UK, Italy, Spain, and the Czech Republic will be the first start this September.
The Skills for the Future is a tailored training course for students aged 15 to 18 in European vocational schools aiming to sharpen the teens' edge in the job market by offering two to three hours a week for a year of introductory courses and skill training followed up by mock team efforts in starting and running a business, thereby helping the trainees gain a greater understanding of what it takes.
A 400-strong staff of Hyundai Motors subs and dealerships across the continent will also be volunteering to talk about job opportunities in the automobile industry.
Mr. Lim said in an opening remark that "Hyundai Motors does most of the design for our European autos here at the Europe Design Center, and half of the cars sold here are made in the Czech Republic. We will continue to serve the European auto industry and economy in tandem with our greater presence in the region."