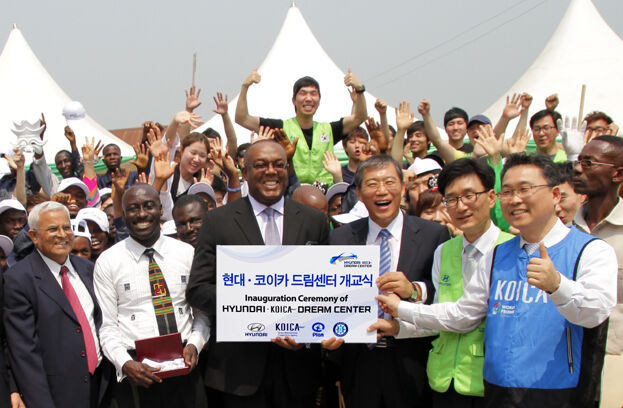 Hyundai Motors has opened the Hyundai KOICA Dream Center in Ghana, Africa and is stepping up efforts in supporting less-developed nations.
The company said that the Hyundai KOICA Dream Center opening ceremony was held in the presence of 300 people including Governor Victor Smith of eastern Ghana and Korean Ambassador Jaemin Kyun in the city of Koforidua on the 29th.
The new official high school which opened a year after breaking ground has been a joint effort by Hyundai Motors, KOICA, and Plan Korean to train auto technicians.
This is a global CSR project between the private and public sectors to address the inequality in education and create jobs is underdeveloped countries.
The Hyundai KOICA Dream Center is composed of a three-story school building with classrooms, training rooms, computer labs, and a library, and a dorm for around 40 people complete with a restaurant.
The company plans to enroll approximately 100 new students this year, ultimately bringing the total student body to 300.
The aim is to train skillful maintenance experts armed with the theoretic and professional practices.
The company said that "The Hyundai KOICA Dream Center will become a top vocational school not only in Ghana but in Africa by offering high-level maintenance training."