Hyundai Produces One Millionth Car at Czech Factory


 
New Generation i30 the one millionth car produced by award-winning plant

More than 10.000 manufacturing-related jobs created by facility

Hyundai orders €1,3 billion-worth of parts from European suppliers annually
Offenbach, 16 May 2013
 
On 16 May 2013, a New Generation i30 became the one millionth car to be produced at Hyundai's award-winning manufacturing facility in Nošovice, Czech Republic.  Production started at the plant on 3 November 2008, with an original i30 model being the first car to emerge from the line.
 
Hyundai has invested €1,2 billion in its Hyundai Motor Manufacturing Czech (HMMC) factory, where mass production commenced in November 2008, and 15.500 vehicles were made by the end of the following month.  A second shift was added in September 2009 to meet rising demand for Hyundai's 'made for Europe' models and, by 2010, annual production had reached 200.000 units.  As consumer demand continued to increase, a third shift was introduced in 2011, and the facility made 300.000 cars during 2012.
 
HMMC has annual turnover of €3,2 billion and pays combined annual salaries of almost €47 million.  Almost 3.500 people are directly employed at the plant, with a further 7.000 employed at supplier companies.  The plant contributes significantly to the €1,3 billion of parts ordered from within Europe by Hyundai each year.
 
Allan Rushforth, Senior Vice President and COO at Hyundai Motor Europe, said: "Since 2008, we have developed our business to become a truly 'European' brand.  Our Czech plant is at the heart of our European success, producing the two best-selling Hyundai models in the region and making one car every minute.  It's cars such as New ix35 and New Generation i30 that have helped us achieve a record-high European market share of 3,5% in 2012."
 
As output has grown at HMMC, it has played an ever-greater role in securing the Czech Republic's position as the world's second-largest producer of cars per capita.  It is the only car factory to have been awarded the country's prestigious 'National Award for Quality', reflecting how closely the plant works with its suppliers to ensure the highest standards of quality.  Three principal suppliers are located directly on the factory ground, reducing road traffic by 200 trucks each day, while another 15 principal suppliers are located in the Czech Republic, where 62% of the parts by value are produced for the New Generation i30.
 
The Nošovice plant produces the Hyundai ix20 MPV, New ix35 compact SUV and New Generation i30.  As well as being manufactured in Europe, each model has also been designed and developed for the European market at Hyundai's European Technical Centre in Rüsselsheim, Germany.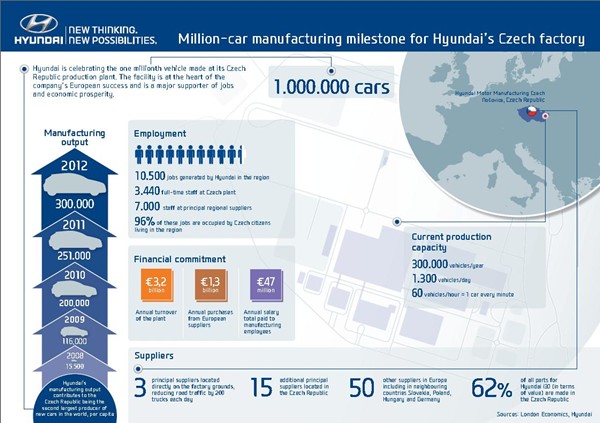 About Hyundai Motor
Established in 1967, Hyundai Motor Co. has grown into the Hyundai Motor Group, with more than two dozen auto-related subsidiaries and affiliates.  Hyundai Motor - which has seven manufacturing bases outside of South Korea including Brazil, China, the Czech Republic, India, Russia, Turkey and the U.S. - sold 4,4 million vehicles globally in 2012. Hyundai Motor, which employs over 80.000 worldwide, offers a full line-up of products including small to large passenger vehicles, SUVs and commercial vehicles.
 
Further information about Hyundai Motor and its products is available at www.hyundai.com.
 
About Hyundai Motor Europe
The company designs, engineers and manufactures cars in Europe, specifically for European consumers.  In 2012, Hyundai achieved European sales of 444.000 units, taking a new-car market share of 3,5%.  Almost 95% of the vehicles Hyundai sells in the region are designed, engineered and tested in Europe.  And more than 70% are built at its two local factories (Czech Republic and Turkey), including New Generation i30, which was shortlisted for Europe's 2013 Car of the Year award and has won 14 awards throughout the region.  Hyundai sells cars in 28 European countries across 2.500 outlets.
 
Hyundai offers its unique, Europe-only, Five Year Triple Care warranty package with all new cars sold in the region, providing customers with a five-year warranty with no mileage limit, five years of roadside assistance and five years of vehicle health checks.
 
More information about Hyundai Motor Europe and its products is available at www.hyundai.com/eu.