HYUNDAI SONATA HYBRID DEBUTS AT NEW YORK AUTO SHOW
Breakthrough lithium-ion Batteries Leapfrog Existing Nickel-Metal Hydride and Lithium-Ion Technology
NEW YORK, March 31, 2010 – As global automakers work out implementation timing for new fuel-efficient powertrain technologies such as gasoline direct-injection (GDI), twin-scroll turbochargers, and full-hybrid powertrains, Hyundai announced today that the all-new 2011 Hyundai Sonata is the first vehicle in the industry to offer all three technologies with the new Sonata 2.0T (turbo) and Sonata Hybrid joining the hot-selling GDI-equipped Sonata in Hyundai showrooms later this year.
            At the New York auto show today, Hyundai unveiled its 2011 Sonata Hybrid, changing the game in hybrids with unique approaches in hybrid powertrain design, battery technology and vehicle appearance. The Sonata Hybrid is Hyundai's first hybrid in the U.S. market.
            "The Hyundai Sonata Hybrid is the new kid on the block, but it's not a follower," says John Krafcik, president and CEO, Hyundai Motor America. "Its full parallel hybrid configuration and breakthough lithium-ion batteries offer a new take on traditional hybrid design, while its unique design sets it apart from the mid-size hybrid pack."
            The Hyundai-developed Hybrid Blue Drive architecture is a full parallel hybrid drive system, which can operate on an electric motor, gasoline internal combustion engine, and a combination of the two depending on driving conditions and driver demands. Hyundai's proprietary full parallel architecture differs from the power split technology used by most competitors, allowing significant efficiency advantages at higher speeds. Hyundai Hybrid Blue Drive is the first and only system using lithium-ion battery technology – leapfrogging competitive in-market nickel-metal hydride and lithium-ion applications. Lithium polymer offers the benefits of lithium-ion, a technology used in laptops and cell phones, but adds robustness, power-density and package flexibility, making it ideal for automotive applications. Hyundai Hybrid Blue Drive also is unique in its use of the company's own highly efficient, compact new 6-speed transmission, modified with hybrid starter-generator, electric motor, and low-friction oil pump, which together allow the elimination of the traditional torque converter. 
            Hyundai Hybrid Blue Drive is a new addition to a full suite of eco-focused products and technologies that Hyundai offers in its goal to be the auto industry's global eco-leader. According to the EPA, Hyundai has led the U.S. industry in fuel economy for 2008 and 2009, and is currently the only automaker with average fleet fuel economy of more than 30 miles per gallon.
            "Hyundai applies advanced technologies to vehicles to provide the best solutions for the everyday driver," said Krafcik. "Unlike traditional hybrids that trade off highway fuel economy for higher city ratings, the Sonata Hybrid delivers best-in-class highway fuel economy, while still delivering about a 40 percent improvement in city fuel economy compared to a Sonata equipped with the Theta II GDI engine. We think this is a better balanced approach for the majority of car buyers."
PERFORMANCE
             Sonata Hybrid's projected best-in-class highway fuel economy of 39 mpg offers significant benefit to hybrid owners with highway commutes, while also offering outstanding city fuel economy of 37 mpg.  Government studies have shown that the typical U.S. driver operates in a highway mode 57 percent of the time. Hyundai's approach to deliver class-leading fuel economy in highway mode provides a unique solution in the mid-size sedan hybrid market, and differentiates Sonata Hybrid from the likes of Toyota Camry Hybrid and Ford Fusion Hybrid. Sonata Hybrid delivers typical hybrid fuel economy gains in the city like its competitors, but also gives owners outstanding fuel economy on the highway, where these competitors fall short.
Sonata Hybrid delivers class-leading electric-vehicle operation at steady-state speeds of up to 62 miles per hour. Gasoline engine engagement depends on state of charge, acceleration and vehicle speed. Its two propulsion units develop a total output of 209 horsepower at 6,000 rpm, exceeding all mid-size competitors, and 195 lb-ft of torque. The weight-efficient architecture of the new Sonata platform, combined with the lightweight lithium-ion battery pack, make the Sonata Hybrid the lightest vehicle in the segment, at just 3,457 pounds, 263 pounds lighter than the Fusion Hybrid. Combined with Sonata's best-in-class horsepower rating, Sonata Hybrid has a significant advantage in power-to-weight ratio, a key enabler of both performance and efficiency.
           Hyundai's proprietary parallel hybrid drive system is the heart of the Sonata Hybrid. The competition uses a power split system with a planetary-geared Continuously Variable Transmission (CVT). This is where the Sonata Hybrid gains a key advantage. Competing hybrid models use electric motors that have to power a planetary gear set. By utilizing a full parallel drive system, Sonata Hybrid uses the power from the electric motor more efficiently to directly control the vehicle, allowing it to be operated at much higher speeds than the competition in EV-only mode. This technology is also a key enabler of Sonata Hybrid's best-in-class highway fuel economy. 
SONATA HYBRID VERSUS ITS RIVALS
 

2011 Sonata Hybrid

2011 Toyota Camry Hybrid

2010 Nissan Altima Hybrid

2010 Ford Fusion Hybrid

2010 Lexus HS250h

Engine 

2.4-liter

2.4-liter

2.5-liter

2.5-liter

2.4-liter

Engine  hp

 

169 hp

 

147 hp

 

158 hp

 

156 hp

 

147 hp

 

Engine torque

156 lb-ft

138 lb-ft

162 lb-ft

136 lb-ft

138 lb-ft

Electric 

Motor hp

40.2 hp

40 hp

40 hp

106 hp

40 hp

Electric

Motor torque

151.2 lb-ft @ 0-1,400 rpm

199 lb-ft @

0-1,500 rpm

199 lb-ft @

0–1,500 rpm

166 lb-ft

138 lb-ft

Hybrid system net power output

209 hp

187 hp

198 hp

191 hp

187 hp

Hybrid 

system

Parallel

Power Split

Power Split

Power Split

Power Split

Trans.

6-speed

CVT

CVT

CVT

CVT

Battery type

Lithium-Ion

Nickel-Metal Hydride

Nickel-Metal Hydride

Nickel-Metal Hydride

Nickel-Metal Hydride

EV only operation limit

62 mph

42 mph

42 mph

47 mph

42 mph

Fuel economy

city/ hwy

 

37/39 mpg

(est.)

33/34 mpg

35/33 mpg

41/36 mpg

35/34 mpg

Curb wt.

3,457 lb

3,680 lb

3,469.8 lb

3,720 lb

3,682 lb

Power to wt. ratio (lbs./total system power

16.54

19.68

17.52

19.48

19.69
| | | | | | |
| --- | --- | --- | --- | --- | --- |
| Pass. Vol. | 104 cu ft | 101 cu ft | 101 cu ft | 101 cu ft | 90 cu ft |
HYUNDAI'S HYBRID BLUE DRIVE ARCHITECTURE
           Hyundai's Hybrid Blue Drive is a proprietary parallel hybrid drive system that runs on the already fuel-efficient 2.4-liter Theta II engine (169 horsepower at 6,000 rpm and 156 lb-ft of torque at 4,500 rpm) mated to a 6-speed automatic transmission and a 30kW (151 lb-ft) electric motor for maximum fuel economy. Hyundai's Hybrid Blue Drive has an all-electric mode and a parallel drive mode. This means the wheels are turned by power coming directly from the gasoline engine, or the electric motor, or both together, as conditions demand. This parallel hybrid drive architecture will serve as the foundation for future hybrid drive vehicles to be developed by Hyundai.
In the Hyundai Hybrid Blue Drive system, the Theta II with multi-port fuel injection (MPI) operates on an Atkinson Cycle. Atkinson Cycle is a type of internal combustion engine strategy designed to dramatically increase fuel efficiency through changes in compression and power strokes in the four stroke engine. It is typically only used in hybrid systems where the high-torque electric motor boosts low-end power, which is traded off for internal combustion engine efficiency. By combining the electric motor and the Atkinson Cycle engine, the Hybrid Blue Drive system delivers best-in-class highway hybrid efficiency.
To further improve fuel economy, all of the Theta II major driveline and cooling system components have been optimized to reduce friction, while the crankcase has been filled with low friction oil. Hybrid Power Control (HPC) management software automatically shuts off the engine when the vehicle comes to a halt, cutting emissions to zero. When pressure is reapplied to the accelerator pedal, the Hybrid Starter Generator (HSG) automatically restarts the engine. This control strategy assures that maximum efficiency is achieved during gentle acceleration and greater power is immediately available during full acceleration. During deceleration, braking regeneration comes into play. Sonata Hybrid also features "smart brake" technology in which braking input over-rides accelerator pedal input.   
The high-tech, all-aluminum, 16-valve engine also features Continuously Variable Valve Timing (CVVT) on both camshafts and newly developed engine components to reduce friction. This optimized Theta II engine achieves 10 percent better fuel consumption over a conventional Theta II engine. 
Hyundai Hybrid Blue Drive uses the company's proprietary 6-speed automatic transmission rather than a conventional hybrid's CVT. Hyundai's strategy involves an adaptation of the modular 6-speed transmission, replacing the torque converter with an electric motor and high-efficiency oil pump. This technique uses a traditional step-shift 6-speed transmission rather than a CVT to provide a more traditional shift feel that is preferred by customers and sometimes artificially replicated in CVT applications. This saves on cost, making the Hyundai Hybrid Blue Drive system a better value. It is a more robust and elegantly simple solution to a complicated engineering challenge.
Fuel efficiency improvements are evident throughout Sonata Hybrid. For example, the top three gear ratios in the transmission have been extended to ensure the engine runs at lower RPMs, the electric motor-assisted steering system reduces demands on the engine, and low resistance tires further optimize fuel economy.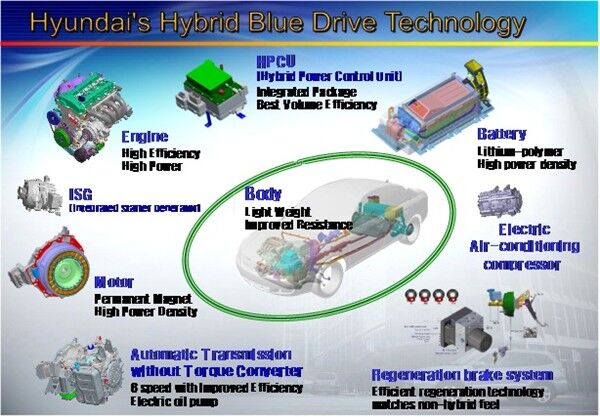 Hybrid Blue Drive is made up of the following major components:
An efficient 30kW electric motor delivering 151 lb-ft of torque
A regenerative braking system
An integrated starter generator that enables the engine to turn off at stops and restart automatically under acceleration
A breakthrough lithium-ion battery package, with 5.3 Ah of capacity at 270 volts
A fuel-efficient Theta II 2.4-liter engine
6-speed automatic transmission with an improved efficiency electric oil pump
Weight-efficient architecture coupled with a low drag coefficient (.25 Cd target)
Electric air conditioning compressor
Hybrid power control unit
LITHIUM-ION BATTERY TECHNOLOGY 
        Sonata's hybrid system stores its electrical charge in a 270V lithium-ion rechargeable battery (5.3Ah/270V) that surpasses existing nickel-metal hydride and pending lithium-ion applications.     lithium-ion batteries are more durable and space-efficient than other hybrid batteries. They are also more weight-efficient. The Sonata Hybrid's battery pack weighs just 95.9 pounds versus the Camry Hybrid's 123.9 pounds. The compact battery pack resides in the forward portion of the trunk to maximize cargo space.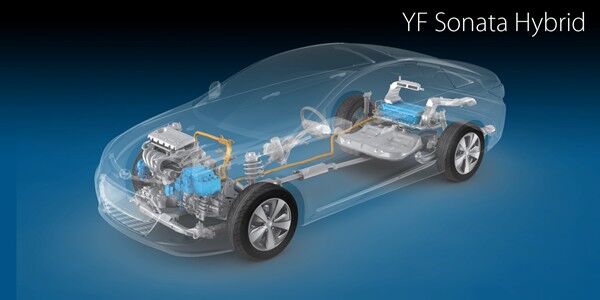 Lithium-Ion Batteries vs. Nickel-Metal Hydride Batteries
               Compared with nickel-metal hydride batteries, lithium-ion batteries deliver the same power with 20-30 percent less weight, 40 percent less volume and 10 percent greater efficiency over the nickel-metal hydride batteries found in today's hybrids. Lithium-ion batteries offer 1.7 times more energy density than nickel-metal hydride batteries, allowing Hyundai engineers to devote less space and weight to the battery pack. Lithium-ion batteries hold their charge 1.25 times longer. Lithium-ion batteries also are more resistant to changes in temperature, which improves cycle life. Additionally, lithium polymer's self-discharge rate is less than a third of a nickel-metal hydride battery.
Lithium-Ion Batteries vs. Lithium-ion Batteries
            Lithium-polymer has significant advantages over lithium-ion, including higher energy density and lower manufacturing costs. Lithium polymer is more resistant to physical damage and can handle more charge-discharge cycles before storage capacity begins to degrade. Lithium polymer technology also offers significant advantages in thermal robustness and safety.
               A key difference between traditional lithium ion batteries and Hyundai's lithium-ion battery solution is the overall packaging of the cell – the anode, the cathode, the electrolyte, and the encasement material. Traditional lithium-ion batteries, like those found in laptops, use what's known as the 18650 cell format. In this format, each mass-produced cell is 18 mm. in diameter and 65 mm. tall, which is a bit larger than a "AA" battery. Each of these small metal cylinders is filled with a liquid electrolyte that facilitates the movement of lithium ions across anode and cathode, creating the battery current.
               Traditional lithium-ion batteries are easy to handle, withstand mild internal pressures, and have been around in various forms since 1991. That means a manufacturing infrastructure is in place, and economies of scale are reasonably high. However, they do have several disadvantages. For example, their cylindrical shape reduces packaging efficiency and they are surprisingly complicated to manufacture since they have so many small parts. These small parts make them robust to thermal fluctuations and add significant cost and weight to the overall battery system. Cell-to-cell consistency also is extremely critical in a vehicle battery package, since the pack is only as robust as its weakest cell. Traditional lithium-ion batteries have considerable cell-to-cell variation, while Hyundai's lithium-ion batteries deliver outstanding cell-to-cell consistency.
               Lithium polymer technology uses a completely different approach. Rather than using a liquid electrolyte, which requires a robust metal casing, lithium-ion batteries use a polymer gel as the electrolyte, which allows the use of a thinner and lighter aluminum-walled encasement, or pouch. Inside each lithium polymer cell, the cathode, separator, and anode are laminated together, enabling much simpler and more reliable manufacturing. This allows the battery pack to be about 20 percent smaller than a lithium-ion battery pack, making it much easier to change the cell footprint to fit the nooks and crannies of available vehicle space.
               Hyundai and its battery supplier, LG Chem, have spent hundreds of hours testing the Hyundai Hybrid Blue Drive lithium-ion battery system. This testing has proven that Hyundai's lithium polymer technology has greater thermal and mechanical stability than existing systems, meaning better safety and performance.
               Another key engineering challenge for Hyundai Hybrid Blue Drive has been assuring maintenance-free battery operation over the vehicle's life – at least 10 years, and 150,000 miles – in all weather conditions. Heat is the enemy of battery cycle life. Hyundai's thermal imaging testing shows how much cooler a lithium-ion battery is compared to today's nickel-metal hydride battery or a conventional lithium-ion battery. Consumers will notice these advantages in improved useful life and lower maintenance costs.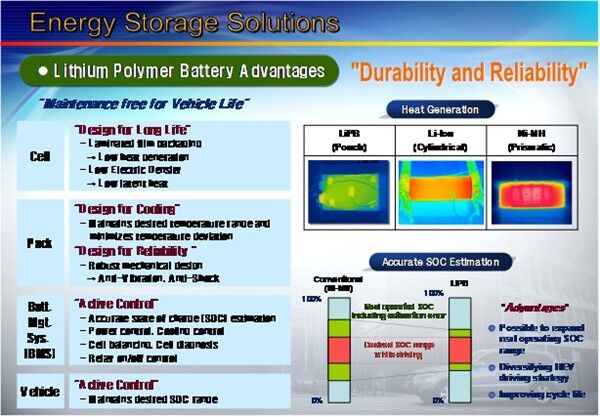 FLUIDIC SCULPTURE DESIGN ADDS A UNIQUE ECO FLAIR
Hyundai designers have taken Sonata's fluidic sculpture design language a bit further with Sonata Hybrid, making it even more aerodynamic. The goal was a modern, eco-friendly design, with "at-a-glance" differentiation from the non-hybrid Sonata models. 
Unique exterior design elements

Headlights and taillights
Aerodynamic bumper fascias
Aerodynamic rocker panels
Bold hexagonal grille
Eco-spoke wheels
Air dam and aero side sills
Hybrid Blue Drive badging
Exclusive hybrid paint color
Interior refinements

Supervision cluster with eco-display options
Unique interior color choice
Unique seat patterns
The Sonata Hybrid also offers drivers a way to be more engaged in fuel-efficient driving thanks to Hyundai's Hybrid Technology Display. The Hybrid Technology Display is featured on a 4.2-inch LCD screen located between the odometer and tachometer, or is visible on the optional seven-inch navigation screen. It features the following information:
Driving mode
Energy flow within the vehicle
Engine and motor movement
Fuel level
Battery power levels and charge status
Electric vehicle mode indicator
Average and instant mpg
The Hybrid Technology Display's most unique feature is an Eco Level scoring system. The high definition display acknowledges eco-focused driving with eight levels of sky color, ranging from gray to bright blue. It also accumulates points in Total Eco mode over time. An Eco Guide also provides instant fuel economy feedback.   
HYUNDAI MOTOR AMERICA
Hyundai Motor America, headquartered in Fountain Valley, Calif., is a subsidiary of Hyundai Motor Co. of Korea. Hyundai vehicles are distributed throughout the United States by Hyundai Motor America and are sold and serviced through almost 800 dealerships nationwide. All Hyundai vehicles sold in the U.S. are covered by the Hyundai Assurance program which now includes the 5-year/60,000 mile fully transferable bumper-to-bumper warranty, Hyundai's 10-year/100,000 mile powertrain warranty and five-year complimentary Roadside Assistance in addition to the highly acclaimed vehicle return policy introduced in early 2009. For more details on Hyundai Assurance, please visit www.HyundaiAssurance.com.
###
Journalists are invited to visit our news media website: www.hyundainews.com.