Bowled over!
International Cricket Council takes delivery of luxury Hyundai models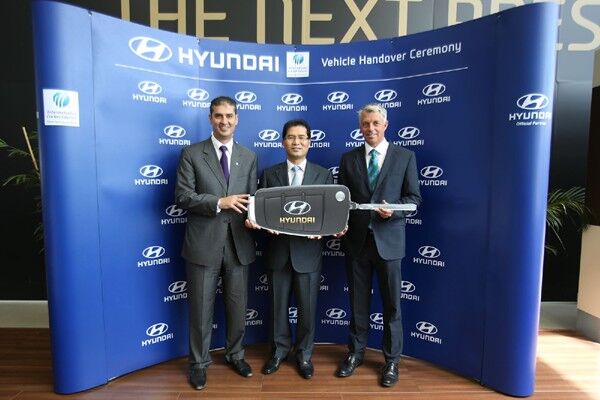 Dubai, 5 March 2013
– Hyundai Motor Company, the fastest-growing automaker by brand, today handed over the keys to its top luxury models to the International Cricket Council (ICC), the global governing body for the sport, in the latest stage of the highly successful partnership between the two high profile organizations.
The ICC received delivery of three Hyundai vehicles (1 Centennial, 2 Genesis). The Centennial provides the ICC with the perfect large luxury executive saloon to travel around the city in exceptional comfort. High-class features and design elements ensure drivers and passengers are able to fully enjoy the pinnacle of automotive luxury. To be used for transporting VIP visitors and ICC Executives, the Centennial and Genesis combine the latest technology, premium levels of comfort, and stylish interior and exterior design.    
An official handover ceremony held at the Hyundai Juma Al Majid showroom in Deira, Dubai. Accepting the vehicle keys, Chief Executive of the ICC, David Richardson said: "The ICC is fortunate to work with such a globally renowned and innovative company as Hyundai and we look forward to experiencing these exceptional vehicles on a daily basis."
Handing over the vehicles, Managing Director of Hyundai Middle East, Tom Lee said: "We are proud to be associated with ICC as an official partner and are delighted to hand over our premium range of cars. We are certain that the stylish design, refined levels of comfort and cutting-edge technology will be appreciated by all those who drive or ride in these vehicles."
The ICC, which is based in Dubai, is the global governing body for international cricket, encompassing men's, women's and youth participation and competition, and has 106 member countries across five continents.
Hyundai, the world's fastest-growing automaker by brand, signed a five-year deal with the ICC in 2011 to become the organization's first official car sponsor. The agreement, which also covers the ICC World Twenty20, ICC Champions Trophy, ICC Cricket World Cup, is part of Hyundai's efforts to expand its global sports marketing activities and boost its brand image worldwide. Hyundai also has a high profile partnership with FIFA, which covers the next three FIFA World Cups, while the company is involved in a variety of other sports, including golf, ski jumping and WRC.  
-Ends-      
Further information about
Hyundai
Motor Company and its products is available at:
Web:
www.hyundaiglobalnews.com
Facebook:
www.facebook.com/hyundaime
Twitter: @hmcglobalpr  
For more information, please contact:  
Jodie Davies – Account Director
Performance PR ME
Tel: +971 (0) 4 434 7365
Mob: +971 (0) 56 7995727
Jodie@performanceprme.com
Jonathan Kanaa - Account Executive
Performance PR ME
Tel: +971 (0) 4 434 7365
Mob: +971 (0) 50 857 7868
jonathan@performanceprme.com
About
Hyundai
Motor Company
Established in 1967, 
Hyundai Motor Co.
 has grown into the Hyundai Motor Group, with more than two dozen auto-related subsidiaries and affiliates. Hyundai Motor -- which has seven manufacturing bases outside of South Korea including Brazil, China, the Czech Republic, India, Russia, Turkey and the U.S. -- sold 4.4 million vehicles globally in 2012. Hyundai Motor, which employs over 80,000 worldwide, offers a full line-up of products including small to large passenger vehicles, SUVs and commercial vehicles.    
About Hyundai Middle East
Hyundai Motor's Middle East headquarters are located in Dubai, United Arab Emirates, and are run by Managing Director for the Middle East, Tom Lee. Hyundai's retail network in the GCC and Levant consists of: Bahrain, Kuwait, Qatar, KSA: Dammam, Jeddah and Riyadh; UAE, Jordan, Lebanon, and Syria.  
Hyundai recorded its best ever sales across the whole Middle East region in 2012, selling 305,800 vehicles, an increase of 7.7%. The year also saw to another landmark figure, as the Korean manufacturer sold its two millionth car in the region since it began exports in 1976.  
Hyundai's record-breaking 2012 sales were led by its luxury models - the Centennial and Genesis - which saw sales increase by 244% and 31% respectively. The Accent was the biggest seller with sales of 75,133, followed by the Elantra. The SUV line-up (Tucson, Santa Fe and Veracruz), also performed strongly selling over 60,500 units.