Paul Dallenbach pilots his RMR Genesis Coupe Racer.

 
Hyundai Motor America Burns Up Pikes Peak
 
Paul Dallenbach breaks time attack class record
in Hyundai RMR Genesis Coupe Racer

Rhys Millen sets new personal best in Hyundai-powered race car

Efforts align with Hyundai's expansion into motorsport, emphasis on performance
 
Pikes Peak, Colo. -- Hyundai Motor America turned in another dominating performance at the 2013 Pikes Peak International Hill Climb this week in Colorado, United States.
 
Driving an RMR Genesis Coupe Racer, Paul Dallenbach set a new world record in the Time Attack class, making the full ascent to the 14,115-foot Pikes Peak summit in 9:46.001. Dallenbach drove the same Racer that Rhys Millen used to set the world record last year.

"The Rhys Millen Racing-prepared Genesis Coupe really complemented my aggressive driving style in setting the Time Attack world record," said Dallenbach. "With some very specific adjustments to the car this year giving a more neutral handling balance, I was able to even build upon last year's world record set by Millen. It was thrilling to drive a racer that made full use of my years of experience at Pikes Peak."

One day later, Millen returned to Pikes Peak, where he set last year's world record, and recorded a new personal best time to the summit of 9:02.102. Millen built and drove an all-new unlimited-class, tube frame race car powered by a production-based Hyundai Lambda engine block, heads and powertrain support equipment. The production Hyundai electronic power steering (taken from Sonata) performed flawlessly at high and low speeds like providing ample feedback.

"Years of experience spent on Pikes' challenging 156 turns paid off in a big way for the RMR team this year," said Millen. "By building an all-new Hyundai Genesis PM580-T tarmac-focused race car, the team made precise adjustments, building upon last years' world record. We focused on leveraging monster downforce, creating incredible traction for our rear-drive strategy on the all-tarmac road surface. Behind the wheel, considerable experience at Pikes Peak over the years allowed me to shave a few tenths from every challenging apex."

Hyundai Motor is rapidly expanding its motorsport presence and high-performance profile. Hyundai Motorsport GmbH was established in Alzenau, Germany, this year with the goal of preparing an i20 WRC rally car for competition in the FIA World Rally Championship in 2014.

Every lesson about performance, driving dynamics and durability that Hyundai Motor learns from racing will be poured directly into its road-going vehicles.

In addition, Hyundai Motor is opening a workshop at the famed Nurburgring track in Germany to improve the performance testing of its road-going cars.

 
HYUNDAI RMR GENESIS COUPE TIME ATTACK RACER
With the current world record in its credentials, Millen could have simply let teammate Paul Dallenbach run the RMR Genesis Coupe at Pikes Peak without upgrades for 2013. But the team saw opportunities to improve the RMR Genesis Coupe even further. A new clutch-type rear differential was fitted to reduce inside wheel spin in the tightest of Pikes hairpin turns, especially those with extreme crown affecting corner-exit acceleration. Staggered tire sizes were adjusted, with a smaller overall diameter for the front tires, effectively increasing rear-to-front rake and increasing the front tire-patch weight balance, reducing understeer. In addition, stiffer rear springs were fitted, further reducing understeer for more perfect balance.

PAUL DALLENBACH
Dallenbach is a veteran Pikes Peak racer who competed in the 2013 Pikes Peak International Hill Climb Time Attack 2WD class. He drove the same production-based Genesis Coupe that set last year's all-time world record with Rhys Millen at the helm. Paul is a local Colorado fan favorite, with a thoroughly impressive Pikes Peak resume, including six Pikes Peak class wins and three overall wins at the world's most prestigious hill climb. Paul, the younger brother of NASCAR Winston Cup Series driver Wally, was also the 1993 Pikes Peak Hill Climb Champion. His other victories include a three-time champion of the Alcan 5000 Rally.

HYUNDAI GENESIS PM580-T UNLIMITED-CLASS RACER
Not content to rest on their laurels from last years' all-time record in the RMR Genesis Coupe, the RMR team held nothing back in race preparation for this years' all-new unlimited-class racecar. Starting with a Grand Am Daytona Prototype tubular monocoque chassis with aluminum honeycomb from Crawford Race Cars, Millen added a custom carbon-composite body modeled after the production Genesis Coupe's unique greenhouse silhouette. Front and rear suspensions use sophisticated front and rear double A-arms with a pushrod setup and Penske 8760 racing dampers. The engine block and heads are from the Hyundai production-based Lambda engine family, with a Garrett turbocharger feeding the highly pressurized (22:1) air-fuel mixture, creating 900 horsepower and 800 lb. ft. of torque.

RHYS MILLEN
World Champion driver Rhys "Mad Skills" Millen pilots the RMR Hyundai Genesis Coupe in the Formula DRIFT Championship and the RMR Hyundai Veloster rally car in the U.S. Rallycross Championship Series, including Summer X-Games. Millen's team has been a great match for Hyundai motorsports. Millen's driving credentials include movie stunts, multiple drifting championships, two Pikes Peak world records and his 2008 New Year's Eve Las Vegas truck flip at Red Bull: New Year. No Limits. Behind Millen's success in the driver's seat is a full team of engineers and fabricators who know how to maximize the potential of a race car.

HYUNDAI MOTOR AMERICA
Hyundai Motor America, headquartered in Costa Mesa, Calif., is a subsidiary of Hyundai Motor Co. of Korea. Hyundai vehicles are distributed throughout the United States by Hyundai Motor America and are sold and serviced through more than 820 dealerships nationwide.

Media contacts:
Jim Trainor
(714) 594-1629
jtrainor@hmausa.com
 
Miles Johnson
(734) 337-2227
milesjohnson@hmausa.com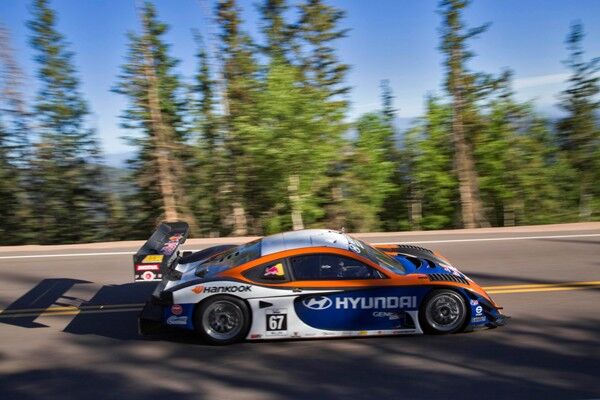 Rhys Millen drives his new unlimited-class race car.