Hyundai Motor Announces 2017 1Q Business Results  
 
Hyundai Motor sold 1.09 million units worldwide in the first quarter of 2017
Sales revenue KRW 23.37 trillion; Operating profit at KRW 1.25 trillion
Expanding line-up of SUVs and GENESIS brand models to help regain sales momentum 
 
 Apr. 26, 2017 - Hyundai Motor Company announced its 2017 first-quarter business results today in Seoul, reporting a 4.5 percent year-on-year increase in sales revenue.
 
 The company posted first-quarter revenue of KRW 23.37 trillion compared to KRW 22.35 trillion in the same period in 2016 as improved product mix helped offset decline in sales volume.
 
 In the first quarter of 2017, Hyundai Motor's global sales totalled 1.09 million units compared with 1.11 million units in the same period last year due to weak sales in emerging markets including China.
 
 Operating profit totalled KRW 1.25 trillion, a 6.8 percent decline from KRW 1.34 trillion in the same period in 2016, as the company spent more in R&D to secure future growth engine and increased marketing costs. First-quarter net profit recorded KRW 1.41 trillion versus KRW 1.77 trillion a year earlier.  
 
 While uncertainty in business environment is likely to continue for the time being, Hyundai Motor will continue to strive to strengthen its product competitiveness in the global market. Enhanced product line-up including new small SUV and GENESIS brand models are expected to help the company regain sales momentum going forward, which will lead to a gradual recovery in earnings.
 
 Hyundai Motor will continuously invest in R&D with focus on three core future technologies -- Clean Mobility, Freedom in Mobility and Connected Mobility -- to ensure future growth.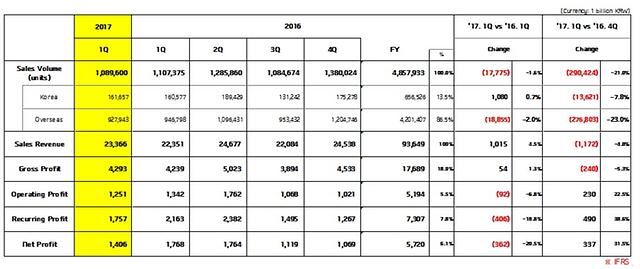 Cautionary Statement with Respect to Forward-Looking Statements
 
 In this release, our use of the word "expect," "anticipate," "project," "estimate," "forecast," "objective," "plan," "goal," "outlook," "target," "pursue" and similar expressions is intended to identify forward looking statements.
 
 The financial data discussed herein are presented on a preliminary basis before the audit from Independent Auditor; final data will be included in HMC's Independent Auditors report. While these statements represent our current judgment on what the future may hold, and we believe these judgments are reasonable, actual results may differ materially due to numerous important factors. Such factors include, among others, the following : change in economic conditions, currency exchange rates or political stability; shortages of fuel, labor strikes or work stoppages; market acceptance of the corporation's new products; significant changes in the competitive environment; changes in laws, regulations and tax rates; and the ability of the corporation to achieve reductions in cost and employment levels to realize production efficiencies and implement capital expenditures at levels and time planned by management.
 
 We do not intend or assume any obligation to update any forward-looking statement, which speaks only as of the date on which it is made.
  
-Ends-
  
 
About Hyundai Motor
 Established in 1967, Hyundai Motor Company is committed to becoming a lifetime partner in automobiles and beyond. The company leads the Hyundai Motor Group, an innovative business structure capable of circulating resources from molten iron to finished cars. Hyundai Motor has eight manufacturing bases and seven design & technical centers worldwide and in 2016 sold 4.86 million vehicles globally. With more than 110,000 employees worldwide, Hyundai Motor continues to enhance its product line-up with localized models and strives to strengthen its leadership in clean technology, starting with the world's first mass-produced hydrogen-powered vehicle, ix35 Fuel Cell and IONIQ, the world's first model with three electrified powertrains in a single body type.
 
 More information about Hyundai Motor and its products can be found at:
http://worldwide.hyundai.com or http://globalpr.hyundai.com/