Hyundai Motor Collaborates With Top Designer Karim Rashid

 
- Hyundai teams up with one of world's most renowned industrial designers
  Karim Rashid as part of its brand enhancement efforts
- Collaboration works to be unveiled at 2013 Seoul Motor Show


 
Feb. 25, 2013 - Hyundai Motor Company, the fastest growing automaker by brand, announced plans to unveil the works of its collaboration with one of the world's greatest designers Karim Rashid at the 2013 Seoul Motor Show starting on March 28, 2013. The collaboration between Karim Rashid and Hyundai is part of Hyundai Motor's continued efforts to target young, hip consumers who favor unique and emotional designs.
 
Karim Rashid is known for his creative and unprecedented vision, from product design to interior design, from furniture design to art. Recognized for his signature design, he won the Red Dot award and over 300 other design achievements, catapulting him to international fame.
 
"Karim Rashid's creative design philosophy and the unique individuality of Hyundai PYL brand represent a perfect match. Hyundai will showcase the i40 Art Car and a special design collection to offer visitors of the Hyundai booth at the Seoul Motor Show a variety of entertainment," said Won Hong Cho, Hyundai Motor's Chief Marketing Officer.
 
In order to attract young customers in Korea, Hyundai has included the i30, i40 and Veloster in the 'PYL (Premium Younique Lifestyle)' brand umbrella and has been carrying out specialized marketing activities under the brand.
 
The concept behind the European mid-sized i40 Art Car styled by Rashid is best defined as 'the joint between design and technology,' and the exterior characterized by triangular and rainbow shapes intends to capture the speed and movements of the automobile. The i40 Art Car will work to effectively promote the strategic styling of the PYL segment, highlighting the highly unique qualities of the i40.
 
Hyundai Motor also plans to showcase 'Karim Rashid's Special Collection of PYL' consisting of four pieces - a wristwatch, a backpack, a carrier bag and a tumbler – which will display Rashid's signature simple, unique design while maintaining the traditional functions of these everyday items.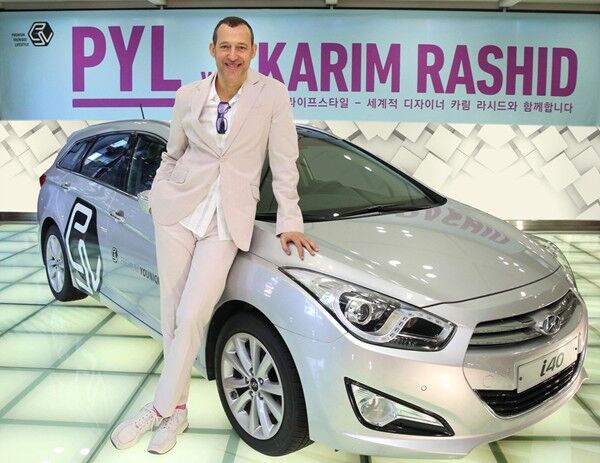 About Hyundai Motor
Established in 1967, Hyundai Motor Co. has grown into the Hyundai Motor Group, with more than two dozen auto-related subsidiaries and affiliates. Hyundai Motor -- which has seven manufacturing bases outside of South Korea including Brazil, China, the Czech Republic, India, Russia, Turkey and the U.S. -- sold 4.4 million vehicles globally in 2012. Hyundai Motor, which employs over 80,000 worldwide, offers a full line-up of products including small to large passenger vehicles, SUVs and commercial vehicles. Further information about Hyundai Motor and its products is available at www.hyundai.com.