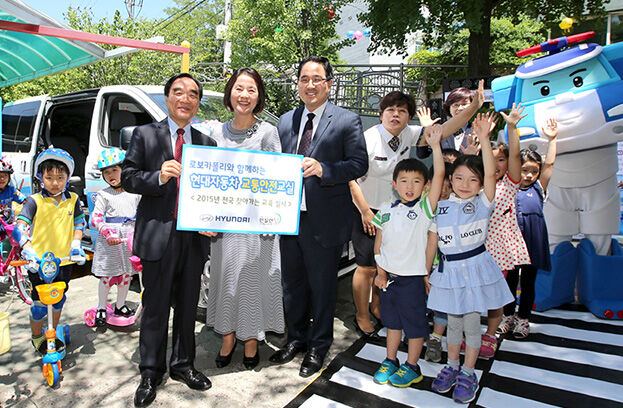 Hyundai Motor Company is striving to establish a safe traffic culture for children based on easy and enjoyable educational contents by utilizing a popular cartoon character.

Hyundai Motor Company, in close cooperation with the Coalition of Citizens for Safety (CCS), is holding "Robocar Poli Traffic Safety Class 2015" targeting nursery and kindergarten children nationwide in order to raise awareness about children's traffic safety and prevent accidents.

The company held this year's first class at Sangnoksu Nursery School located in Jongno, Seoul on Wednesday, May 27th where there were 60 attendees including Hyundai Motor Company officials, CCS officials, nursery school teachers and children.

Safety Committee Chairperson Park Yeon-hong of CCS commented in the opening remarks, "It is our pleasure to partake in this initiative to establish a safety culture with Hyundai Motor Company", adding, "We will do our utmost to minimize the risk of car accidents for children."

Hyundai Motor Company is receiving applications from May 12th to June 5th via the Kids Hyundai webpage (http://kids.hyundai.com). It is thought that 7,000 children will receive  training and education  through 200 class sessions this year.

"Robocar Poli Traffic Safety Class" is being conducted by Hyundai Motor Car because first and second graders account for over 50.2% of all fatal pedestrian traffic accidents involving elementary school students. The company determined thatpreventive education for lower grade students about traffic accidents was critical and then kicked off the campaign in 2013.

Hyundai Motor CompanyGroup conducted the class for first and second grade students in afterschool care classes in six cities nationwide. Then, it expanded the campaign target to kindergartens and nursery schools, educating 40 thousand students in two years.

Robocar Poli Traffic Safety Class consists of various enjoyable and stimulating onsite programs including "Traffic Safety Story with Poli" animation, theory education with pictures, exercise education using games and plays and the provision of a textbook for home use.

In particular, the company is operating a Starex as a "traffic safety trial vehicle" so that the children in underprivileged regions in farming and fishing villages can benefit from the program. The traffic safety trial vehicle program will offer various sessions including how to fasten the seat belt, getting into and out of cars   safely/getting on and off buses safely, identifying external blind spots, and safe bicycle riding.

In addition, the company will provide textbooks and materials for home use so children can review contents , maximizing the education effect.

An official at Hyundai Motor Company said, "Robocar Poli Traffic Safety Class" is expected to contribute greatly to the prevention of children's traffic accident by utilizing  an animation character that can galvanize children's enthusiasm and interest," adding, "Hyundai Motor Company will continue its efforts to establish a safe living environment for children who will be responsible of this society's future."

Meanwhile, Hyundai Motor Company cooperated closely with the animation production 'Roy Visual" in the development of 26 episodes of "Traffic Safety Stories with Poli", which is an education animation to promote traffic safety among children. The animation was aired not only in Korea, but also in China, Taiwan and Russia, and it has been ranked No. 1 in viewing figures in each country.

Also, the "Traffic Safety Stories with Poli" has recorded over 300 million views on YouTube channel, receiving a huge response worldwide.

In addition, Hyundai Motor Company is initiating various activities to establish a safe traffic culture for children and to prevent children's car accidents through its children safety campaign called "Happy Way Drive". Moreover, the company is holding diverse public programs including the children's safety onsite fair and children's safety quiz competition, the operation of "Kids Auto Park", the children's traffic safety onsite experience zone", the distribution of "angel's wings", a  protection tool for children when getting on and off  shuttle buses and the distribution of pedestrian crossing mats for children's safety education.
&l