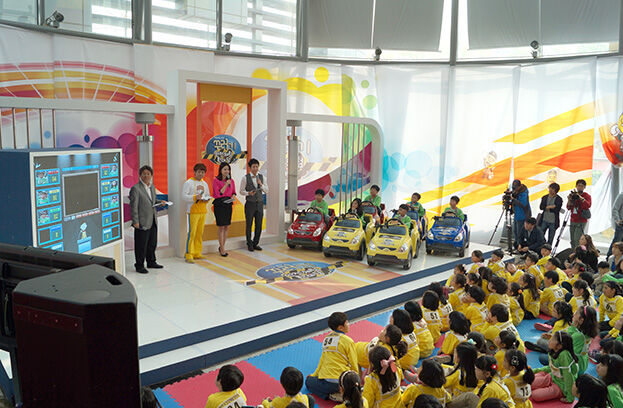 Hyundai Motor Company announced that it will hold an online preliminary match for the "7th Safety Quiz Campaign for Children in Korea," an event co-held with the Ministry of Public Safety and Security (MPSS) and the Citizens Coalition for Safety (CCS) and participated in by children, parents and teachers. The event will start from Thursday, May 7th via its webpage.

This competition is the nation's representative safety quiz competition and is cosponsored by citizens, public institutions and firms and partaken in by 17 cities and districts, 228 local government and various specialists from diverse safety related fields. Elementary schools and young children under seven years of age are eligible to participate in the event.

The preliminary match will take place from Thursday, May 7th to Monday, August 8th via Kids Hyundai webpage (http://kids.hyundai.com).

The safety quiz consists of problems from nine fields ? traffic safety, living safety, fire safety, etc. - all of which the children should be aware of. The participants will solve 20 to 30 multiple choice problems, and the children with top scores will be selected. Each participant is offered only one chance.

The contents for the quiz questions are in line with the e-book on safety guidelines uploaded on the Kids Hyundai webpage.

Through the preliminary match, the top 100 young children with the highest scores will be selected from acrooss the whole country and will be presented with the committee's certificate and gifts. For  students from lower and higher grades in elementary school, local government certificate prizes will go out to six students with the highest scores in  17 cities and provinces nationwide ? 100 people in total, but four in Sejong City - and two students in  228 cities, district and sections.

In addition, 30 winners from 17 cities and provinces will be offered the chance enter the final round.

The final round will be held on Sunday, July 12 at EBS broadcasting station in Seocho-gu, Seoul. Two students with the most excellent results will receive the "Quiz King/Queen Awards ? MPSS Minister Awards", eight students the "Grand Prize ? Hyundai Motor Company President Awards and CCS Awards and 20 students the "Runner-up Prizes ? Sponsor Representative Awards". Scholarships will be given to the students of lower grades at elementary schools and an overseas safety experience tour will be offered to students of higher grades.

An official at Hyundai Motor Company said, "Adults should always pay attention to the safe and healthy development of children, who are the leaders of the future," adding, "Through this campaign, adults can get to learn how to protect children from the possible threat of accidents and children can also enhance their own safety themselves."

Meanwhile, the Safety Quiz Campaign for Children in Korea has been run six times, with 104,000 children in total having participated in the event, and the quiz campaign website has been visited by approximately 2.86 million people. In addition, the campaign itself is leading a new initiative to establish a safety culture for children and prevent accidents.

Along with this campaign, Hyundai Motor Company is providing enjoyable and informative contents such as videos, games, posters, children's stories and webtoons related to safety and the environment via diverse channels including the Kids Hyundai website, blogs and SNS channels. These initiatives have contributed greatly to the   education of young children about safety and to improving poor attitudes about safety prevalent in our society.