Vision Hall, located at Hyundai Motor Group's Mabuk, Korea, campus.



Hyundai Motor Group's 'Vision Hall'
Wins
Three 2013 Red Dot Design Awards
- Two video projects played in the 'Vision Hall,' a space for sharing the Group's vision, win design awards in each category
 
- Hyundai Motor Group continues to strengthen communication with its employees and customers through innovative design content
July 15, 2013 – Mabuk Campus, the human resources development center of Hyundai Motor Group University, designed by Eulho Suh of Suh Architects, won three awards in the '2013 Red Dot Design Awards.' The awards are widely known as one of the world's most prestigious in design and it is the first time Hyundai Motor Group (HMG) have been awarded such an accolade for categories beyond products. The award greatly emphasises the Group's drive to strengthen communication with its employees and customers.
HMG's `Vision Hall' – a symbolic communication space equipped with a large video wall – was chosen as the winner in the 'Event Design' category, while two media works projected on the wall, 'Who Am We?' and 'Mobius Loop,' were named 'Best of the Best' in the categories of 'TV, Film, Animation' and 'Corporate Films,' respectively. HMG, led by Hyundai Motor Company and Kia Motors Corp., previously won awards for Kia vehicles.  
Aiming to share the Group's vision and core values as well as offer sustainable, high-quality managerial education for its employees, Hyundai Motor Group opened Hyundai Motor Group University, Mabuk Campus, in 2012. 
Located at the center of Mabuk Campus, the `Vision Hall' occupies 990 square meters, featuring a video wall (24m x 3m) where media works that convey the Group's management philosophy and visions are played. In particular, the media wall boasts resolution that is eight times higher than what a regular cinema screen offers, as well as a state-of-the-art 3D sound system, allowing viewers to truly immerse themselves in the sound from all four directions.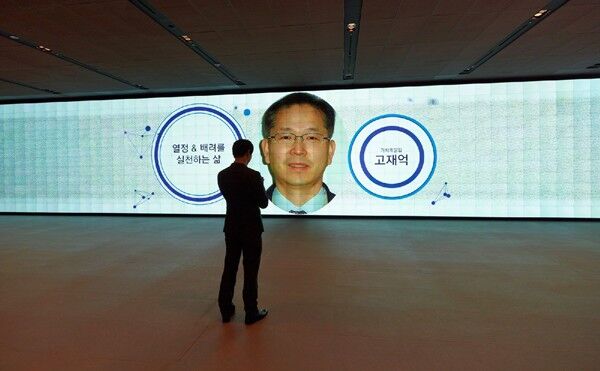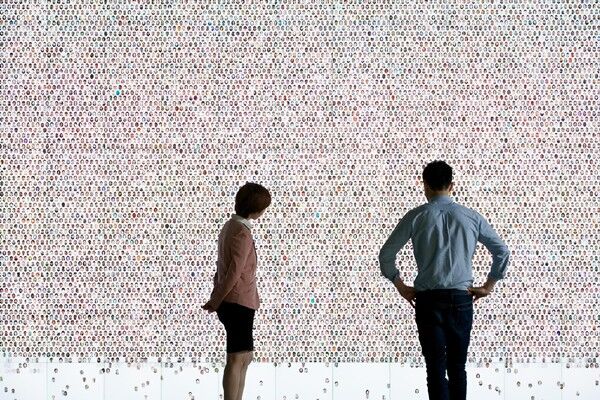 Nearly 220,000 Hyundai Motor Group employee faces
are shown individually, top, and collectively.
'Who Am We?' is an interactive video by Do Ho Suh, a London-based Korean artist, and it portrays how individual visions gather to become one. The video shows individual photos of employees gathering into one, large, flexible form before dispersing. Almost 220,000 employees from all over the world participated in the project by submitting their portraits and short messages conveying their individual visions. By logging into a smartphone application, employees can make their photos and a short introduction pop up in the center of the screen in an enlarged window. 
'Mobius Loop,' consisting of 18 one-minute-long videos produced by UK-based Universal Everything, illustrates the Group's management philosophy and core values: Customer, Challenge, Collaboration, People, and Globality. The title 'Mobius Loop' suggests the Group's resource-circulating structure. 
About Hyundai Motor
Established in 1967, Hyundai Motor Co. has grown into the Hyundai Motor Group, with more than two-dozen auto-related subsidiaries and affiliates.  Hyundai Motor - which has seven manufacturing bases outside of South Korea including Brazil, China, the Czech Republic, India, Russia, Turkey and the U.S. - sold 4.4 million vehicles globally in 2012. Hyundai Motor, which employs over 90,000 worldwide, offers a full line-up of products including small to large passenger vehicles, SUVs and commercial vehicles.