Innovating customer experience with smart mobility
Hyundai is building a society in which everyone can enjoy the true freedom of smart mobility. With autonomous vehicle-based transportation services playing an important role in the development of people-centered cities, we will use big data and AI technologies to create new and innovative customer experiences.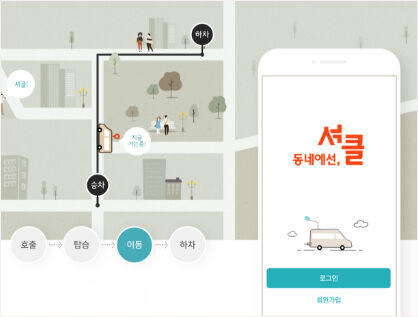 Last Mile Mobility Solutions Pilot service for Shucle, a community-type mobility service
Hyundai, in partnership with KST Mobility, launched "Shucle", Korea's first on-demand ride-pooling service equipped with Hyundai's AI platform. When a user calls a vehicle from anywhere within a service area with a radius of around 2 km, a large van (modified 11-passenger H350 SOLATI) drives along an optimal route generated in real time in order to pick up and drop off passengers at their desired locations. When a new call is generated, a car sharing algorithm is used for real-time route re-calculation and vehicle allocation, so that passengers with similar routes and destinations can share a ride. Once the Shucle service is facilitated, residents in the region will enjoy greater mobility convenience, while unnecessary short-distance driving will be reduced and local communities will be revitalized. We also anticipate that the service will contribute to addressing parking shortages in the future.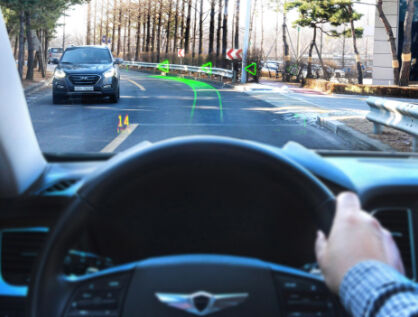 Cutting-edge In-vehicle Technology, Enabling Seamless Connectivity Cutting-edge infotainment system equipped with an AR navigation and n-car payment
The newly developed 6th generation infotainment system features innovative technologies designed to strengthen the connectivity between passengers and vehicles, including the AR navigation system, in-vehicle payment system, and handwriting recognition. The AR(augmented reality) navigation system is a technology that adds accurate virtual driving lines on top of actual driving images while providing route information, in order to help drivers with road recognition. It indicates routes in graphics, thereby delivering intuitive driving information when compared to previous. navigation systems that provided route information on top of a map. Furthermore, the system uses the information on traffic lanes, vehicles in front, and distance from pedestrians collected through the sensors of the advanced driver assistance system (ADAS) to determine whether the driver has departed from the lane or there is a risk of a collision, in which case an alarm is activated and the driver is informed of a hazardous situation through the AR navigation system, thereby supporting safe driving.
Environmental value throughout the entire value chain
Hyundai has been making continuous efforts to reduce its carbon footprint by producing sustainable vehicles and operating its business sites in an eco-friendly manner. Moreover, we will lead the global industry shift towards hydrogen-powered vehicles, while also actively taking action on climate change.
Taking action on climate change by business sites
Hyundai's efforts to reduce GHG emissions to counter climate change are manifested by investments for GHG reduction at its business sites and adoption of innovative technologies. We are investing in renewable energy facilities such as photovoltaic power generation facilities, while developing and applying new technologies that can reduce energy consumption. We are also making continuous efforts to better respond to the 2030 national GHG reduction roadmap of Korea and to build a carbon neutral operation system by 2050.
Strengthening GHG emissions management (Including Scope 3)
For efficient management of GHG emissions to counter climate change, it is becoming important to calculate Scope 3 emissions that are generated outside corporate boundaries. Hyundai received third-party verification of Scope 3 emissions that arise outside corporate boundaries, such as from logistics, use and disposal of products sold, and employee commute. The increase in development and sales of eco-friendly EVs and FCEVs, such as the IONIQ Electric, Kona Electric, and Nexo FCEV, is contributing to reducing GHG emissions in the usage phase compared to internal combustion engine vehicles.
Hyundai is striving to calculate GHG emissions that occur outside corporate boundaries and to reduce the emissions. We are continually taking part in carbon information disclosure through the CDP (formerly the Carbon Disclosure Project) and making other efforts to communicate with stakeholders of climate change.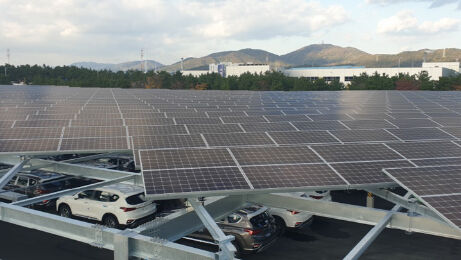 Ulsan Plant
Hyundai's Ulsan Plant is currently building a photovoltaic power generation facility on a finished vehicle lot. We plan to set up power generation facilities with a total capacity of 27 MW at the Ulsan Plant, and all of the electricity produced there will be transmitted and sold through KEPCO (Korea Electric Power Corporation) electric power systems.

The Ulsan Plant installed an eco-friendly once-through boiler system, which can respond quickly to changes in the load of steam-using processes, at its Maeam engine plant, by replacing the fire tube boiler facility.
As such, we eliminated unnecessary energy loss by reducing the preheating loss that occurs at the time of initial operation. We comply with the government's environmental regulations and policies, and thus reduced nitrogen oxide (NOx) emissions to less than 25 ppm, in our efforts to protect the atmospheric environment.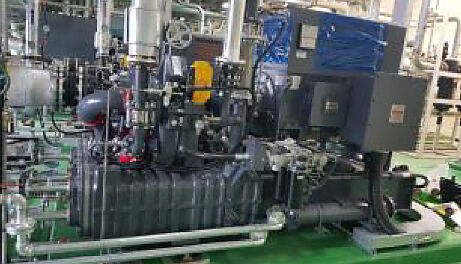 Air compressors at the Jeonju Plant
Jeonju Plant
Hyundai's Jeonju Plant is developing and applying construction methods designed to minimize the amount of energy used at its production facilities in order to reduce greenhouse gas emissions. In addition, it is replacing low-efficiency facilities with high-efficiency ones, and engaging in diverse activities, such as expanding the application of automation facilities connected with production, to minimize the consumption of standby energy.

In 2019, we reduced our CO2 emissions by a combined total of 1,039 tons by replacing it with high-efficiency equipment and optimizing the set temperature.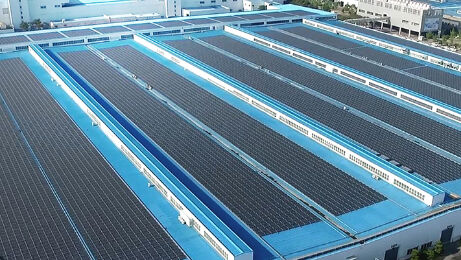 Roof-type photovoltaic power generation facilities at the Asan Plant
Asan Plant
Hyundai's Asan Plant makes continuous efforts to minimize the operation of equipment during nonproduction hours and to supply high-efficiency facilities, aimed at reducing energy consumption, with the ultimate goal of reducing greenhouse gas emissions. In 2019, it invested KRW 740 million in installing a heat pump at its paint shop and applied a power-saving operation program to the concentration tank of the production line at the new engine plant, further reducing greenhouse gas emissions. It also engages in various other activities to reduce energy consumption, thus reducing greenhouse gas emissions by 6,000 tons per year.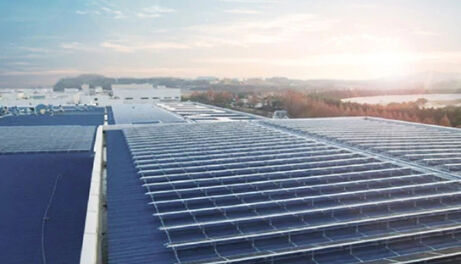 Namyang Technology Research Center
The Namyang Technology Research Center produces a certain amount of GHGs during its research activities, including car design, pilot production and performance testing. It therefore uses high-efficiency facilities and operational systems to minimize its GHG emissions.

Replacement of the automatic lights-out system at the Technical Research Center has reduced energy use by 3.32 million kWh per year and 1,547 tons per year of GHG emissions. Waste heat from incineration is used for heating, which reduces GHG emissions by 2,377 tons, and 720,000 kWh of electricity was produced using photovoltaic power generation facilities, reducing GHG emissions by 336 tons.

The Technology Research Center is also enhancing its energy efficiency by repairing and replacing older facilities and equipment used in its experiments, and by improving operational efficiency. An energy management system is used for the real-time monitoring and control of energy usage, and also for the empirical analysis of our reduction of GHG emissions.
Eco-friendly processes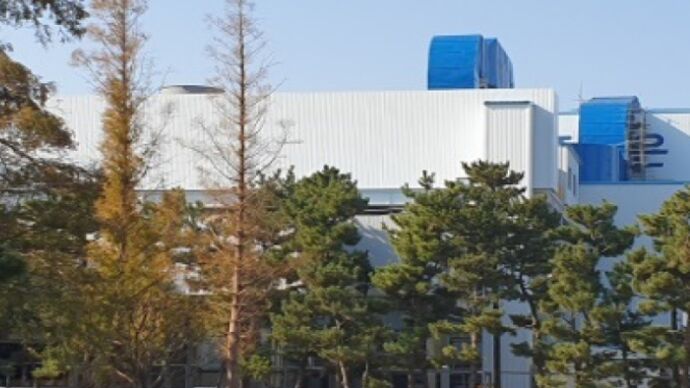 Minimizing air pollutant
In 2019, we installed paint shop evaporation equipment and reduced the odor intensity to around 1/5, thereby resolving civil complaints about the overpowering odor of paint from residents in the surrounding areas. We also reduced the amount of dust generation by 35 tons from the previous year by making improvements to the casting machine dust hoods at material plants and installing more dust collectors. As we need to further reduce the amount of dust generation by 50 tons by 2022 in order to comply with the enforcement of the Air Management Zone Act, in 2020 we will check the dust collector flow every quarter and make improvements to less efficient dust collectors and aging facilities, and take any other necessary measures to strengthen our emissions management.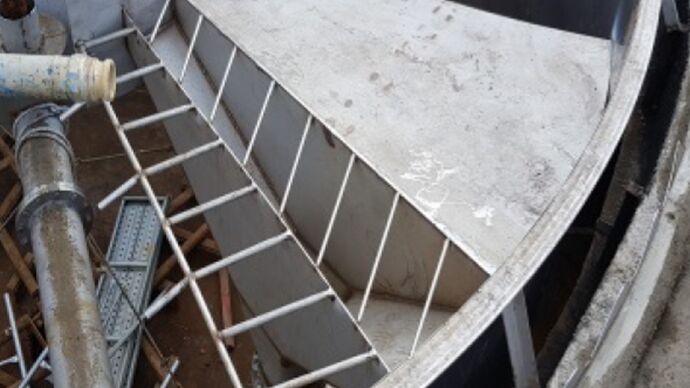 Managing water resources
The Ulsan plant plans to reduce 300 tons of wastewater emissions per day and 2 tons of pollutants per year by recycling wastewater and improving facilities for wastewater treatment plants in 2020.

The Asan Plant is operating a zero liquid discharge system in which the full quantity of wastewater originating from the plant and residential areas is reused. It also installed two evaporators (EVs), thereby reducing the returned quantity and increasing the efficiency of the facility, in order to improve the quality of wastewater and to stably produce and supply industrial water.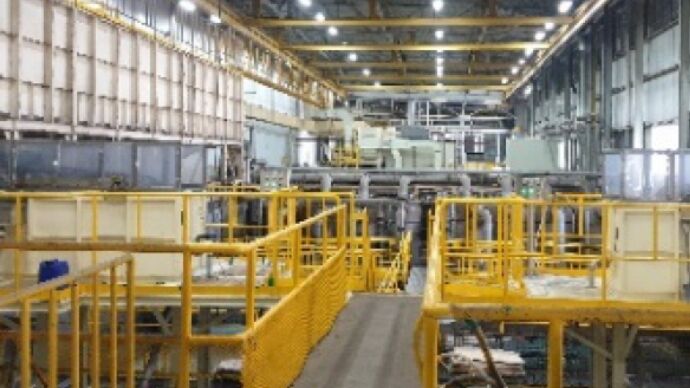 Minimizing waste materials
The Ulsan Plant strengthened the separating out of solid incinerated matter in 2019, and also improved the waste synthetic resin recycling rate from 5.6% to 20%, resulting in an overall recycling ratio of 93%. As such, it increased the recycling ratio while reducing waste treatment costs. Its plan for 2020 is to reduce the volume of waste by around 400 tons by installing a CWS waste paint natural dehydration-inducing facility.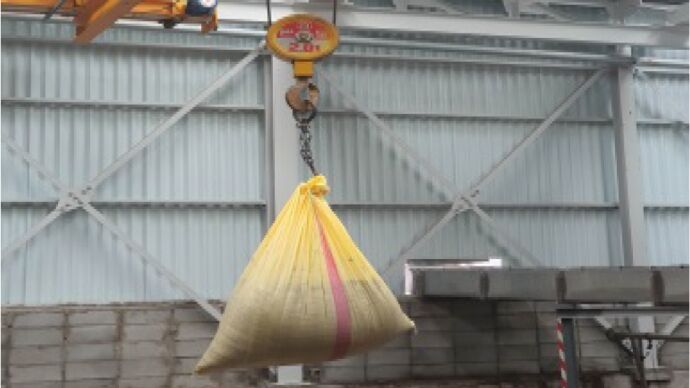 Managing hazardous chemical materials
In 2019, we replaced the sodium nitrite used at our transmission plant, as well as methanol, boron oxide, and sulfuric acid used at our material plant with unregulated materials, thereby reducing our year-onyear volume of using hazardous chemical materials by 45 tons. We will actively continue replacing hazardous chemical materials with unregulated materials in 2020. In addition, we will build a chemical materials monitoring system that notifies employees via short message service (SMS) in the event of a leakage to prevent accidents, in our efforts to establish a safe hazardous chemical materials management system.
Creating a sustainable
supply chain
Hyundai is building a sustainable supply chain which encompasses our entire value chain. In support of this goal, we work in partnership with our suppliers and partners to establish a safe working environment and a corporate culture that is managed in both socially and environmentally responsible ways.
Our actions in figures
Establishing a sustainable supply chain
Hyundai Motor Company is operating supply chain sustainability policies and procedures based on securing competitiveness in the supply chain and mutual growth as a source of core competitiveness. We will continue to implement supply chain management policies such as quality, delivery, technology, win-win cooperation, safety management, quarantine, and eco-friendliness, and supply chain ESG management policies that prevent individual social responsibility issues of suppliers from becoming a risk factor for the entire supply chain.
Supply chain risk management
Supply chain management system
Supply chain management system
Priority
Quality
Delivery
Technology
Win-win
Managed
items
(1 Year)
Quality
management system,
incoming defects
ratio, claim cost
reimbursement ratio,
quality management
Operational failures
of production lines,
delivery rate for
after-sales services,
delivery rate for
knockdown (KD)2)parts
Basic capability,
execution capability,
future capability
Payment conditions,
fairness of contracts,
efforts to observe laws,
support for win-win
cooperation
ESG
perspective
(Frequently)
Safety
Eco-friendly parts
Ethics and
human rights
Safety management manual,
safety management organization/personnel,
safety management training,
safety accidents, risk management
Preventing harmful
substances, providing
chemical information
(IMDS), establishing an
internal eco-friendly
system, environmental
management
Transparent
management
(Anti-solicitation/
bribery prohibition),
observance of trade
contracts, labor/human
rights/prohibition of
discrimination
Supply chain ESG risk assessment
Supply chain assessment
Hyundai evaluates and monitors both new and existing suppliers with regard to quality, delivery, technology, safety management, eco-friendly parts, and win-win cooperation. We encourage suppliers to improve in these areas by reflecting the results of annual supply chain assessment in our procurement policy. In the event of code violations, Hyundai's internal council imposes penalties on the supplier, thereby increasing awareness. In terms of safety management, if suppliers fail to satisfy the assessment criteria, we impose corrective measures and require suppliers to obtain certifications from professional organizations, such as ISO 45001. In particular, starting from this year, we will strengthen the monitoring of our supply chain ESG risk based on the "self-diagnosis of supply chain ESG" and on-site supplier inspections as part of our supply chain ESG policy, and derive measures that will enhance suppliers' ESG levels. We advised improvement measures to high-risk suppliers, such as those that violated transparency/ethical rules, engaged in collusion, and failed to meet safety standards, in accordance with supplier restriction regulations. All of the high-risk critical suppliers completed undertaking corrective measures.
Supply chain assessment process

Building a healthy
corporate culture
People always come first. People is the center of our progress. Hyundai strives to ensure the right balance between work and personal lives by creating a flexible work environment and utilizing efficient work
processes. In addition, we continuously upgrade the professional skills of our employees and raise employee awareness about sustainability.
Strategies for nurturing talents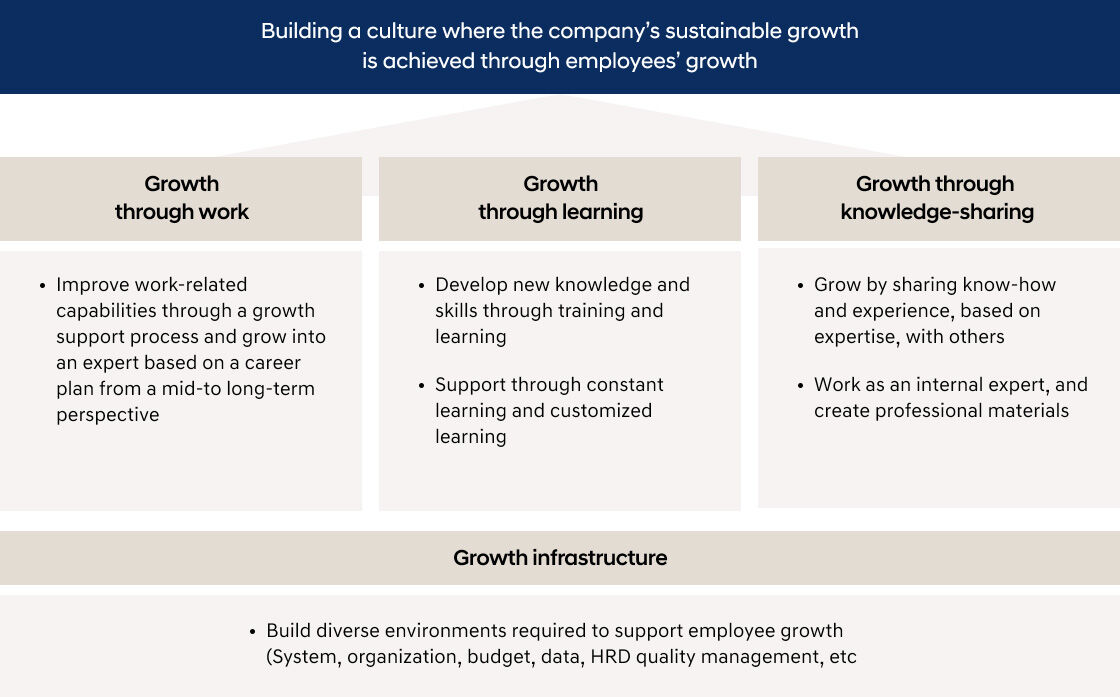 Improving safety leadership
Hyundai is working towards achieving "zero" fatal accidents by strengthening safety leadership under the guidance of top management. Major safety leadership activities are designed to facilitate the implementation of safety policies and to build a culture of safety. They are also making significant contributions to the prevention of safety accidents with all employees performing as safety personnel. In addition, our company-wide safety meetings and overseas video conferences enable us to operate exactly the same safety policies at our Korean and overseas worksites. We also widely promote outstanding examples of business site safety in order to ensure that safety management continues to improve throughout the company.
Organizational culture survey
We conducted an organizational culture survey in September 2019 to identify the level of the corporate culture by organizational unit. The assessment consisted of 78 questions, divided into seven categories, and was participated by about 74.1% of general and research staff. We will continue to carry out assessments to further improve our organizational culture.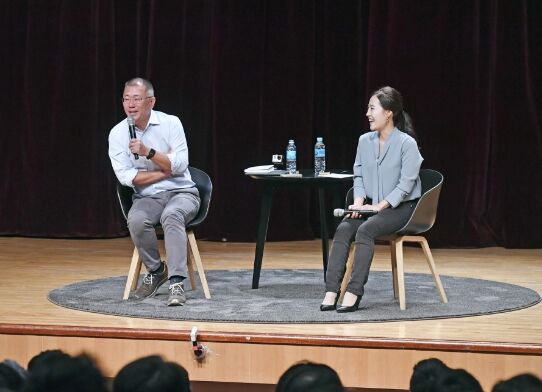 Innovating the way of working based on communication
A bottom-up approach to change at Hyundai means engaging the active participation of its employees. It also means that we must listen to and then reflect their opinions, which is why we have adopted the two-way communication process, with employees strongly encouraged to share their opinions. Leading examples of this are the offline "Town Hall Meeting" and the online "Hyundai Forest" anonymous communication channel. At the Town Hall Meeting, top management at Hyundai communicate directly with employees about the company's direction, and any changes in policy or systems. To ensure two-way communication, there is also an on-site Q&A session to answer any questions. The Hyundai Forest enables anonymous opinions about the company to be put forward, with the company committing to providing responses to these suggestions. This communication channel attracts participation from around 20% of employees at headquarters. In addition, we conduct a survey twice a year to monitor how employees feel about the changes at Hyundai. This system of two-way communication continues to increase employees' trust in the company, and is encouraging their participation in corporate changes.
Contributing to the
local communities
In order to fulfill our responsibility as another citizen of the community, Hyundai undertakes a wide range of dedicated social contribution activities from reducing fine dust emissions and preventing traffic accidents, especially those involving children, to nurturing local community and growing future generations.