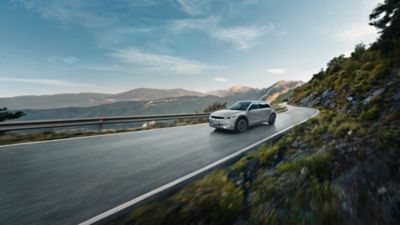 Warranties.
Enjoy more peace of mind, longer.
Highest standards for quality and warranties.
Every new Hyundai is built to the highest quality standards which allow us to offer an unlimited mileage warranty. It provides coverage in the unlikely event a repair is needed during your first five years of ownership. And there's more: warranties include high-voltage batteries and parts, as well as a mobility warranty.1
New Vehicle
5-Year Unlimited Mileage Warranty.
Unlimited peace of mind comes as standard with your Hyundai. Not just because it's built to the highest possible quality standards – the 5-Year Unlimited Mileage warranty your Hyundai comes with is just as well put together.2
The legal bits.
5 years of unlimited mileage.
An end-customer refers to an individual, company or any other entity purchasing (i) a new Hyundai vehicle from an authorised Hyundai dealer not for the purpose of reselling or, (ii) a Hyundai vehicle that has been originally purchased from an authorised Hyundai dealer by an individual, company or any other entity not for the purpose of reselling.
Audio-visual navigation (AVN) or radio units are covered for three years.

Vehicles used as taxis, rental cars or for ride-hailing services are covered by a 3-year, 100,000 km warranty – whatever comes first.

Depending on the production date as well as the lead and storage time, the warranty policy can be amended. For actual terms and conditions always refer to the Warranty booklet, please. Also, the applicable terms and conditions may vary from country to country. Please visit your Hyundai national website or consult your local Hyundai dealer.
Batteries
8-year high-voltage battery warranty.
Our high-performance high-voltage batteries are warranty protected for 8 years or 160,000 km, whichever comes first. Enjoy the extra peace of mind that one of the industry's best warranties gives you – standard.
Additional Benefits
Coverage beyond the industry standards.
2-year warranty on parts and accessories.

All genuine parts and Hyundai accessories are covered for two years.
12-year anti-perforation coverage.

There are no limits to the lengths we'll go to bring you peace of mind, so in addition to our unlimited mileage warranty, body sheet metal panels of every new Hyundai are warranty protected from perforation for 12 years.
5 years warranty on paint.

Whichever colour you choose for your new Hyundai, all exterior paint is included in the 5-year unlimited mileage warranty.
Note that warranty conditions are subject to Terms and Conditions, as set out in the warranty booklet.

Wear and tear items – consumable parts warranty.
The consumable parts (e.g. spark plugs, brake pads, wiper blades, filters etc.) are covered by a 2–year, 20,000 km warranty, whichever comes first.
Tyre warranty is handled by the tyre manufacturer.
What happens when I sell my car before the five years are up?
This is hassle-free. The warranty remains with the vehicle and would be passed on to the new vehicle owner. If you intend to buy a used Hyundai with a remaining warranty, you should check that maintenance services were conducted regularly and that all warranty conditions are met.

Can I extend my warranty?
Hyundai as the vehicle manufacturer does not provide an extension to our 5–Year Unlimited Mileage Warranty. Local Hyundai distributors might be offering their own - usually paid - warranty extension. Contact your local Hyundai distributor or refer to their website.
The following items are considered to be the customer's responsibility and are not covered under warranty unless the items are defective in material and workmanship:
Normal Maintenance Service
Normal Replacement or adjustment of Service Items like bulbs, filters, wipers, brake components, wheel alignment etc.
Damages or normal wear or fading to the paint, upholstery or trim
Damage or Failure Resulting from
- Negligence or improper maintenance as specified in the Owner's Manual
- Misuse, accident, theft, or fire
- Use of improper or insufficient fuel, fluids, or lubricants
- Modification, alteration, tampering, or improper repair
- Any device and/or accessories installed by any parties other than Hyundai
- Slight irregularities not recognized as affecting the quality or function of the vehicle, such as slight noise or vibration
- Racing or a competitive event (competitive events are defined as formal or informal time trials, competition with another vehicle, or any abnormal application of stress to the vehicle or the components thereof)
Tyres: are warranted by the tyre manufacturer and the warranty is administered by their distributor and retail store representatives.
Any vehicle or component which has been damaged from an accident, fire, or other causality, or which fails due to misuse, negligence, alteration, or overloading beyond the specified vehicle weight rating, or which has been used for purposes other than those generally accepted applications for which it was designed.
Any merchandising repair or reconditioning repair that has nothing to do with a defect in the part
Glass breakage, scratch, unless conclusive evidence is presented to substantiate the claim that breakage was unquestionable due to a defect in material and/or workmanship
Defects in equipment, devices and accessories other than those specified, supplied and/or mounted on vehicles by the manufacturer and defects resulting from the use of such unspecified devices and accessories
Concern and/or difficulties which are generally not accepted as caused by a defect in material and/or workmanship, which happen in very special operations only such as:
- Slight sound or vibration that is not recognized as affecting the quality of function of the vehicle.
- Slight oozing of oil or the like around packing and/or oil seals which causes no appreciable consumption or dripping of oil.
- Gaps between panels that are within the limits set by the manufacturer.
- External appearance defects such as paint, chrome, and trim that are not visible unless magnified by special means.
Loss of use of the vehicle, loss of time, loss or damage to personal property or revenues, inconvenience, and other consequential damages such as expenses for fuel, telephone, travel, lodging, and car rentals.
Please make sure to always check our Terms and Conditions in your warranty booklet for an exhaustive list of items that aren't covered by our warranty.
What are my obligations as an owner?
In order to keep your warranty intact, you are obligated to bring your car in regularly for maintenance services such as oil changes and tyre rotations. Check your Owner's Manual for details.
How do I get warranty service?
Any authorized Hyundai dealer can assess and file your claim. The warranty repair will also be conducted by an authorized Hyundai dealer. Should the issue prevent you from driving safely, please contact roadside assistance service for help, either via your dealer or directly.