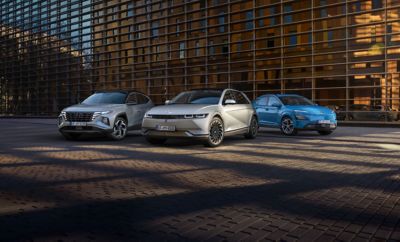 A closer look at EV powertrains.
A choice for every lifestyle.
Find out more about the different electrified powertrain choices and which type best suits your lifestyle and driving habits.
Let's start with the basics.
When you think about electrified vehicles, you are probably thinking of a Battery Electric Vehicle (BEV), an automobile that runs purely on electricity and uses a rechargeable battery to power an electric motor. But there are actually several types of electrified powertrains. Let's begin with some terms that are frequently used when we talk about electrified powertrains
Battery.

Together with the electric motor, the battery makes up the core of any electric vehicle. Batteries vary in capacity which influences charging times and driving range of electric vehicles.
Regenerative Braking.

Regenerative braking systems charge batteries by using the electric motor to slow the car. When decelerating or driving downhill, the generated energy is stored in the battery.
Lifespan.

On average a lithium-ion polymer battery lasts 8 to 10 years, depending on how much you drive. Reaching the lifespan doesn't mean that the battery doesn't work anymore, but the capacity falls to 70 - 80 % and the range of the battery begins to decrease. Hyundai electric vehicle batteries are warrantied for 8 years or 160,000 km, whichever comes first.
Which kind of electrified vehicle is right for you?
Three main types of electrified vehicles are available on the market today: Battery Electric Vehicles, Hybrid Electric Vehicles, and Plug-in Hybrid Electric Vehicles. There also are mild hybrid vehicles and fuel cell electric vehicles. Hyundai is currently the only manufacturer to offer all major electrified powertrains in production cars.
The fully electric variants: battery electric vehicles.
Fully-electric vehicles such as the KONA Electric and IONIQ 5 don't use any combustible fuel and driving is tailpipe emissions-free. And their smooth and fast electric acceleration makes them a dynamic and exciting drive. Depending on the model and battery pack, Hyundai offers electric vehicles with a driving range from 305 to 507 km.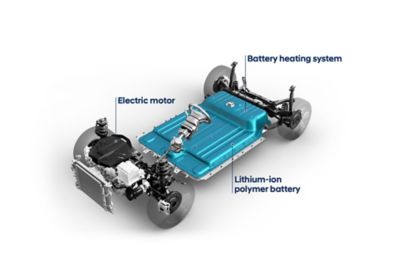 An EV is the right choice for you if, ...
the following factors are important to you.
Hybrid.
A Hybrid Electric Vehicle (HEV), is equipped with an internal combustion engine and an electric motor. Depending on the situation, they switch seamlessly between the electric motor and the petrol engine, sometimes using both at the same time. Regenerative braking charges the battery by using the electric motor to brake and recuperate energy. This energy then powers the electric motor to support the engine in acceleration, reducing fuel consumption and emissions.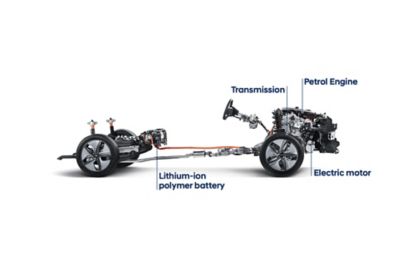 A Hybrid is the right choice for you if, ...
the following factors are important to you.
Plug-in Hybrid.
A Plug-in Hybrid Electric Vehicle (PHEV) like the TUCSON Plug-in Hybrid gives you the best of both worlds. Electric when you want it. Petrol when you need it. Plug-in Hybrids have a larger battery than a Hybrid, which can be recharged by plugging it in. And once the electric-only range is depleted, you can plug into a charging station – or just continue on with the petrol engine for zero range anxiety.
A plug-in hybrid is the right choice for you if, ...
the following factors are important to you.
Discover more about our electric vehicles.