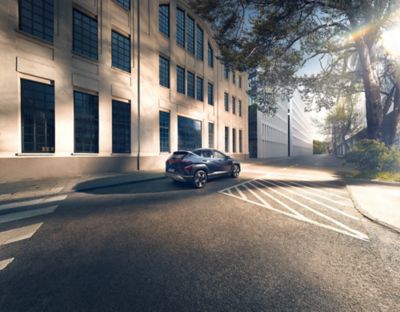 Design.
Explore the design of the all-new KONA.
A sharper and bolder new look.
The all-new KONA's sleek exterior design started with an EV-first approach, combining a clean, aerodynamic nose and Seamless Horizon Lamps with flowing lines. But despite its futuristic appearance, the all-new KONA never lets anyone forget that it's an SUV.
Futuristic design
Sleekly sophisticated.
Thanks to its EV-first design, the all-new KONA excels at aerodynamic performance without sacrificing style. Its sporty character is embodied by the rugged wheel arch cladding, building on the iconic design identity of the first KONA.

360°
Look on the bright side.

The distinctive twin headlamp design features full projection LED headlamps integrated in the wheel cladding, which combine with the bonnet's Seamless Horizon Lamp for an eye-catching lighting signature.

Seamless rear LED lighting signature.

Mirroring the front for a harmonious overall look, the rear Seamless Horizon Lamp rounds out a unique LED lighting signature that really sets the all-new KONA apart from the crowd.

Active air flaps.

To improve aerodynamic performance, KONA Hybrid uses upper and lower active air flaps and KONA has an upper active air flap – This also lends an EV-like appearance to both while improving efficiency.

Sculpted black wheel arch armour.

The dynamic styling of KONA Hybrid and KONA is accentuated with boldly sculpted wheel arch cladding in black, which incorporates both the headlamps and taillamps for a rugged look.
Find the right wheels for your style.
Choose from a stylish selection of 16", 17" and 18" alloy wheels.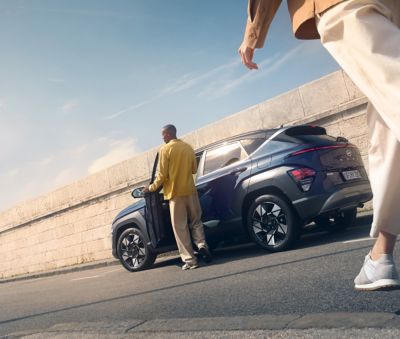 Larger living space.
More space and comfort.
Designed to fit everything you and your busy life can throw at it, the all-new KONA offers plenty of room for passengers and cargo. This bold, upscaled SUV now gives you a larger living space for all your adventures.
Plenty of flexible cargo storage.
When it comes to cargo and storage, the all-new KONA offers generous trunk space of 466 litres (VDA) – 30% more than the previous KONA. It's also simple to adjust: you can fold down the rear seats flat in seconds without even having to take off the headrests. And with the seats folded flat, you have a roomy 1300 litres of space for weekend escapes – and big boxes of whatever you want to take with you.
Larger, more versatile cargo space.
Enjoy the flexibility of 466 litres of cargo space with the seats up, 30% more than the previous KONA.
Open centre console.

Inside the roomy cockpit, the shift-by-wire gear selector has been moved from the centre console to behind the steering wheel, which allows more storage in the open console area.

Floating dashboard.

One of the highlights of the driver-centric cockpit is the "floating" horizontal dashboard that gives you easy access to the heating and air-conditioning controls and other vehicle control buttons.
Rotational cup holders.

The clever rotational cupholders in the centre console can be retracted when not in use, giving you the flexibility to neatly store other items.

Rear cup holders.

Sit back and relax. There's a fold down armrest with an integrated cup holder located in the middle seat of the 40:20:40 folding rear seats.
Personalise your KONA.
Your car. Your colours.
Express yourself. Depending on the model and trim level that suits you best, you can choose from a wide range of exterior colours and a two-tone roof to personalise your KONA to fit your individual style.

A wide range of interior colour schemes.
A wide range of vivid interior colours and colour packs further emphasise the roominess of the interior 'living space', taking inspiration from the diverse lifestyles of the all-new KONA's broad spectrum of customers. New colour packs in Sage Green & Lime and Black & Orange let you make a vibrant splash.
Find your perfect interior colour.
Preview all the available interior colour schemes to find your favourite.