N Line.
The confidence of powerful details.
N Line – a very sporty statement.
Take it to the next level with eye-catching design elements taken directly from the high performance N series. Next to a range of exclusive design features, the i10 N Line also offers a sportier driving experience with the option of a powerful 100 PS engine.
Exterior
Dynamic and Assertive. From every angle.
One look is all it takes to see the motorsport roots of the i10 N Line. Its exterior design enhancements include a redesigned grille and bumpers, giving it a dynamic look reminiscent of the ground-breaking i30 N. The exclusive 16-inch alloy wheels and the LED Daytime running lights highlight the distinctive design, emphasising the car's sporty attitude.
Interior
Get into a whole new level of sportiness.
Sit down in the i10 N Line's upgraded cockpit and you'll feel its motor sport roots instantly. The exclusive N Line steering wheel and gearshift are enhanced by the red air vent rings set in a black finish dashboard. The sporty seats offer more support for performance-oriented driving.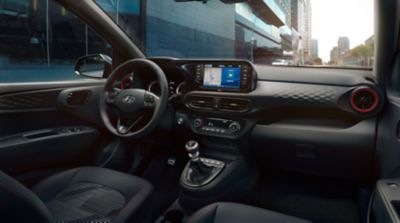 Performance
Power up your drive with N Line driving performance.
The i10 N Line is available with an exclusive 1.0-litre T-GDi 3-cylinder engine with 100 PS and 172 Nm of torque or a 1.2-litre MPi 4-cylinder with 84 PS and 118 Nm of torque. Both are available with a 5-speed manual transmission. In addition, the sporty 1.0-litre T-GDi features specially tuned suspension and steering components for more agile driving dynamics and quicker steering response.
Discover the Hyundai N Line.
A trim for the sportier side of you, featuring performance-inspired styling and a generous amount of motor sport muscle.
Discover more of the Hyundai i10.