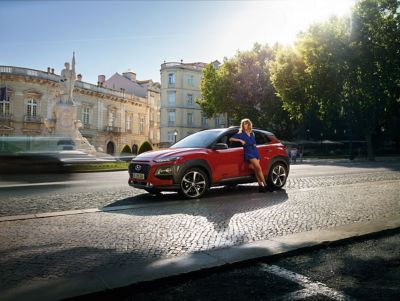 The all-new KONA.
You drive it, you define it.
A dynamic combination of style and performance.
Sometimes the best moments are the ones where the world doesn't shape us – but we shape it. That's the spirit of Kona. This compact SUV featuring the finest cutting-edge technology deserves a closer look.
Distinctive and individual.
Real style is a matter of being yourself on purpose. Like the all-new Kona. Equipped with all the features you desire – from cutting-edge performance and unparalleled connectivity to the possibility to customise colour combinations to fit your personal style. Make it yours!
You desire it.
The refined, sophisticated interior of the all-new Kona reinforces the stylish design and rugged exterior, while adding plenty of connected technology for good measure. The two-tone roof and exterior mirrors also give you the possibility to customise colour combinations to fit your personal style.
The ultimate Kona for the ultimate fan.
The audacious style and technological genius of Iron Man. The unstoppable spirit and performance of Kona. Together for the first time in limited edition, and coming soon to a dealership near you.
A collaboration of heroic proportions.
Built to jet, protect and out-tech, the Kona Iron Man Special Edition is ready to bring your comic book dreams to life. With features like all-wheel drive to help conquer the worst road conditions and Forward Collision-Avoidance Assist to help evade dangerous surprises on your drive every day, it's a vehicle designed to make even Tony Stark do a double take. You're welcome.
Click the left or right arrow to navigate to the previous or next slides.
Front view.

V-shape hood bevel with Marvel logo. Electric-blue LED Daytime Running Lights. Red armour accents to front fascia with dark chrome front grille.

Rear view.

Iron-grip dual-tone 18-inch alloy wheels. Iron Man Exosuit cues throughout, on front and rear bumpers, headlight bezels, cladding, skid plate and headlight.

Interior view.

Stark Industries-branded 8-inch colour touch-screen  navigation interface. Tony Stark Signature dashboard graphic and Iron Man mask on smart key. Iron Man-themed technical graphics for Heads-up Display startup animation sequence and instrument panel.
5-Year Unlimited Mileage Warranty.
Like every Hyundai, the all-new Kona is built to the highest possible quality standards. And we back that quality up with a 5-Year Unlimited Mileage Warranty so you can enjoy the things you love in life, without having to worry about your car. Enjoy the extra peace of mind that one of the industry's best warranties gives you – standard.