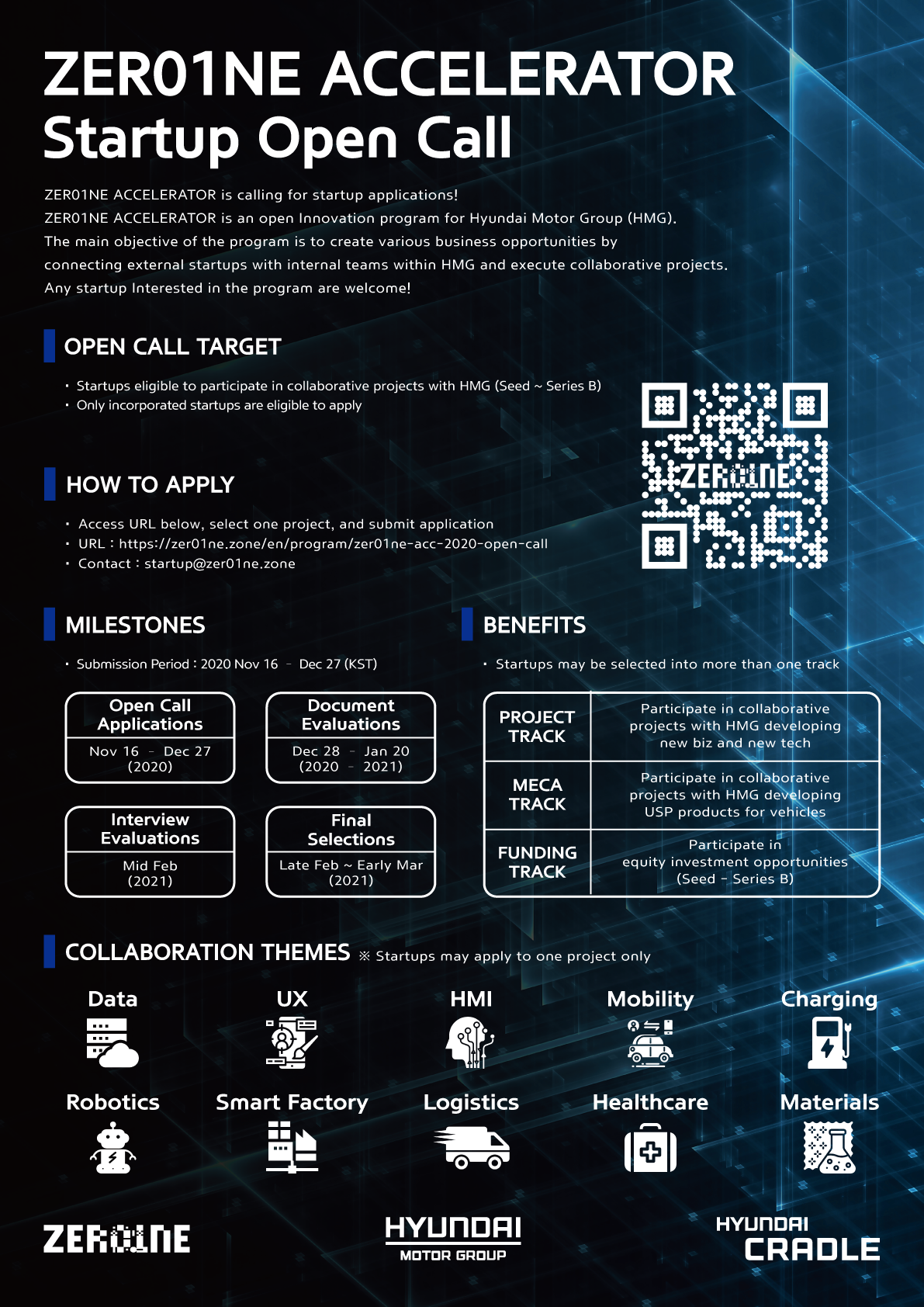 · 2020 ZER01NE Accelerator open innovation platform facilitates collaboration among startups and Hyundai Motor Group teams on future technology projects 
· 

Applicants can submit under 10 tech themes from November 16 to December 27
SEOUL, November 16, 2020 – Hyundai Motor Group (the Group) announces its 2020 ZER01NE Accelerator, an open innovation platform that facilitates collaboration among startups and the Group's internal teams on various projects. This program discovers valued startups and develops strategic usage possibilities of their innovative technologies.
A total of 50 ZER01NE Accelerator projects have been developed by various teams within the Group under 10 themes, including data, user experience, human machine interface, mobility, charging, robotics, smart factory, logistics, healthcare and materials. Applying startups can apply for only one among these projects. Teams responsible for technology developments will be directly involved in reviewing and recruiting startups for collaboration.
Eligible applicants must be registered corporations. They can apply on an official application webpage from November 16 to December 27. Results will be announced in early February of 2021.
Selected startups will be provided with a budget for project development. The Group will also review potential equity investment into startups among those selected.
Since ZER01NE Accelerator's introduction in 2018, eight affiliates of the Group and 54 startups have participated in the program, resulting in 48 collaborative projects and 35 equity investments to startups.
More details about 2020 ZER01NE Accelerator can be found on the program's official website.
– End –
About Hyundai Motor Group
Hyundai Motor Group is a global corporation that has created a value chain based on automobiles, steel, and construction and includes logistics, finance, IT and service. With about 250,000 employees worldwide, the Group's automobile brands include Hyundai Motor Co. and Kia Motors Corp and Genesis. Armed with creative thinking, cooperative communication and the will to take on all challenges, we are working to create a better future for all.
More information about Hyundai Motor Group, please see: www.hyundaimotorgroup.com
More information about Hyundai Motor and its products can be found at:
worldwide.hyundai.com or globalpr.hyundai.com
Visit the Kia Motors Global Media Center for more information: www.kianewscenter.com
For more information on Genesis and its new definition of luxury, please visit https://www.genesis.com
Disclaimer:Hyundai Motor Group believes the information contained herein to be accurate at the time of release. However, the company may upload new or updated information if required and assumes that it is not liable for the accuracy of any information interpreted and used by the reader.