Hyundai Motor Reports December and
Full Year Global Sales of 2015
Hyundai Motor achieves global sales of 516,359 units in December
Hyundai Motor's cumulative global sales for 2015 totalled 4,964,837 units
The company announces 5,010,000 units for 2016 sales target 
January
6, 2016
– Hyundai Motor, South Korea's largest automaker, reports its global sales results for December and the full year of 2015.
Sales Results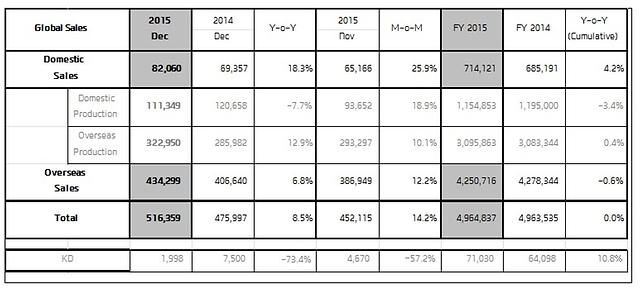 1. Hyundai Motor currently has overseas plants in Brazil, China, the Czech Republic, India, Russia, Turkey and the U.S.
2. Domestic Production relates to the vehicles produced in Korea for the overseas markets.  
[Highlights]
December 2015 global sales totals 516,359 units – an increase of 8.5% YoY.
Overseas sales rose by 6.8% YoY with 434,299 units sold while full year sales reached 4,964,837 units, remaining flat over last year.
HMC announces 5,010,000 units for 2016 global sales target (Domestic : 693,000 units / Overseas : 4,317,000 units). 
Breakdown of Overseas Shipment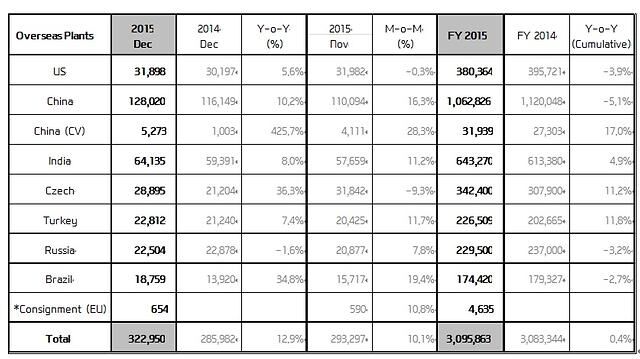 * 'Consignment (EU)' includes the amount of vehicles produced by Karsan (Turkish commercial vehicles manufacturer) on consignment.  
[Highlights]
Sonata and Genesis sedans saw sales increase on December in the U.S.
China plant shipment has recovered in December due to stable sales of main models (Verna, Langdong, and Mistra).
Czech plant showed strong shipment figure as the Tucson model (SUV) in the European market consistently gain popularity.
Year-over-year shipments of Brazil plant increased by 34.8% despite challenging market situations, as HB models resume their surging sales.
- Ends -