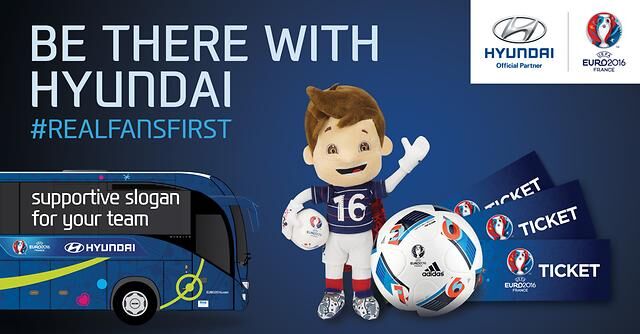 Hyundai Motor Runs 'Be There With Hyundai' Slogan Campaign for UEFA EURO 2016™   

• Hyundai Motor's 'Be There With Hyundai' campaign calls on football fans to submit team slogans supporting their national team for the UEFA EURO 2016™
• Fans can win match tickets and cheering equipment by submitting slogans and voting for their favourite team's slogan
• Hyundai Motor has been the official partner of the UEFA European Football Championship™ since 2000

February 23, 2016 – Hyundai Motor calls on real football fans to participate in the  'Be There With Hyundai' slogan campaign as part of its partnership with UEFA EURO 2016™. Football fans in 24 participating countries of the UEFA EURO 2016™ in France now have the chance to win match tickets and an exclusive Hyundai Premium Set by submitting slogans supporting their national team.
 
The best slogan of each country will then be wrapped around the respective national football team bus in its original language and English during the UEFA EURO 2016™ from June 10 until July 10.
 
Fans should submit their national team slogan until March 1, 2016 at:
http://www.uefa.com/uefaeuro/be-there-with-hyundai/index.html
 
"About a month has passed since the start of 2016 and preparations for this summer's upcoming UEFA European Football Championship™ in France already are in full swing," said Thomas A. Schmid, Chief Operating Officer of Hyundai Motor Europe. "Hyundai Motor, the official partner of the UEFA European Football Championship 2016™, is leading the pack with its inspiring 'Be There With Hyundai' campaign."
 
Submit and vote to win prizes
Submitters of the best slogan from each participating country will receive tickets for two matches during the UEFA EURO 2016™ and a Hyundai Premium Set consisting of the official match ball replica, a Super Victor mascot toy as well as a cap and a backpack. The best team slogan will be selected by the real football fans. Voters also have a chance to win prizes as well. During the voting period from March 18 to May 2, 2016 on UEFA.com, fans can vote for their favourite slogan among the preselected top three slogans for each team. All voters will be included in a prize draw and one from each country will also win a Hyundai Premium Set. So everybody should stay tuned and be ready to vote!
 
Long standing official partner of UEFA European Football Championship™
Hyundai Motor is the official partner of the UEFA European Football Championship™. As the Official Automotive Partner, Hyundai Motor has supplied official vehicles for the UEFA European Football Championship™ since the UEFA EURO 2000™ in Belgium and the Netherlands, ensuring a safe and comfortable ride for national football players, officials and guests to and around the various host venues of the UEFA European Football Championship™.

 
-Ends-
 

About Hyundai Motor Company
Established in 1967, Hyundai Motor Company is committed to becoming a lifetime partner in automobiles and beyond. The company leads the Hyundai Motor Group, an innovative business structure capable of circulating resources from molten iron to finished cars. Hyundai Motor has eight manufacturing bases and seven design & technical centres worldwide and in 2015 sold 4.96 million vehicles globally. With more than 110,000 employees worldwide, Hyundai Motor continues to enhance its product line-up with localised models and strives to strengthen its leadership in clean technology, starting with the world's first mass-produced hydrogen-powered vehicle, ix35 Fuel Cell and IONIQ, the world's first model with three electrified powertrains.