At the Frankfurt Motor Show 2001, Hyundai Motor Company presented a revolutionary concept of a Compact For-Wheel-Drive 2 + 2 Sports Coupe.
Called Clix, it was the world premiere of a design study performed by the European Design Center of Hyundai Motor Company in Frankfurt. At first sight, the Clix looks like a traditional Sports Coupe. But don't be deceived. The Clix is a genuine "Crossover", a car that combines functionality and flexibility. It is a Sports Coupe, combining dynamic handling capabilities and faultless road holding with a mixture of Pick-Up and Sport Utility Vehicle (SUV) characteristics.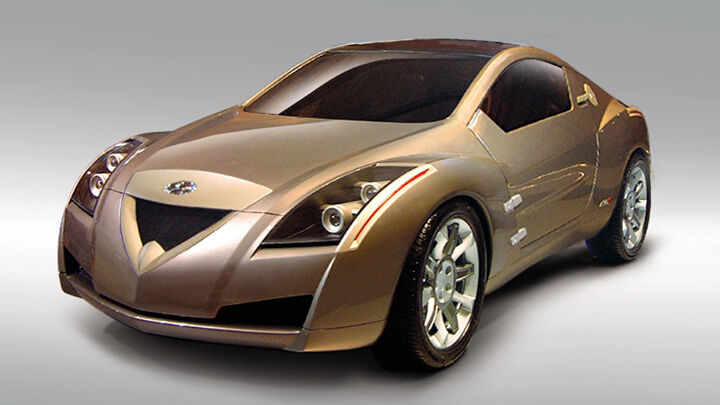 With the Clix, Hyundai's European designers have created a new type of vehicle: the Fun Activity Vehicle of FAV. Adapting the golden rule of car design: "Form Follows Function", the designers have developed a formula that suits the Clix very well: "Fun Follows Function." At the 1998 Geneva Motor Show the Euro I was the very first design study from the Hyundai European Design Center, that gave a preview of how Hyundai would conceive its future design tailed to Europe. The appearance of the Clix is a further step in the development of a unique brand identity for Hyundai in Europe. The Clix drivers its surprising and unique four characteristics in one concept from a transparent roof made up of four separate panels. A high-tech opening mechanism powered by six months achieves the rapid transformation fro a Coupe, to a Targe, then to a cabriolet and finally to a Pickup, with the roof panels being stored under the rear seats. With a length of less than four meters (3,959 mm), only 1,300 mm high and 1,738 mm wide, this prototype was given a solid wheelbase of 2,450 mm to ensure good stability at high speed. A direct-injected, four cylinder 2.2-liter petrol engine powers the Clix, delivering a maximum output of 300 hp. Via permanent four-wheel drive, 19-inch alloy wheels, and a sequential six-speed transmission the substantial power output is efficiently transferred to the road surface. With the design of this prototype, Hyundai had its eyes on a young generation of dynamic thirty something's who like to identity with the vehicle they move around in. The belong to a hard working generation who have little opportunity during the week to enjoy their cherished hobbies or to practice the sports they love. Because of the demands of their jobs, they often only experience these pleasures at the weekends. Thanks to the Hyundai Clix, with its unlimited pickup and leisure alternatives they can make full use of their free time as active weekend sportsmen and women.