Features.
Explore the features of the SANTA FE Plug-in Hybrid.
More comfort. More safety. More sophisticated tech.
With its extra focus on comfort and functionality, the SANTA FE Plug-in Hybrid is at the top of its class. Featuring an expanded selection of premium smart tech like the new plug-in hybrid powertrain, first-class safety features and cutting-edge connectivity.
Performance
New hybrid powertrain for more efficiency and power.
The innovative full-parallel hybrid drive system delivers 265 PS combined power output from its new 180 PS 1.6-litre T-GDi engine and 66.9 kW electric motor. The powerful 13.8 kWh battery also gives you an all-electric mode at the push of a button. Once the electric-only range is depleted, it switches seamlessly back to the petrol engine so you can go as far as you need to – and plug in to recharge later.
Energy flow.
Depending on the driving situation, the SANTA FE Plug-in Hybrid switches seamlessly between its petrol engine and electric motor. The regenerative braking system charges the battery by using the electric motor to slow the car. The energy stored in the battery then powers the electric motor to help in acceleration, uphill driving and low speed driving. This complex energy flow is illustrated here.
Start/ Low Speed.

When starting or driving at low speed, the electricity stored in the battery powers the electric motor to accelerate the SANTA FE Plug-in Hybrid.
Acceleration/Uphill.

During heavy acceleration or driving uphill, the electric motor and petrol engine work in pararell to maximise acceleration and minimise fuel consumption.
Constant Speed.

At constant speeds, power is provided by either the petrol engine or the electric motor, whichever is the most energy-efficient in that situation.
Deceleration/Downhill.

When decelerating (e.g. through braking or when driving downhill) the electric motor operates as a generator and regenerates kinetic energy into electric energy, which is then stored in the battery.
Regenerative Braking.

The regenerative braking system charges the battery by using the electric motor to slow the car. When decelerating or driving downhill, the energy generated is stored in the battery.
Drive and terrain mode selector.
Snow or sand? Sport or Eco? You choose. You can easily switch drive modes to suit conditions – and your mood! Select Sport mode for enhanced performance with modified throttle response, shift points and steering effort. Eco mode delivers peak fuel efficiency with modified acceleration, shift points and air conditioning performance. Select Comfort mode for regular performance with good efficiency.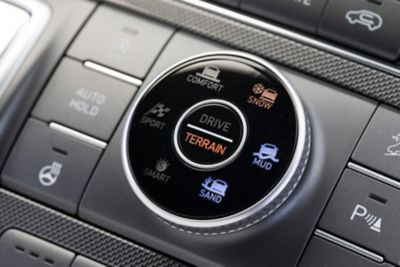 HTRAC™ All-wheel drive system.
Bad weather? Hairpin curves? No problem. The SANTA FE is available with the innovative HTRAC™ All-Wheel Drive system for optimum handling and cornering performance – which makes driving slippery city streets and bumpy country roads safer and much more relaxed.
Comfort Mode.

Comfort mode offers improved stability. Under slippery conditions, the system automatically distributes power to all four wheels.

Eco Mode.

ECO mode provides improved fuel efficiency by sending power to the front wheels only. Under slippery conditions, power is automatically distributed to all four wheels.

Sport Mode.

Sport mode delivers improved acceleration with up to 50 % torque distributed to the rear wheels. Under slippery conditions, power is automatically shifted to all four wheels.

Smart Mode.

Smart mode adapts to your driving style and road conditions in real time, automatically switching between Eco, Sport and Comfort to deliver optimal performance.
Charging
Multiple convenient ways to charge.
Thanks to its innovative powertrain technology, charging your SANTA FE Plug-in Hybrid can be quick and convenient. Choose from home installation options and the ever-increasing number of public charging stations when you're out and about. When you're plugged in at home, you can remotely schedule charging via your smartphone and Bluelink® app during low-demand hours for lower rates.
Programmable charging.

The SANTA FE Plug in Hybrid's advanced battery management system gives you complete control over when and how you want to charge it. Pick a time that best fits your schedule and budget, with clear overview of remaining charging time.
Charging time reservation.

A few taps is all it takes to save money. Use the scheduled charging function to program start and stop charging times to make the most of off-peak electricity rates and wake up to a fully charged battery.
Charging limit.

Set a Charging Limit – for example 50% – to take advantage of a fast-charger station in the city for the drive home – and then fully charge the battery at home while you're sleep to take advantage of low electricity rates at night.
Find a charging station and a parking spot!
The SANTA FE Plug-in Hybrid comes with everything you need to enjoy electric mobility at its best. Its free LIVE Services subscription lets you access real-time information on EV charging stations, on- & off-street parking and Hyundai dealerships. What's more, it also provides you with real-time traffic information as well as speed camera alerts*, points of interest (POI) online search and weather conditions.
Charging station finder.

Never worry about running out of battery: Access real-time charging station information such as location, connector types and availability.

On & off-street parking.

The parking information features helps you find and compare parking options in garages and parking lots, as well as on-street parking spots.

Hyundai dealerships.

Easily access live information on nearby Hyundai dealerships. Perfect if you should need service assistance when you're on the road away from home.

Speed camera alert.

Drive more relaxed with speed camera alerts. This comprehensive service provides you with alerts for both fixed and mobile speed cameras* – allowing you to focus on a safe and confident driving.

Traffic information.

Real-time traffic information provides you with the best routes according to prevailing condition. It means you'll get where you're going faster — while avoiding traffic jams and congestion.

Live POI.

Looking for something special? Locate places around you and navigate directly there. Thanks to the free text search, you can find the place you are looking for easily.

Weather.

It's always good to know what kind of weather is heading your way when you're starting out on a road trip. The weather service provides live on-map weather information for major European cities.
Connectivity
Cutting-edge connectivity to go.
Naturally, the SANTA FE Plug-in Hybrid has also been upgraded with all the latest smart tech like smart phone mirroring and cutting edge connectivity features like Bluelink® Connected Car Services, which lets you control your car from your smartphone – or with your voice. A free five-year subscription to Hyundai's LIVE Services is included with the 10.25" big screen navigation system.
Convenience
Clever comfort and convenience.
Enjoy the very best in comfort and convenience with a highly versatile seating system and smart everyday helpers like a Smart Power Tailgate and tailgate open guide. You and your family and friends will appreciate the increased 2nd and 3rd row legroom, even more trunk capacity and plenty of clever storage compartments strategically placed throughout the interior.
Highly versatile seating.
Packing for a big trip? You can slide the 60/40 split-folding second-row seats to fit both passengers and cargo with ease. A simple push of a button is all it takes to fold the 2nd seat row down and out of the way for easy entry to the back row of seats. Enjoy first class comfort for up to 7 passengers as well as plenty of cargo space.
KRELL premium sound system.
KRELL's premium audio system delivers stellar sound performance. 10 high-end speakers treat everyone on board to an amazing surround sound experience, driven by a premium 12 channel amplifier with a total output power 589 watt. KRELL Automotive is the premium car audio brand developed by KRELL, a leading high-end audio company headquartered in the USA.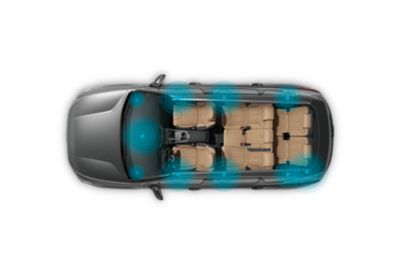 Smart power tailgate.

Enjoy easy loading. The smart power tailgate opens automatically when the driver approaches the car and the proximity of the smart key is detected.

Tailgate open guide.

This clever feature makes sure that you always have enough room to open the tailgate safely – like for example when parked backwards with the tailgate facing a wall.

Surround view monitor.

Tight parking garage? Small car wash? No problem. The surround view monitor in the SANTA FE makes manoeuvring confined spaces easy and safer.

Integrated Memory System.

Enjoy maximum comfort at the push of a button. The Integrated Memory Seat controls the position of the backrest, seat length and cushion length, adjusting the seat to saved settings for 2 drivers.
Safety
Keeping you and yours safer.
New state-of-the-art Hyundai Smart Sense safety features and Advanced Driver Assistance Systems like Highway Drive Assist and Parking Rear Collision Avoidance bring the SANTA FE Plug-in Hybrid in line with competitors from the premium class. There's even a new Remote Smart Parking Assist that will park your car for you.
Blind Spot View Monitor (BVM).

Now you can see the rearward left- and right-hand side views of the SANTA FE Plug-in Hybrid on a screen in the digital cluster. The cameras are activated by the use of the turn indicator during lane changes.

Safe Exit Assist.

This clever feature prevents accidents by detecting vehicles approaching from behind and temporarily locking the rear child lock doors, so that passengers can only exit the car when it is safe to do so.

Rear Occupant Alert.

Ultrasonic sensors monitor the rear seats: When the driver exits the vehicle, an in-dash message pops up. If it detects movement after exiting, it will honk the horn and flash the lights.
Protecting you and your loved ones.
The SANTA FE Plug-in Hybrid is designed to protect you and your passengers. Next to six airbags: two front, two side and two curtain airbags – significant improvements in collision safety have been achieved thanks to the all-new Hyundai vehicle platform. It enables the car to better absorb the impact in the event of a collision while at the same time minimising the deformation of the passenger space.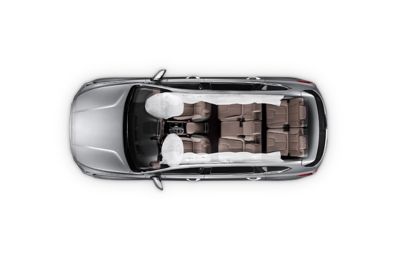 Discover how much this 7-seat SUV can do.
Tyre information.
Below you will find the information about the tyres which may come with your Hyundai SANTA FE Plug-In Hybrid.