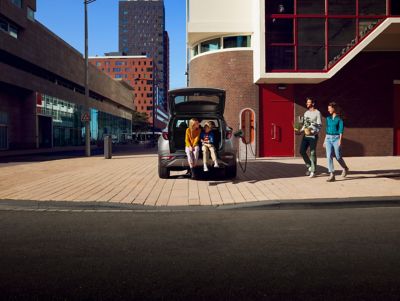 Features.
Explore the features of the Hyundai TUCSON Plug-in Hybrid .
Setting new standards.
Featuring an impressive range of state-of-the-art smart tech, the TUCSON Plug-in Hybrid is setting new standards in the compact SUV segment. Enjoy the latest connectivity as well as best-in-class safety features and advanced driver-assistance systems.
Performance
Driving thrills with low-emissions and no-compromises.
The TUCSON's plug-in hybrid system delivers maximum fuel efficiency and some serious driving thrills. It is based on the potent combination of the 1.6-litre T-GDi Smartstream engine paired with a 66.9 kW electric motor, powered by a 13.8 kWh lithium polymer battery. Together, the gasoline engine and electric motor deliver 265 PS maximum power and 304 Nm maximum torque.
Energy flow.
Depending on the driving situation, the TUCSON Plug-in Hybrid switches seamlessly between its petrol engine and electric motor. The regenerative braking system charges the battery by using the electric motor to slow the car. The energy stored in the battery then powers the electric motor to help in acceleration, uphill driving and low speed driving. This complex energy flow is illustrated in these animations.
Start/ Low Speed.

When starting or driving at low speed, the electricity stored in the battery powers the electric motor to move the TUCSON Plug-in Hybrid.
Acceleration/Uphill.

During heavy acceleration or driving uphill, the electric motor and petrol engine work in parallel to maximise acceleration and minimise fuel consumption.
Constant Speed.

At constant speeds, power is provided by either the petrol engine or the electric motor, whichever is the most energy-efficient in that situation.
Deceleration/Downhill.

The regenerative braking system charges the battery by using the electric motor to slow the car. When decelerating or driving downhill, the energy generated is stored in the battery.
Regenerative Braking.

When decelerating (e.g. through braking or when driving downhill) the electric motor operates as a generator and regenerates kinetic energy into electric energy, which is then stored in the battery and used to power the electric motor.
More performance. Less emissions. CVVD Engine Technology.
Hyundai has developed the world's first Continuously Variable Valve Duration (CVVD) technology. It optimizes engine performance and fuel efficiency while also being eco-friendly. The valve control technology regulates the duration of valve opening and closing according to driving conditions.
Charging
Multiple convenient ways to charge.
Thanks to Hyundai's innovative powertrain technology, charging can be quick and convenient. You can charge at a public AC charging station, a home wall box or domestic wall socket. And when you're plugged in at home, you can remotely schedule charging via your smartphone and the Bluelink® app during low-demand hours for lower rates.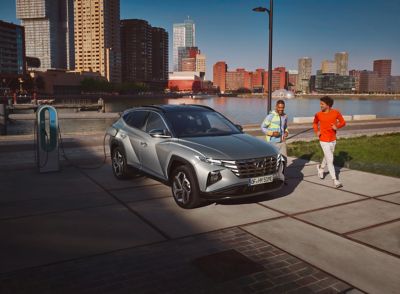 Programmable charging.

The TUCSON Plug-in Hybrid's advanced battery management system gives you complete control over when and how you want to charge it. Pick a time that best fits your schedule and budget, with clear overview of remaining charging time.
Charging time reservation.

A few taps is all it takes to save money. Use the scheduled charging function to program start and stop charging times to make the most of off-peak electricity rates and wake up to a fully charged battery.
Charging limit.

Set a Charging Limit – for example 50% – to take advantage of a fast-charger station in the city for the drive home – and then fully charge the battery at home while you're sleep to take advantage of low electricity rates at night.
Find a charging station and a parking spot!
The TUCSON Plug-in Hybrid comes with everything you need to enjoy electric mobility at its best. Its free LIVE Services subscription lets you access real-time information on EV charging stations, on- & off-street parking and Hyundai dealerships. What's more, it also provides you with real-time traffic information as well as speed camera alerts*, points of interest (POI) online search and weather conditions.
Charging station finder.

Never worry about running out of battery: Access real-time charging station information such as location, connector types and availability.

On & off-street parking.

The parking information features helps you find and compare parking options in garages and parking lots, as well as on-street parking spots.

Hyundai dealerships.

Easily access live information on nearby Hyundai dealerships. Perfect if you should need service assistance when you're on the road away from home.

Speed camera alert.

Drive more relaxed with speed camera alerts. This comprehensive service provides you with alerts for both fixed and mobile speed cameras* – allowing you to focus on a safe and confident driving.

Traffic information.

Real-time traffic information provides you with the best routes according to prevailing condition. It means you'll get where you're going faster — while avoiding traffic jams and congestion.

Live POI.

Looking for something special? Locate places around you and navigate directly there. Thanks to the free text search, you can find the place you are looking for easily.

Weather.

It's always good to know what kind of weather is heading your way when you're starting out on a road trip. The weather service provides live on-map weather information for major European cities.
Connectivity
Cutting-edge connectivity to-go.
Naturally, the TUCSON Plug-in Hybrid has also been upgraded with cutting edge connectivity features like Bluelink® Connected Car Services, which lets you control your car from your smartphone – or with your voice. A free five-year subscription to Hyundai's LIVE Services is included with the 10.25" big screen navigation system.
High-speed wireless charging.

Enjoy high-speed wireless charging for your smartphone. The power has been increased from 5W to 15W for even faster charging. The unit features an integrated cooling function to prevent overheating.

Front and rear USB ports.

Stay charged up. The TUCSON is available with front and rear USB ports to ensure that everyone on board can charge their devices when on the road.

KRELL premium sound system.

The premium KRELL sound system delivers stellar performance with eight high-performance speakers and a subwoofer optimally tuned to deliver startling realism.
Convenience
A compact SUV that's big on comfort and convenience.
Versatile and connected, the TUCSON Plug-in Hybrid is also big on comfort and convenience. Clever features like remote folding seats make loading cargo quick and easy. And a smart walk-in device gives you easy control over the front passenger seat. Your passengers will love the heated seats in the front and rear as well as Multi Air Mode with indirect air vents for a more pleasant indoor environment.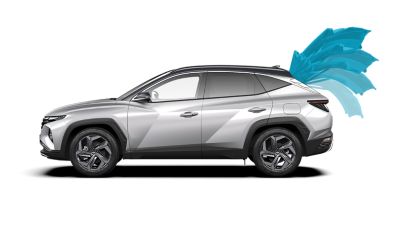 Smart power tailgate.
Enjoy easy loading. The tailgate opens automatically when the proximity of the smart key is detected for 3 seconds – which is especially practical when you have both hands full coming out of the shops. What's more, you can set the lift height to different settings according to your preference.
Experience a new level of climate control.
Let's face it. Everybody's different. Some like it hot and others want it cooler. That's why we've equipped the TUCSON with Multi-Air Mode technology. It diffuses the air through indirect and direct air vent so the air blows more gently but the overall wind volume remains the same. And the three-zone climate control lets you set different temperature zones for the driver, front and back seat passengers.
Multi-Air Mode technology.

Maximise your individual comfort. For the first time in a Hyundai vehicle, the TUCSON's hidden type Multi-Air Mode technology consists of a combination of direct and indirect air vents for air conditioning and heating to create a more pleasant indoor environment with more gentle air flow.

Heated and ventilated seats.

Cool in summer. Warm in winter. The driver and front seat passenger will love the optional heated and ventilated seats. And there are also heated rear seats available for the back seat passengers.

Three zone climate control.

Keep everybody happy. The three-zone climate control now caters to passengers in the rear seats in addition to occupants in the front of the vehicle.
Safety
Best-in-class safety and driving assist package.
With best-in-class advanced driver-assistance systems and an active safety package with a range of innovative features, the TUCSON Plug-in Hybrid delivers even more peace of mind. Equipped with an enhanced seven-airbag system, it features a first row centre side airbag, a feature unique to this segment. It prevents front row passengers from colliding with one another, minimising the risk of serious injuries.
Forward Collision-avoidance Assist with Junction Turning (FCA JT).

The FCA system automatically brakes when it detects sudden braking by the car ahead or detects pedestrians or cyclists in your path. Now updated with a Junction Turning feature, specially calibrated to help prevent frontal collisions when turning left at intersections (in left hand drive countries).
Lane Following Assist (LFA).

The all-new TUCSON Plug-in Hybrid features Lane Following Assist (LFA). When activated, it keeps the car centred in its lane at speeds between 0 and 180 km/h on motorways and city streets.
High Beam Assist (HBA).

Detects oncoming vehicles and vehicles in the same lane and automatically switches to low-beam. When no more vehicles are detected, it reactivates the high beams, maximising your range of vision.
Parking Collision-Avoidance Assist (PCAA).

Available exclusively on the Plug-in Hybrid, PCAA helps prevent collisions with obstacles in the rear while reversing. The system emits audible and visual warnings and applies the brakes when necessary.
Highway Drive Assist (HDA).
For the first time, the TUCSON Plug-in Hybrid has been equipped with Highway Driving Assist (HDA). The feature is a combination of Lane Following Assist and Navigation Based Smart Cruise Control, utilizing sensors and map data to ensure safe operation to ensure safe operation as well as to automatically adjust speed for incoming bends on the highway or for speed limit recognition. A special button on the steering wheel allows the driver to activate HDA with just one click.
Navigation Based Smart Cruise Control (SCC).

More safety and less stress. Maintains a set distance to the vehicle ahead, also controlling the speed for incoming curves as part of Highway Drive Assist (HDA).

Blind Spot View Monitor (BVM).

Now you can see the rearward left- and right-hand side views of the TUCSON on a screen in the digital cluster. The cameras are activated by the use of the turn indicator during lane changes.

eCall.

Automatically calls emergency services if you're in an accident and the airbags deploy. Or push the SOS button for emergency assistance at any time, 365 days a year.

Reverse Parking Collision-Avoidance Assist (PCA-R).

When reversing out of areas with low visibility, the system not only warns the driver if vehicles approach from the side – it also applies the brakes automatically.
Keeping an extra eye on your children's safety.
The TUCSON has been upgraded with a stellar range of advanced smart tech to ensure that you – and your family – can stay safe and make the most of every journey. We've included a few features that help you keep an extra eye on your little ones.
Discover more of the Hyundai TUCSON Plug-in Hybrid.
Tyre information
Below you will find the information about the tyres which may come with your Hyundai TUCSON Plug-In Hybrid.