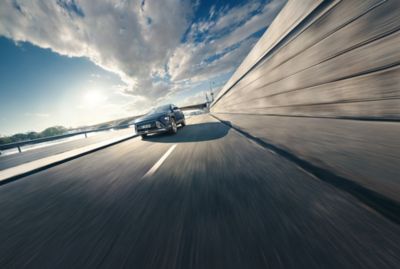 Performance.
Explore the performance of the all-new KONA.
The widest range of powertrains.
Developed to reduce emissions without compromising on being fun to drive, the all-new KONA offers the widest range of powertrains in the segment. Here you can choose from a petrol engine, a petrol 48-volt mild hybrid, and a full hybrid.
Hybrid
Electrifying efficiency: the all-new KONA Hybrid.
The all-new KONA Hybrid uses electric power to help you go farther on a litre of petrol. All without you having to charge a battery or change your driving habits. Taking world-class fuel efficiency to the next level, it is equipped with both a petrol engine and a battery-powered electric motor: a full-parallel hybrid drive system. Regenerative braking charges the battery, so you don't have to.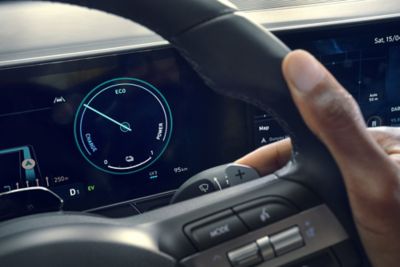 Energy flow – how the KONA Hybrid works.
Depending on the driving situation, the KONA Hybrid switches seamlessly between its petrol engine and electric motor, sometimes using both. The regenerative braking system charges the battery by using the electric motor to slow the car. The energy stored in the battery then powers the electric motor to help in acceleration, uphill driving and low speed driving. This complex energy flow is illustrated in these animations.
Start/Low Speed.

When starting or driving at low speed, the electricity stored in the battery powers the electric motor to accelerate the KONA Hybrid.
Acceleration/Uphill.

During heavy acceleration or driving uphill, the electric motor and petrol engine work in parallel to maximise acceleration and minimise fuel consumption.
Constant Speed.

At constant speeds, power is provided by either the petrol engine or the electric motor, whichever is the most energy-efficient in that situation.
Deceleration/Downhill.

The regenerative braking system charges the battery by using the electric motor to slow the car. When decelerating or driving downhill, the energy generated is stored in the battery.
Regenerative Braking.

When decelerating (e.g. through braking or when driving downhill) the electric motor operates as a generator and regenerates kinetic energy into electric energy, which is then stored in the battery.
Petrol
The all-new KONA 48-V mild hybrid.
Save fuel and reduce emissions with the optional 48-volt mild hybrid system offered with the 1.0 T-GDi petrol engine (MHEV). It supports the combustion engine with additional torque during acceleration – depending on the battery's state of charge and the degree of acceleration. As a result, the powertrain's fuel economy and CO2 emissions are improved.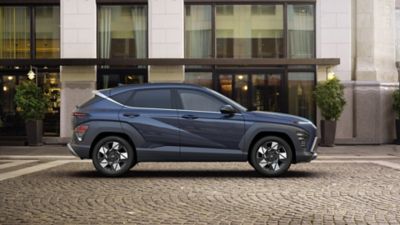 Compare the petrol engines.
Move the toggle to see the different performance attributes of the two petrol engines.