HYUNDAI ELANTRA NAMED 2012 NORTH AMERICAN CAR OF THE YEAR
Award caps record year for Hyundai Motor America and Elantra
Bold Fluidic Sculpture design
Best-in-class standard fuel economy on all models
Highest owner satisfaction with real world fuel economy of all compact cars
Mid-size interior room in a compact class footprint
Elantra is built at Hyundai Motor Manufacturing Alabama
DETROIT, Jan. 9, 2012
– The 2012 Hyundai Elantra took top honors in the most exclusive award in North America when it was named 2012 North American Car of the Year today.
A jury of 50 independent North American automotive journalists evaluated each of the new cars introduced last year and chose the 2012 Hyundai Elantra as the winner. The award was announced at a news conference at the 2012 North American International Auto Show in Detroit, which marks Hyundai's second win. The Hyundai Genesis was named North American Car of the Year in 2009.
"Elantra speaks to the success of our recipe of bold design and great fuel economy," said John Krafcik, president and chief executive officer, Hyundai Motor America. "In a year with some truly breakthrough competitors, we are honored that the jury recognizes Elantra's far-reaching impact on the industry."
The jurors considered more than 50 new vehicles, before selecting the top three cars and top three trucks. The Volkswagen Passat and Ford Focus were the other car finalists.
This is the 19th year of the awards, which were inspired by the prestigious European "Car of the Year." The jury is administered by an organizing committee and funded exclusively with dues paid by the jurors. Jurors judge the cars on a number of factors including innovation, impact on the industry, design, safety, handling, driver satisfaction and value for the dollar.
HYUNDAI "FLUIDIC SCULPTURE" DESIGN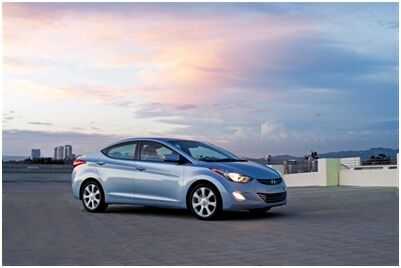 Elantra exemplifies Hyundai's emotional "Fluidic Sculpture" design principles. "Fluidic Sculpture" considers the interplay of wind with rigid surfaces to create the illusion of constant motion. Elantra is an evolution of the design qualities found in Sonata.
Along Elantra's sides are Sonata's flowing lines, with the addition of a strong undercut feature line starting at the front door. These lines, along with muscular wheel arches and a sleek roofline, create a memorable and spacious package. Flowing lines also lead to an aerodynamic body. The drag coefficient for the Elantra is an exceptionally low 0.28 that compares favorably to the Chevrolet Volt (0.29).
Hyundai's signature hexagonal front grille and detailed swept-back headlights give Elantra a compact athletic face. The assertive stance is complimented by 15-, 16- or 17-inch alloy wheels and athletic proportions. Available fog lights and side repeater mirrors complete the distinct design. Elantra was designed at Hyundai's North American Design Center in Irvine, Calif.
40 MPG POWERTRAIN
Elantra's standard fuel economy is EPA-rated at 29 mpg city and 40 mpg highway, amd 33 mpg combined, with the six-speed automatic transmission or manual transmission. These figures give Elantra a highway-only driving range of up to 500 miles. Elantra's strong EPA ratings are backed up by the highest owner satisfaction with real-world fuel economy in the compact class, according to data from J.D. Power and Associates.
Under the hood, the Elantra is powered by an all-new 1.8-liter Nu four-cylinder engine with 148 horsepower and 131 lb-ft of torque (145 horsepower and 130 lb-ft of torque for Elantra PZEV). Thanks to advanced clean engine technology, most Elantras sold in California, Oregon and several Northeast states are certified as Partial Zero Emission Vehicles (PZEV) by the EPA. The PZEV Elantra is as clean as many hybrid electric vehicles. The PZEV Elantra helps Hyundai meet its environmental commitments. Outside of these "green" states, the Elantra is available as an Ultra Low Emission Vehicle (ULEV).
Mark on the Market
Most importantly, Elantra is driving traffic to Hyundai showrooms. Elantra's record 186,361 sales helped Hyundai achieve its record sales of 645,691 units in the U.S. in 2011. Hyundai Motor America posted a 20 percent increase over 2011 total sales.
HYUNDAI MOTOR AMERICA
Hyundai Motor America, headquartered in Costa Mesa, Calif., is a subsidiary of Hyundai Motor Co. of Korea. Hyundai vehicles are distributed throughout the United States by Hyundai Motor America and are sold and serviced through more than 800 dealerships nationwide. All Hyundai vehicles sold in the U.S. are covered by the
Hyundai Assurance
program, which includes the 5-year/60,000-mile fully transferable new vehicle warranty, Hyundai's 10-year/100,000-mile powertrain warranty, and five years of complimentary Roadside Assistance.