Hyundai Genesis Receives Highest Safety Score
in ANCAP history 
Maximum five-star ANCAP (Australasian New Car Assessment Program) Safety Rating awarded to Genesis, Hyundai Motor's new flagship luxury sedan

'Overall' score of 36.88 points out of 37 is a record in 21-year ANCAP testing history

ANCAP Chairman Mr. Lauchlan McIntosh praised Genesis for its standard suite of safety technologies, including Automatic Emergency Braking (AEB)

Genesis safety features also fitted as standard include: nine passenger airbags, pre-safe seat belt system, lane departure warning, adaptive cruise control

All-new Genesis also received the U.S. Insurance Institute for Highway Safety's (IIHS) highest honor as a 2014 TOP SAFETY PICK+ earlier this year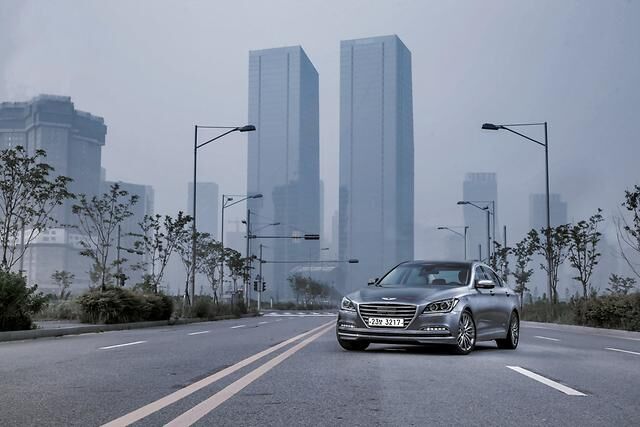 23 October 2014

– Genesis, Hyundai Motor's new flagship luxury sedan, has achieved the highest score in the 21-year history of ANCAP testing – 36.88 points out of a possible 37 and a maximum 5 star ANCAP safety rating.
 
A 5 star safety rating is ANCAP's ultimate measure of vehicle safety protection for occupants and pedestrians. The demanding assessment includes a 64km/h frontal offset test and a 50km/h side impact test, along with a 29km/h pole test, a whiplash test simulating a 32km/h rear-end crash, and a 40km/h pedestrian impact protection test. A minimum number of active safety assist technologies (SATs) is also required.
 
The Genesis' tally of 36.88 points includes a frontal offset score of 15.88 out of 16 and a side impact protection score of 16 out of 16. Genesis also scored 2 out of 2 in the pole test and a whiplash protection test rating of 'good'.
 
Earlier this year, the all-new Genesis was the first and only rear-wheel drive vehicle in its class to receive the U.S. Insurance Institute for Highway Safety's (IIHS) highest honor as a 2014 TOP SAFETY PICK+, continuing its segment leadership. Genesis was also the first rear-wheel drive luxury sedan to earn a Good rating in the IIHS's small overlap crash test.
 
"Genesis is Hyundai's flagship model and as such offers a high level of physical crashworthiness and excellent safety features as standard," said ANCAP Chairman Mr. Lauchlan McIntosh.
 
"This is one of the first times we have seen the word 'Standard' listed against almost every safety feature on our checklist. Importantly, automatic emergency braking is one of these standard features – one that has recently been left off many new models hitting our shores."
 
Structural integrity and strength has been a key priority of Hyundai Motor Company's engineering teams since development of the new 'DH' model Genesis sedan began six years ago. The vehicle uses advanced high-strength steel throughout its body structure, and has been designed from the outset to pass the world's most demanding crash tests.
 
The Genesis will be launched in Australia next month and will include the following safety features as standard across the range:
 
Adaptive Cruise Control

Electronic Brake Distribution

Electronic Stability Control

Automatic Emergency Braking

Daytime Running Lights

Emergency Stop Signal

Lane support system

Pre-safe systems

Reversing collision avoidance

Tyre pressure monitoring system

Active lift (pop-up) bonnet

Nine passenger airbags including driver's knee airbag
 
ANCAP is supported by all Australian and New Zealand motoring clubs, the Australian Government, the New Zealand Government, Australian state and territory governments, the Victorian Transport Accident Commission, NRMA Insurance and the FIA Foundation.
 
"This record ANCAP test score for Genesis speaks volumes about our flagship car's structural integrity, its safety features and the technologies provided as standard," said Hyundai Motor Company Australia Chief Executive Officer, Charlie Kim.
 
"Every car Hyundai Motor sells in Australia has achieved the maximum 5 star ANCAP safety rating, other than iLoad van and iMax people mover rated at 4 stars," said Mr Kim. "Of course, we are very proud of that fact, and Genesis must uphold this high standard – I would also like to take this opportunity to acknowledge the fantastic work ANCAP has done over the years to improve vehicle safety standards in this country."
 
To search crash test results and learn more about safety technologies, visit www.ancap.com.au
Crash test images and video can be downloaded from www.ancap.com.au/media
 
 
~END~
  
 
About Hyundai Motor
 
Established in 1967, Hyundai Motor Company is committed to becoming a lifetime partner in automobiles and beyond. The company, which leads the Hyundai Motor Group, an innovative business structure capable of circulating resources from molten iron to finished cars, offers top-quality best-sellers such as Elantra, Sonata and Genesis. Hyundai Motor has eight manufacturing bases and seven design & technical centers worldwide and in 2013, sold 4.73 million vehicles globally. With almost 100,000 employees worldwide, Hyundai Motor continues to enhance its product line-up with localized models and strives to strengthen its leadership in clean technology, starting with the world's first mass-produced hydrogen-powered vehicle, ix35 Fuel Cell.
 
More information about Hyundai Motor and its products can be found at:
http://worldwide.hyundai.com or http://www.hyundaiglobalnews.com
 
Hyundai Motor Company Australia Pty Ltd (HMCA) was established on October 1st, 2003 as a wholly owned subsidiary of Hyundai Motor Company. The award-winning range of Hyundai vehicles continues to set segment and industry benchmarks in value, quality, and safety, with innovations such as Vehicle Stability Management, Electronic Stability Control, and Australia's first five-year warranty with unlimited kilometres.
 
 
Hyundai vehicles are sold in 186 countries through some 5,300 dealerships and showrooms. For more information visit: www.hyundai.com.au