HYUNDAI SONATA NAMED 2011 INTERNATIONAL CAR OF THE YEAR
FOUNTAIN VALLEY
, Calif.
, Jan. 25, 2011
–
Hyundai continues to break down barriers illustrating its consumer lifestyle compatibility with the 2011 International Car of the Year (ICOTY) win for the all-new Sonata. The award was presented at the 2011 North American International Auto Show in Detroit. The ICOTY Awards honor vehicles based on lifestyle compatibility and the emotional connection between car and consumer.
 "With a completely new look for 2011, the Sonata really took us by surprise," said Courtney Caldwell, ICOTY Executive Producer. "Hyundai laces the new Sonata with serious hardware including sporty suspension tuning and a strong powertrain that achieves best-in-class
fuel economy
scores. Combine that with a stunning shape and design, it truly is a complete package that will satisfy the emotional connection consumers seek when shopping for a mid-size sedan."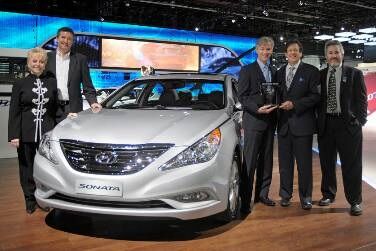 Photo Caption:
Hyundai
Motor America CEO, John Krafcik, accepted the award for the 2011 Hyundai Sonata named International
Car
of the Year at the North American International Auto Show on January 17. Presenters included jury members, Courtney Caldwell, Editor-in-Chief, Road & Travel Magazine; James Bell, VP Corporate Communications and Executive Market Analyst, Kelley Blue Book; Mike Martini, Bridgestone OE President and Perry Stern, editor of MSNAutos.com.    
 "We're thrilled to be recognized as the 2011 ICOTY winner as Sonata's breakthrough design, outstanding fuel economy and overall residual value have been game changing for our brand," said John Krafcik, president and CEO, Hyundai Motor America. "Hyundai sales are up from last year with Sonata leading the charge based on its ability to appeal to a broad array of consumer lifestyle sets." 
The 2011 Sonata is the new industry standard for mid-size sedans with a unique fuel-efficient four-cylinder engine delivering class leading fuel economy, emotional design, high-tech and luxurious convenience features and standard safety equipment. It was the first mid-size car to receive a five-star crash test rating under National Highway Traffic Safety Administration's new, more stringent 2011 system and an Insurance Institute for Highway Safety
Top Safety Pick
honor, placing it in a safety position unsurpassed in the industry.  
HYUNDAI MOTOR AMERICA
Hyundai Motor America, headquartered in Fountain Valley, Calif., is a subsidiary of Hyundai Motor Co. of Korea. Hyundai vehicles are distributed throughout the United States by Hyundai Motor America and are sold and serviced through about 800 dealerships nationwide. All Hyundai vehicles sold in the U.S. are covered by the Hyundai Assurance program, which includes the 5-year/60,000-mile fully transferable new vehicle warranty, Hyundai's 10-year/100,000-mile powertrain warranty and 5-years of complimentary Roadside Assistance.