HYUNDAI RECORDS BEST-EVER YEARLY SALES RESULTS
Final results for 2009 saw Hyundai Motor Company Australia posting its best-ever annual result since the brand was introduced to Australia back in 1986.
Hyundai sales grew to 63,207 units, an increase of 39.2% over 2008 making the brand the clear winner in the 2009 sales race, following 12 consecutive months of year-on-year growth.
The result was all the more remarkable for the fact it was achieved in a market that contracted by 7.4% compared to the previous year, with 937,328 cars registered during 2009.
"HMCA's results are at the forefront of what has been an outstandingly successful year for the brand globally," commented Damien Meredith, Director of Sales Hyundai Motor Company Australia. "2010 promises to be another exciting year as Hyundai consolidates its presence with the arrival of the all-new ix35 compact SUV next month, with plenty more to follow."
Best model results were i30 reporting over 21,400 units sold, a 109.9% increase on 2008, the Tucson with 11,405 units, an 85.7% increase on 2008, and for the second year running Getz took top ranking in its segment with 19,643 units sold in the period Jan-Dec 2009.
Hyundai Australian Highlights include:
December sales of 4,039 representing 4.6% market share and an increase of 12% over Dec 2008 results.
Hyundai 2009 sales of 63,207 representing 6.7% market share and in increase of 39% compared with the 12 month Jan – Dec 2008 period.
Hyundai overall ranking by brand at 5th for total 2009 year.
Best ever yearly sales result since 1986 – the previous best end of year result was 1998 with a total of 59,798 cars sold.
Getz ranked first in Light Segment making it the best selling light car in 2009 with 19.643 units sold and a segment share of 17.1%.
Tucson ranked 3rd in SUV compact segment with 11,405 units sold, a segment share of 13.5% and an increase of 85.7% on 2008.
iLoad ranked 2nd in Vans segment with 3745 unit sold, a segment share of 15.3% and an increase of 87.3% on 2008.
iMax sold 1060 units with a segment share of 10.3% and an increase of 57.7% on 2008
Getz and i30 both made the top 10 best selling vehicles with Getz ranking 9th and i30 an impressive 6th position.
Hyundai global highlights include:
Hyundai Motor Company recorded over 3 million unit sales for the first time in the automaker's history.
Hyundai Motor America posted a December sales result of 33,797 with a 40% YOY growth with total sales for the 2009 year of 435,064, representing 8% growth over 2008.
Hyundai's South Korean Domestic sales rose 23.1% with the best selling model Sonata selling 146,326 units.
Overseas sales increased by 8.7% with significant contributions from plants located in China, India and Czech Republic.
Sales at overseas plants increased by 34.2% to record a CY2009 result of 1,492,969 units.
                                                          HMC December 2009 Results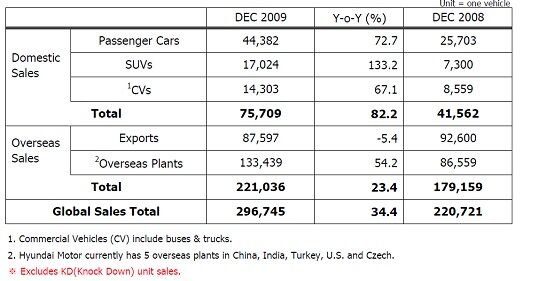 HMC 2009 Results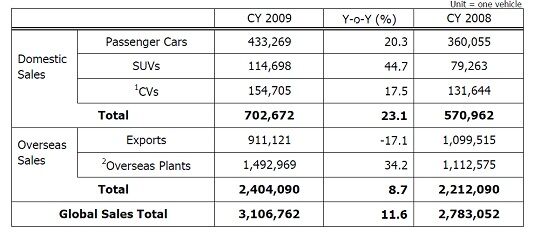 ~END~