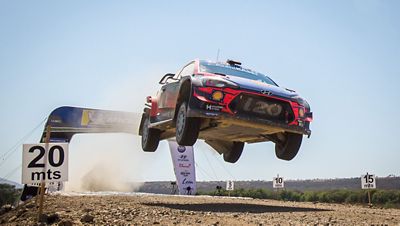 World Rally Championship.
WRC: The Ultimate Challenge.
The ultimate rallying challenge, the IFA World Rally Championship (WRC) is a test on highly-experienced teams of drivers and co-drivers, presenting an unmissable spectacle for rally enthusiasts. Men and machine compete on all sorts of terrains to secure titles across the globe.
Unlike circuit-based racing, rally drivers compete with a co-driver in short, timed stages, aiming to record the fastest time. The ever-changing landscape contributes to the rally's reputation as one of the most exciting forms of motorsport in the world,  highlighting the sheer exhilaration of WRC.
First organised in 1973, the competition continues to attract world-leading automotive manufacturers – like Hyundai – to this day. Held from January to November, the WRC takes teams, drivers and fans on an intercontinental tour of the world, from the wilds of Northern and Southern Europe to the vast plains of Australia and the Mexican desert.
Fans gather at the events to get up close and personal with the cars and drivers, while many more millions follow rallies on TV, radio and online. Its continued popularity is testament to the sporting and technical challenges the WRC poses.
2020 Rally Calendar.
With the opening event of the season in Monte-Carlo on 23 January, drivers face a multitude of mixed conditions. From the frozen forests in Sweden to the pampas of Argentina, these events attract crowds of up to a million viewers excited to see drivers and machine take on circuits and conditions shaped by nature. You can find detailed information on events in different countries by clicking on the flags below.
** Postponed following government measures in response to the coronavirus outbreak
Crews.
Our crews are the force behind the success of the cars our expert engineers assemble to take part in the WRC. We caught up with each one of our drivers and co-drivers to get a little more personal and learn about their work as a team. Discover all about their hobbies and highlights on their dedicated pages.
Car.
The Hyundai i20 Coupe WRC is based on the popular i20 Coupe model and comes with a turbocharged engine with direct injection, 380 HP, and four-wheel drive. You can find more information on the car our teams of star drivers are driving to success below.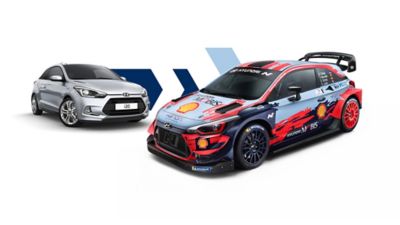 Hyundai Motorsport on Social Media.