Fun just got redefined. Again.
Created for maximum driving fun, the i30 N has been upgraded with more performance, fresh new design features and the latest smart tech. Balancing exquisite power and racetrack-ready driving dynamics with comfort-oriented daily commuting – it truly is a race car for every day.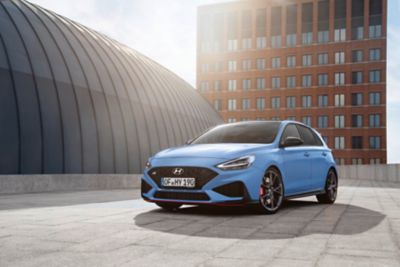 We took a great thing and made it better.
Since the premiere of the award-winning i30 N, we've been working hard to make a great thing even better. Driven by lessons learned in our highly successful i30 N TCR race package and motivated by feedback from our N enthusiast community – major enhancements include: the introduction of the N DCT 8-speed dual clutch transmission with a range of high-performance driving features and increased flat power & torque.
Music to our ears. Step on it and turn it up!
Better than any playlist, the powerful growl of the i30 N's exquisitely tuned exhaust is music to the ears of performance enthusiasts. The exhaust notes are a sweet-sounding reminder that i30 N is set up to send a race-inspired thrill surging through you the moment you hit the throttle.⁠
The pure joy of driving: the high-performance N family.
Hyundai high-performance N cars are designed to perform – and to put a grin on your face. The i30 N and i30 Fastback N now join the i20 N and KONA N to expand an impressive range of high-performance Hyundai vehicles that are joyfully fun to drive, delivering both everyday usability and race track capable performance.
5-Year Unlimited Mileage Warranty.
Like every Hyundai, the i30 N is built to the highest possible quality standards. And we back that quality up with a 5-Year Unlimited Mileage Warranty so you can enjoy the things you love in life, without having to worry about your car. Enjoy the extra peace of mind that one of the industry's best warranties gives you – standard.
Explore more of the i30 N.