The new i30 N.
Shift the moment.
Fun just got redefined. Again.
Created for maximum driving fun, the new i30 N has been upgraded with more performance, fresh new design features and the latest smart tech. Balancing exquisite power and racetrack-ready driving dynamics with comfort-oriented daily commuting – it truly is a race car for every day.
Performance
Blistering performance taken to the next level.
Since the premiere of the award-winning i30 N, we've been working hard to make a great thing even better. Driven by lessons learned in our highly successful i30 N TCR race package and motivated by feedback from our enthusiast community – major performance enhancements include: the introduction of a wet-type 8-speed dual clutch transmission (N DCT) with paddle shifters, increased power & torque for the Performance Pack, and lightweight forged alloy wheels.
Fuel consumption combined for the Hyundai i30 N Line 2.0-litre T-GDI 280 PS: 8.0 - 8.4 l/100km; CO2 emissions combined: 182.3 - 190.7 g/km (WLTP)

Performance Package.

The 2.0 T-GDI engine now delivers 280 PS and a substantial increase in flat power for more torque and power at lower RPMs. This ensures high responsiveness, improved acceleration and much more fun. Choose from a 6-speed manual transmission or a wet-type eight-speed dual clutch transmission with paddle shifters for more control and faster shifts. Max. torque: 392 Nm. Top speed: 250 km/h.
Fuel consumption combined for the Hyundai i30 N Line 2.0-litre T-GDI 250 PS: 7.7 l/100km; CO2 emissions combined: 174.5 g/km (WLTP)

Standard Trim.

With the standard trim, the new i30 N is equipped with a 6-speed manual transmission and delivers a maximum power output of 250 PS with a maximum torque of 353 Nm. Top speed: 250 km/h.
Now you can choose from two transmissions.
When it comes to making fast, smooth and efficient shifts, you have two performance enhancing choices. The standard smooth-shifting 6-speed close-ratio manual or the all-new quick-shifting wet-type 8-speed dual clutch transmission (N DCT), which also lets you select gears manually with the shift lever or the steering wheel mounted paddle shifters for more race car feeling in everyday life.
Even more fun to drive: the N DCT.

Featuring lighting fast shifts and excellent power transmission, the new N DCT delivers excellent acceleration, taking you from 80-120 km/h in 3.5 secs (2). That's 3 seconds faster than the manual transmission.

N Grin Shift – push for max power.

Sure to bring a grin to your face – unleash full N performance for 20 seconds with a single button. Enjoy max. torque and acceleration, max. exhaust sound and a push feel when upshifting.

N Power Shift.

Enhanced driving thrills with "push feel" when upshifting. Engages at acceleration with more than 90 percent throttle, mitigating any reduction in torque by using upshifts to deliver maximum power to the wheels.

N Track Sense Shift.

Senses how you're driving and activates when it knows you're driving on a track. It then selects the right gear for optimal performance so you can focus on steering – just like a professional race car driver.

N DCT motorsport layout.

When you feel like taking control and using the gear lever to shift, you'll love the motorsport shifting logic born of our TCR racing experience: to downshift, push forward, and to upshift, pull back.
Music to our ears. Step on it and turn it up!
Better than any playlist, the powerful growl of the i30 N's exquisitely tuned exhaust is music to the ears of performance enthusiasts. The exhaust notes are a sweet-sounding reminder that i30 N is set up to send a race-inspired thrill surging through you the moment you hit the throttle.⁠
Exterior
Redesigned for more thrills and better performance.
Born of the track and looking every bit the part, the new i30 N has been reimagined with design updates focussed on dynamic performance. More than just a styling exercise, performance has driven changes like the new, aggressive-looking front bumper, incorporating air intakes designed to improve aerodynamics and reduce turbulence. And the new 19" forged alloy wheels look fantastic while improving handling and traction by a reduction in unsprang weight.
Lightweight 19" forged alloy wheels.

The new forged wheels save 14.4 kg vs. the previous 19" cast alloy wheels, delivering improved handling and traction thanks to lighter weight and easier damping. Paired with Pirelli P Zero tyres and a red brake caliper with the N logo.

18" N alloy wheels.

In the standard trim, the new i30 N is equipped with 18" cast alloy wheels, which feature the N Logo in the middle. They are paired with Michelin Pilot Super Sport tires and eye-catching red brake calipers.

Striking new headlamp design.

The stylish new lighting design features integrated V-shaped Daytime Running Lights, as well as slimmer headlamps with the latest LED technology.

Rear spoiler & triangular brake light.

The rear spoiler with integrated triangular brake light helps increase downforce to give you more grip through high-speed corners – minimising lift and maximising fun.

Bigger rear exhaust pipes.

Go big or go home. We've enlarged the dual single exhaust pipes to enhance the high-performance look of the new i30 N.
Coming soon! The new i30 Fastback N.
With its sloping silhouette and gracefully raked roofline, the new Hyundai i30 Fastback N delivers exhilarating performance in sophisticated style. Coming soon to a Hyundai dealership near you, this stylish 5-door hot coupe provides its adrenaline kick with pure elegance.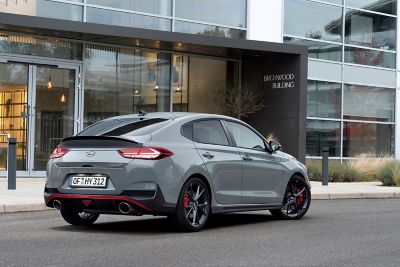 Interior
Upgraded performance cockpit.
Created for and by people who truly love cars, the new i30 N's sleek and sporty interior embraces and excites. The cockpit is as much about control as it is about comfort. The ergonomics are completely driver-focused – you have everything in view and at your fingertips.
Performance Blue stitching.

The new i30 N features exclusive Performance Blue contrast stitching throughout the cockpit. These eye-catching accents are applied on the seats, steering wheel, gear shift and front armrest, giving the interior an even sportier edge.

N steering wheel.

Featuring exclusive blue stitching and the N logo, the leather N steering wheel puts driving performance features right at your fingertips – like for example, the dedicated buttons for N Mode and N Grin Shift.

N DCT shifter.

The N DCT shifter features the N logo, sporty metal accents, a Performance Blue racing line and stitching as well as leather inserts for better grip and even more motorsport feeling.
Connectivity
Updated with latest tech and innovative features.
Enjoy state-of-the-art smart tech with the 10.25" touchscreen that gives you everything you need, right up on the big screen like: navigation, smartphone mirroring and Bluelink® Connected Car Services – so you can control your car from your smartphone – or with your voice. On top of the many clever features you can control with the Bluelink app, a free five-year LIVE Services subscription is also included, which includes live parking and traffic information.
Safety
Cutting-edge safety and Advanced Driver Assistance Systems.
With Hyundai SmartSense, our cutting-edge Advanced Driver Assistance Systems, the new i30 N has been upgraded with the very latest safety and driving assist features for added peace of mind.
5-Year Unlimited Mileage Warranty.
Like every Hyundai, the new i30 N is built to the highest possible quality standards. And we back that quality up with a 5-Year Unlimited Mileage Warranty so you can enjoy the things you love in life, without having to worry about your car. Enjoy the extra peace of mind that one of the industry's best warranties gives you – standard.