Designing the future of automobiles.
Creative ideas that break the mold, the thrill of challenging the norm, cutting-edge technology and the ability to understand people's desires enable the Design Center to gauge future megatrends. Our global design network draws upon inspiration from major cities in the US, Europe, Japan, China and India to predict and lead worldwide trends.
01 Initial drawing and sketching.
At the beginning of each concept car project, designers think about the core philosophy and values they wish to express. For example, they might wish to convey a car that is dynamic and sporty, or one that is awash with new technological features. The initial design sketches are usually no more than rough drafts drawn with pencils on paper. Later, more detailed sketches are made on digital tablets. These drawings reveal the car's overall dimensions and surfaces.
02 Digital design model.
Once a basic design has been established, it is put together with design data and a digital design model is produced on a computer. Once discussions have taken place between designers and engineers, a 3D model is produced on a computer, where further details and enhancements can be added.
03 Clay model.
After sketches and computer models have been produced, a scaled-down clay model with a 1:1 ratio is created to provide designers with a realistic interior and exterior view of the future car. Even at this stage, the design can be fine-tuned for further modifications.
04 Colours and materials.
The next stage is to develop the concept car's interior design, including seat materials and colours. These are put together with computer visualisations.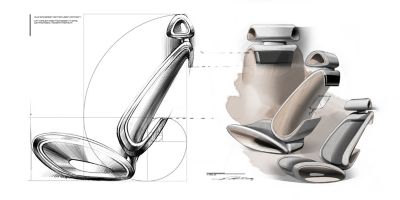 05 Final concept.
The development process for a concept car that will be unveiled at an auto show is always faster than that of production vehicles. Once a design is ready, the full-size concept goes into production ahead of being presented to industry experts and the international media.