Hyundai Help for Kids | Veloster Jacket
Coming up with a jacket inspired by a car - particularly a car as uniquely funky as the Hyundai Veloster - sounds like the kind of challenge that would turn a clothing designer's head inside out. Should it be fitted with cool, modern screens, able to charge your phone, voice activated and slick enough to cut through the air at speed? Could it look good during the day, and at night, while representing the aesthetic of the edgiest vehicle in the Hyundai line-up?
All this had to be considered by exciting Australian designer Emma Mulholland (her initial eponymous label caught the attention of Kanye West a few years ago, and she's now launched Holiday by Emma Mulholland), after ELLE magazine and Hyundai Australia threw down this unique fashion challenge to her, with the goal of creating a one-off, and one-of-a-kind jacket that could be auctioned for charity, specifically to raise money for the Australian Cervical Cancer Foundation (ACCF).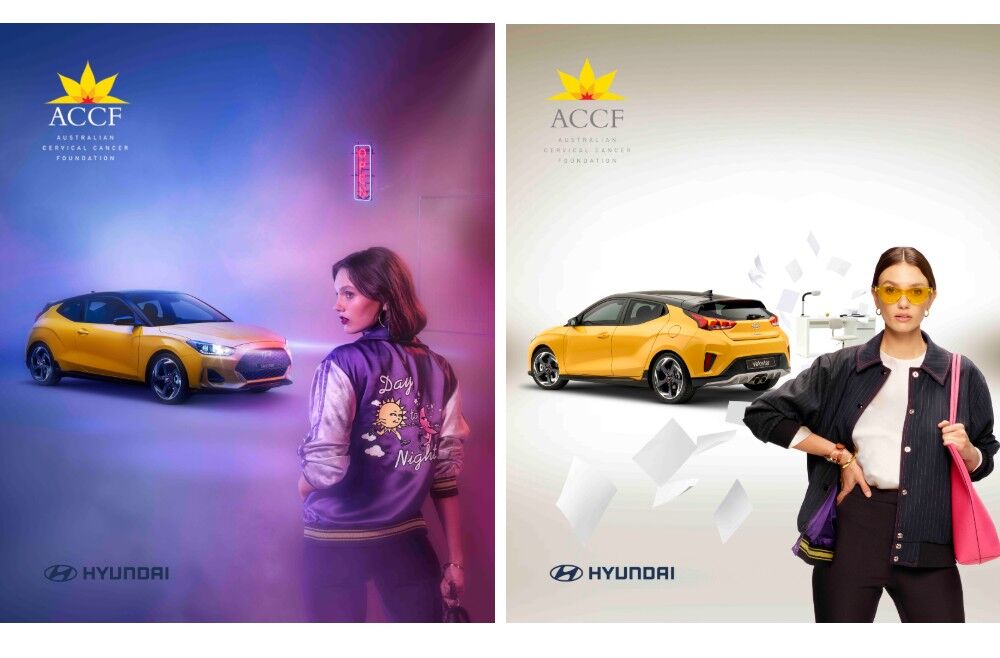 Proving that the design brief did, in fact, turn Mulholland inside out during this four-week project, she's come up with a stunning, double-sided bomber jacket, which represents the fact that the Veloster, with its unusual three-door design, offers something different on each side. The reversible jacket, which also speaks to the dual needs of Veloster owners using their cars day and night, features a refined, navy-coloured look on one side and a wildly different, hitting-the-town design on the other, showing off colourful graphic embroidery and high-shine fabrics.
It truly is a look that's as cool, modern and slick as the car itself and, echoing the Veloster's fine craftsmanship, the Mulholland's fashion piece also features red stitching, to reflect its redline interior. The jacket even includes a hidden pocket to mirror the Veloster's almost invisible back-door handle. There's no doubt that Mulholland has created a hugely desirable piece of fashion, and it's one that only one lucky bidder will get to enjoy after it goes under the hammer this Friday as part of Orange is the New Black: An Evening with ACCF at the Blackbird Bar and Restaurant in Brisbane. The night of fine dining and fun will feature ACCF Ambassador Jana Pittman as keynote speaker, as well as the charity auction, and represents the culmination of National Cervical Cancer Awareness Week.
This awareness-raising event began on November 10 with the unveiling of a striking human artwork at Bondi Pavilion, made up of 35 women, some of whom are living with or impacted by cervical cancer.
The number 35 represents the year, 2035, by which Australia is boldly aiming to be the first country in the world to eliminate cervical cancer. The attention-grabbing not-quite-still-life artwork featured the 35 women draped in the ACCF's trademark orange colours and lotus flowers.
Cervical cancer is one of the most common cancers that can affect women, yet it's also one of the most preventable. While Australia has one of the lowest rates of cervical cancer globally, an estimated 951 women will still be diagnosed and 256 will die from the disease in this country in 2019 alone.
Hyundai Help for Kids is a Gold Partner of ACCF, as part of its mission to provide support to the youth of Australia, and is helping to deliver the charity's Cervical Cancer Awareness Program to more than 100 schools around the country.
Hyundai Help for Kids is Hyundai Australia's dedicated corporate social responsibility program and has been changing the lives of some very special kids, and their families, since its inception in 2014.It's a joint initiative of Hyundai Motor Company Australia and the 170-strong Hyundai National Dealer Network, whereby a contribution from every new vehicle sold goes towards assisting children and their families in areas of medical, community and vehicle assistance. So, in effect, every Hyundai owner joins the family of not-for-profit organisations supporting Australians under the age of 18.
Other Hyundai Help for Kids program partners include Make A Wish Australia, Ronald McDonald House Chartities Australia and the Royal Institute for Deaf and Blind Children.Since 2014, Hyundai Help for Kids has raised contributions totaling almost $8 million dollars, with more than $1m raised so far in 2019 alone.