Hyundai Finance™.
Hyundai Finance™[F1] offers a range of vehicle finance solutions for private or business use.

Conveniently available at your participating Hyundai dealer, these finance solutions provide a convenient way to drive away in your new or pre-owned Hyundai today. Hyundai Finance™ is an alliance between Hyundai Motor Company Australia and St. George Bank.
Hyundai CarPlan™.
You won't always know what's around the next corner, but with Hyundai CarPlan™ you'll always have the right car for the journey there. Find out how Hyundai CarPlan™ is the smart and flexible way to have the vehicle that's perfect for you, even as your lifestyle changes.
Discover more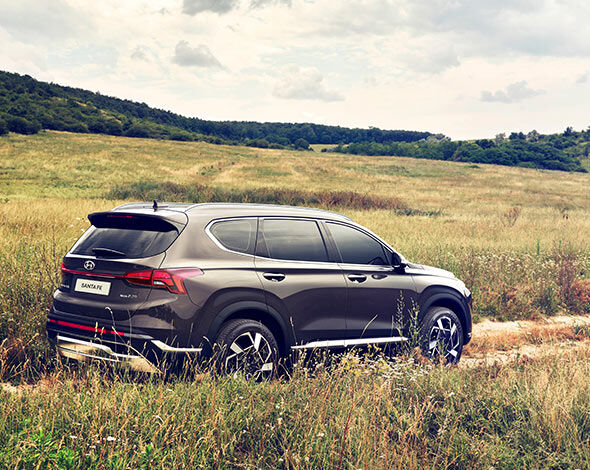 Calculate your repayments.
Looking for other finance options?
Disclaimers.
[F1] Hyundai Finance™ is a registered trademark of Hyundai Motor Company and is operated under licence by St.George Bank – A Division of Westpac Banking Corporation ABN 33 007 457 141 AFSL and Australian credit licence 233714. Finance to approved applicants, subject to suitability. Credit criteria, fees, charges and terms and conditions apply.

[F2] The information provided on this website is intended to provide general information only. Hyundai Finance™ does not provide taxation advice. You should obtain independent taxation advice. Please speak to an independent advisor for any tax-related queries.

This calculator is a tool for indicative use only. No result from the use of the calculator should be considered a loan application or an offer of a loan. The calculator does not take into account your personal circumstances or any fees and charges or government taxes which may apply. Repayments as a result of this simulation can vary based on your personal circumstances including your credit worthiness. You should discuss your circumstances with your local Hyundai dealer.

The Hyundai CarPlan from Hyundai Finance is a feature which ensures you receive the Guaranteed Future Value (determined by Hyundai Finance) at the end of the term of your contract when you return the vehicle or trade it in at a participating Hyundai Dealer in accordance with the terms and conditions. To exercise the feature your vehicle must be inspected and assessed by a participating Hyundai dealer at the end of the term of your finance contract. Adjustments to the value may apply. You receive the Guaranteed Future Value for the car if you exercise the feature at the end of the term and purchase a new or demonstrator Hyundai at the same time. The amount you receive on trade in will satisfy the final repayment, even where the trade in is less than the repayment amount. Available only to approved applicants of Hyundai Finance™. Subject to credit assessment and for consumer applications, responsible lending criteria. Fees and charges apply. Fleet, government, rental buyers, hire car and chauffeur companies are excluded. Hyundai Finance™ and Hyundai CarPlan™ are registered trademarks of Hyundai Motor Company used under sublicence by St.George Bank – A Division of Westpac Banking Corporation ABN 33 007 457 141 Australian credit licence 233714. Hyundai Finance is the registered business name of Hyundai Motor Company Australia Pty Ltd ABN 58 008 995 588.