Hyundai Motorsport has taken its third WRC win as Thierry Neuville stormed to victory at Rally Italia Sardegna.
Dani Sordo finished in fourth place for the fourth rally in a row, moving up to  second place in the Drivers' Championship.
Kevin Abbring finished second in the Power Stage to pick up two Championship points - his first in the WRC.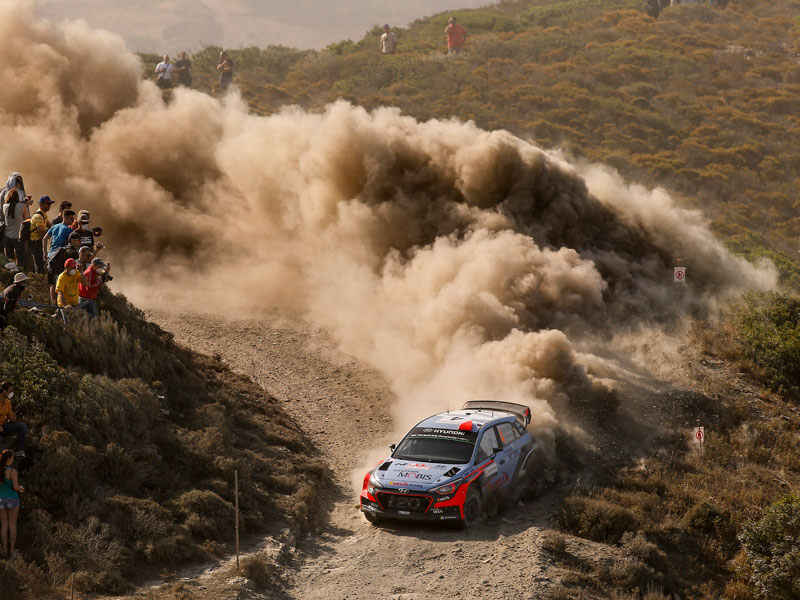 Hyundai Motorsport has secured its second victory of the 2016 FIA World Rally Championship (WRC) season with a dominant performance by Thierry Neuville and Nicolas Gilsoul in Rally Italia Sardegna.

Neuville has been on sublime form all weekend, extending his lead over Volkswagen Motorsport's Jari-Matti Latvala on the final morning to win the rally by 24.8 seconds.
The result marks the second victory for the New Generation i20 WRC this season, and the team's third win in total after Rallye Deutschland in 2014 and Rally Argentina back in April.

Dani Sordo and Marc Martí had a trouble-free final four stages on Sunday to claim their fourth consecutive fourth position, and earning them 12 Championship points. Kevin Abbring and Seb Marshall, meanwhile, were on top of their game to finish second in the Power Stage, securing their first WRC points.
For Neuville (#20 New Generation i20 WRC), the victory is the result of a concerted team effort and marks his first victory in WRC since Germany 2014. It is the most accomplished performance of his career with nine stage wins over the weekend, and leading the rally continuously since SS7 on Friday.
Neuville commented: "A truly fantastic weekend! Great things come to those who earn them, and it's definitely a nice feeling to share this victory with an amazing team. We've had some tough times, like in Portugal, but we've stuck together and our hard work has really paid off. This is a special result. The New Generation i20 WRC has performed very well this weekend. It's been great fun to drive and we've felt comfortable. We didn't feel too much pressure in this morning's final stages, but just focused on getting the car safely through to the end. We did everything we needed to and we can now celebrate our second WRC victory. Hopefully we can use this result as a springboard for the rest of the season; it is certainly good for the confidence."
Sordo (#4 New Generation i20 WRC) has benefitted from a consistent approach in Sardinia to continue his run of fourth places. He moves up into second place in the WRC Drivers' Championship with 68 points so far this season. His 12 points this weekend also consolidate second place in the Manufacturers' standings for the Hyundai Shell World Rally Team.
Sordo commented: "We knew this rally would be one of those that required a steady approach, so that's exactly what we did. It was not always easy and some stages were quite tricky, narrow and slippery, which doesn't really suit my style as much as other rallies. In this morning's stages, we just wanted to keep out of trouble and avoid any mistakes. I think we got all we could out of the car and ourselves this weekend. It's another fourth place, but I have moved up to second in the Championship, which is fantastic. Congratulations to Thierry and Nicolas on their win, which is very well deserved and a great morale boost for the entire team."
There were plenty of positives for Abbring (#10 Hyundai i20 WRC) in Sardinia. He claimed his first WRC stage win on Saturday morning, helped the team to a 1-2 in stage on the afternoon loop, and finished second in today's Power Stage to claim his maiden WRC points.
Abbring said: "It was a good final day for us, and a nice consolation to pick up my first WRC points in the Power Stage. We wanted to give it a bit of a push because we've been building our confidence in the car over the course of the weekend. We have had a few issues along the way but it really is part of the bigger learning curve, and we've come out of this weekend stronger as a result. We've worked hard to find a rhythm and I really enjoyed the final stage. I think we have a nice set-up for the future. For the team, this weekend has been a positive one and to see Thierry and Nicolas take the win was a special moment. It shows what effort and team work can achieve, and that's why I'm pleased to be a part of Hyundai Motorsport. I look forward to returning to the WRC stages later this season."
Hyundai Motorsport has now taken podiums in five out of six rallies this season, with two victories, making it the team's most successful WRC season even before reaching the halfway point.
Team Principal Michel Nandan commented: "Thierry and Nicolas thoroughly deserved this victory. It is a result that will give the whole team a real lift. There have been some tough phases but we've persevered and fought hard to overcome any issues together as a team. This result shows what can happen with hard work and determination. We've now taken two wins this season with our New Generation i20 WRC and bounced back from Portugal, which is exactly what we set out to achieve. Dani has moved into second place in the Drivers' Championship with another sensible drive this weekend; well done to him. And Kevin, too, has shown again why he is such an exciting young talent with a strong push in the Power Stage – and his first WRC points. We still have work to do, but we're keener than ever before to continue our strongest ever season in WRC. Poland will offer a new set of challenges, but we'll be prepared. For now, though, we'll enjoy this victory as a team."
Round 7 of the FIA WRC, Rally Poland, takes place from 30 June - 3 July, and will mark the halfway point of the 2016 Championship.
Overall Final Classification
1.T. Neuville / N. Gilsoul (Hyundai New Generation i20 WRC) 3:35:25.8
2.J. M. Latvala / M. Anttila (Volkswagen Polo R WRC) +24.8
3.S. Ogier / J. Ingrassia (Volkswagen Polo R WRC) +1:37.8
4.D. Sordo / M. Marti (Hyundai New Generation i20 WRC) +2:54.0
5.O. Tanak / R. Molder (Ford Fiesta RS WRC) +5:26.4
6.E. Camilli / B. Veillas (Ford Fiesta RS WRC) +5:59.8
7.H. Solberg / I. Minor (Ford Fiesta RS WRC) +6:22.2
8.T. Suninen / M. Markkula (Škoda Fabia R5) +8:57.4
9.J. Kopecky / P. Dresler (Škoda Fabia R5) +9:47.0
10. K. Kruuda / M. Jarveoja (For Fiesta R5) +13:28.5
 ...
15.   K. Abbring / S. Marshall (Hyundai i20 WRC) +23:40.6