Threatened with extinction, it has risen, Jurassic Park-like, to reclaim its place as the world's largest short-film festival - Australia's own Tropfest.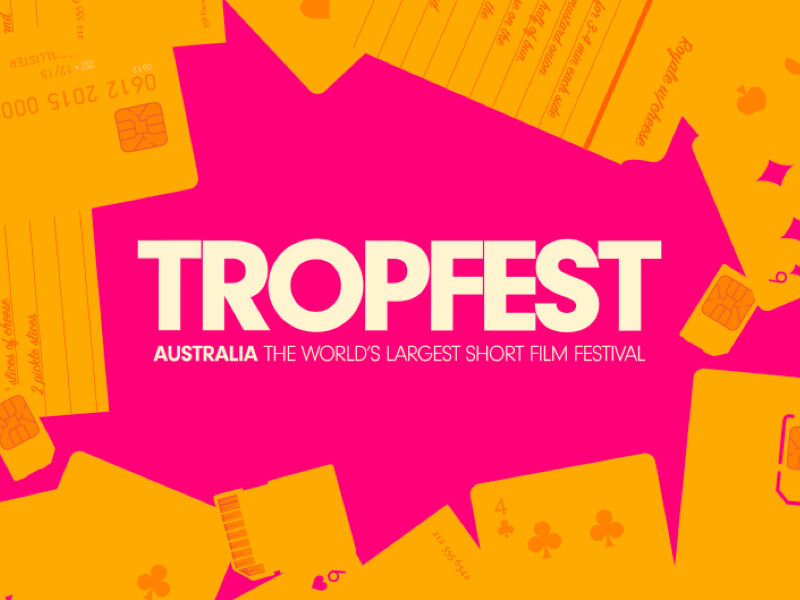 This famous festival, which began in the humble surrounds of the Tropicana Cafe in Sydney's Kings Cross in 1993, appeared to be rolling its final credits after it was cancelled a month before it was scheduled to run last December, due to the discovery that it was massively in debt.
Only the support of sponsors, including Hyundai Australia and CGU Insurance, inspired by a huge public outpouring of goodwill, has managed to bring it backfrom the dead, and the event will now go ahead on that most romantic of evenings, February 14th, in Sydney's Centennial Park. It's a night of free short films, competing for fantastic prizes - including a Hyundai for 12 months - that is always hugely supported by a live audienceof 150,000, and this year will be broadcast nationally on SBS2.
After weeks of uncertainty about whether the event would ever be held again, a stellar selection of judges has been assembled, including global star Simon Baker, from The Mentalist; arguably Australia's most widely beloved actress, Rebecca Gibney; Jocelyn Moorhouse, the director of The Dressmaker, and cinematographer Don McAlpine, whose credits include Baz Luhrmann's Moulin Rouge.
The 16 finalists, who are perhaps the most relieved of all those involved that the contest will go ahead, get to compete for $10,000 in cash, plus a tripto Los Angeles to meet film executives and the free Hyundai for a year. Tropfest genuinely does offer unknown filmmakers the opportunity of a lifetime -and has recently expanded to include stand-alone competitions in Asia, New Zealand, North America and the Middle East - which is why there was such anoutpouring of disappointment when it went to the wall, financially, last year.
Founder John Polson was forced to announce the bad news after he discovered a debt "well into six figures" in discussions with the management companyrunning his globally famous event.
"This disaster was due to an outrageous mismanagement of Tropfest funds by the company that was entrusted to manage the event, a situation which is nowbeing dealt with behind the scenes," said Polson.
Simon Baker, who is back home to star in a movie based on Tim Winton's novel Breath, to be filmed in WA, was one of the first people to callPolson offering help when he heard the bad news.
"I felt really sad," he said. "Not just for the filmmakers that were [finalists this year] but for the filmmakers of the future that show up and getinspired and go out and do something."
Baker is a long-term supporter of Tropfest and told The Sydney Morning Herald he'd once considered entering a film of his own before moving to the US to find work.
"I went to the second festival," he said. "I just remember what an inspiring idea it was and what I took away from it was belief that you can just go outand do stuff.
"Back in those days, a lot of people were talking about movies they wanted to make and no one had any money: 'I've got an idea for a short film'. Then Tropfest came along and there was a platform – a deadline, a goal – for people to go for."
Past Tropfest winners include such notable alumni as Joel and Nash Edgerton, Peter Carstairs, Rob Carlton and Sam Worthington.
The list of previous judges is truly star-studded and features Toni Collette, Rose Byrne, Geoffrey Rush, Nicole Kidman, Samuel L Jackson, Salma Hayek,Keanu Reeves, Ewen McGregor and Gabriel Byrne.
Polson, an award-winning actor and director himself, is attempting to future proof his festival by starting a crowdfunding campaign, which should tap intothe huge public support for Tropfest, and is promising to "think big".
The festival aims to raise $100,000 through a Pozible.com campaign to "design and build its future."
"Funds raised through crowdfunding will be used to cover the cost of the strategic review, governance review, some vital audience research and focus groupsand developing a business model that is genuinely sustainable," Tropfest announced on its site.
"We need to find new partners and new ways of funding what we do best while remaining true to our values of inclusivity and accessibility."
The A-list judges and other important guests will be ferried around Sydney this year in a fleet of suitably limousine-style Hyundai Genesises, provided byHyundai Australia.
Aside from the 16 selected short films, representing the best of the best work by local creatives over the past year, entertainment at the February 14event will include performances by rock duo Winterbourne, DJ-singer KLP and Preatures singer Gideon Bensen, as well as bubble soccer and an attempt tobreak a world record for the biggest ever pyjama party.
Tropfest, clearly, is back in a big way, and on the big screen.